Help Disaster Victims Now
When disaster strikes, it's heartbreaking to see so many lose their homes, their belongings and, in some cases, their livelihoods. But it's nothing short of miraculous to see how partners like you respond.
Please consider a gift of $25 or more today to help reach hurting children and families. Your support is bringing relief when and where it's needed most to help those who have been devastated by disaster.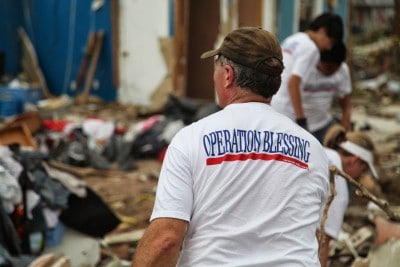 Operation Blessing International (OBI) is a 501 (c)(3) not-for-profit humanitarian organization that provides hunger relief, clean water, orphan care, medical aid, disaster relief and community development programs in the U.S. and around the world.
All gifts to OBI are tax-deductible in accordance with IRS regulations and are used to meet the overall humanitarian and operating expenses associated with our mission. The Internal Revenue Code permits you to deduct the amount you give OBI that exceeds the value of materials received from us. OBI is in compliance with all state registration requirements and is a member in good standing of the Evangelical Council for Financial Accountability (ECFA).