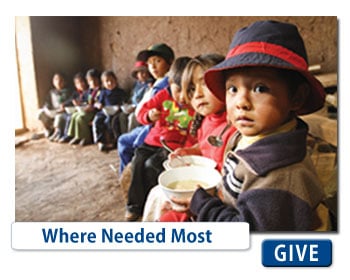 Where Needed Most is the cornerstone of Operation Blessing's Relief efforts.
Here's what your gift can deliver right now:
Clean Water to replace sources fouled by cholera and pollution.
Food to stave off starvation in famine-stricken regions.
Medicine and Healthcare that rescues children from a life of deformity, disease, and injury.
Disaster Relief including food, building supplies, bedding, water and more to help communities ravaged by catastrophe.
Community Development that seeds industry and brings jobs to adults so they can earn a living and support their children.
Give to Where Needed Most