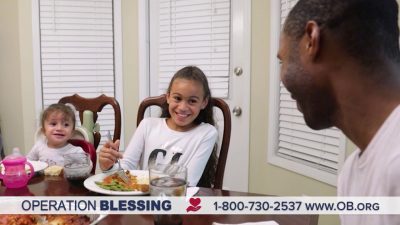 A Desperate Family Finds Hope
Three-year-old Daniella faced two crises in her life. She suffers from a genetic disorder that has required medical procedures; this soon placed her family in a desperate financial trouble, and she was hungry. Although Daniel works hard as a chemical batcher in a warehouse, starting at 5 AM each day, his position pays half of what he earned at his previous job, making it difficult for the family to make ends meet. That is when Operation Blessing partners like you stepped in. Lakashah discovered Warehouse of Hope, a distribution partner for Operation Blessing's Hunger Strike Force, supported by our faithful partners. And everything changed!
HOW YOU CAN HELP

Your support is critical to providing relief for the hungry, water for the thirsty, medical care for the sick, disaster relief for those in crisis, and so much more.
Click here to make an online donation today
and let your gift make a significant impact in the lives of those who urgently need it.

Print Friendly