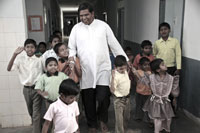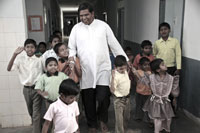 HYDERABAD, India – When Salim's mother left him on a busy street in Hyderabad, India, he had no idea it would be the last time he'd ever see her.
Just three years old, Salim couldn't understand that his mom was too sick and weak to care for him anymore.
And he was too young to realize the horrible truth: He was sick, too.
Salim's story illustrates a growing and tragic trend: Worldwide, a staggering 145 million children have been orphaned by war, disaster, or disease.
Every 2 seconds, another child is claimed by this hidden epidemic.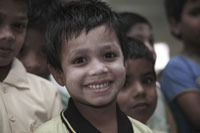 Without the love and protection of a parent, these children struggle to survive alone, vulnerable to hunger, sickness and child trafficking. Sadly, like Salim, nearly one out of ten is orphaned due to HIV/AIDS, and these children are often sick themselves, with little hope of receiving medical care.
That's something Father Raj is working to change.
Father Raj is a Catholic priest in Hyderabad who felt called to open a center that would serve as a place of refuge for these abandoned children and, if needed, provide them with medical attention.
"When I first had this vision for these children, I did not know how to start it," he said.
Two years ago, Operation Blessing helped Father Raj open his center and make his vision a reality. He had only ten children then, but the number has grown to 20 – and he has hopes of eventually taking in 50 orphans.
Under the loving care of Father Raj and his staff, the children spend time playing together, singing, and attending a local school near the center. OBI also supplies medicine to the center each month, so if the children get sick, treatment is readily available to keep their immune systems healthy and strong.
"My desire is to see these children have a fulfilled life," Father Raj said. "And this center is [a place] for them to know God, a place where love is shown."
To the children, Father Raj is not just a kindly priest but a loving father. When he walks down the hall, the children run to him, calling "Father! Father!" and reaching out for a hug.
Today, instead of living alone in poverty and fear, their lives are now filled with hope and a father's love.
"Operation Blessing helped me to start this work by providing guidance, resources to set up the center, medicines, and other needs," he said. "I am very grateful."
HOW YOU CAN HELP

Your support is critical to providing relief for the hungry, water for the thirsty, medical care for the sick, disaster relief for those in crisis, and so much more.
Click here to make an online donation today
and let your gift make a significant impact in the lives of those who urgently need it.

Print Friendly