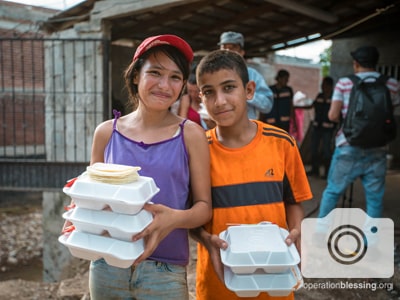 Aid for Mexico Flood Victims
Mexico Flood Relief
Thanks to friends like you, Operation Blessing quickly responded to severe flooding in the Sinaloa area of Mexico this week with hundreds of hot meals, water filtration systems for clean drinking water, and vital chlorine for disinfecting, cleaning, and preventing the spread of disease. "We never had anything like this before," said resident Rigoberto. "In 15 minutes the water began to reach us. It reached up to our chests."
Several have died and gone missing. Many families hadn't eaten until receiving meals from OBI volunteers, and hundreds will struggle for work due to flooded fields. Community member Agustin said, "The only good thing is that we are still alive, and so we can work to move forward."
Please keep the Mexico flood victims in your prayers as Operation Blessing continues to minister to their immediate needs.
UPDATE
Operation Blessing continued bringing relief to flood victims, including new mattresses to sleep on, Kohler water filters, and even a bike for a special little boy named Angel who lost his in the flood.
HOW YOU CAN HELP

Your support is critical to providing relief for the hungry, water for the thirsty, medical care for the sick, disaster relief for those in crisis, and so much more.
Click here to make an online donation today
and let your gift make a significant impact in the lives of those who urgently need it.

Print Friendly