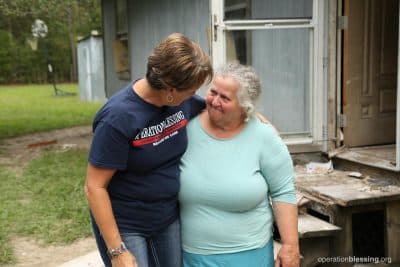 Field Report from Texas – Blessed by Those We Bless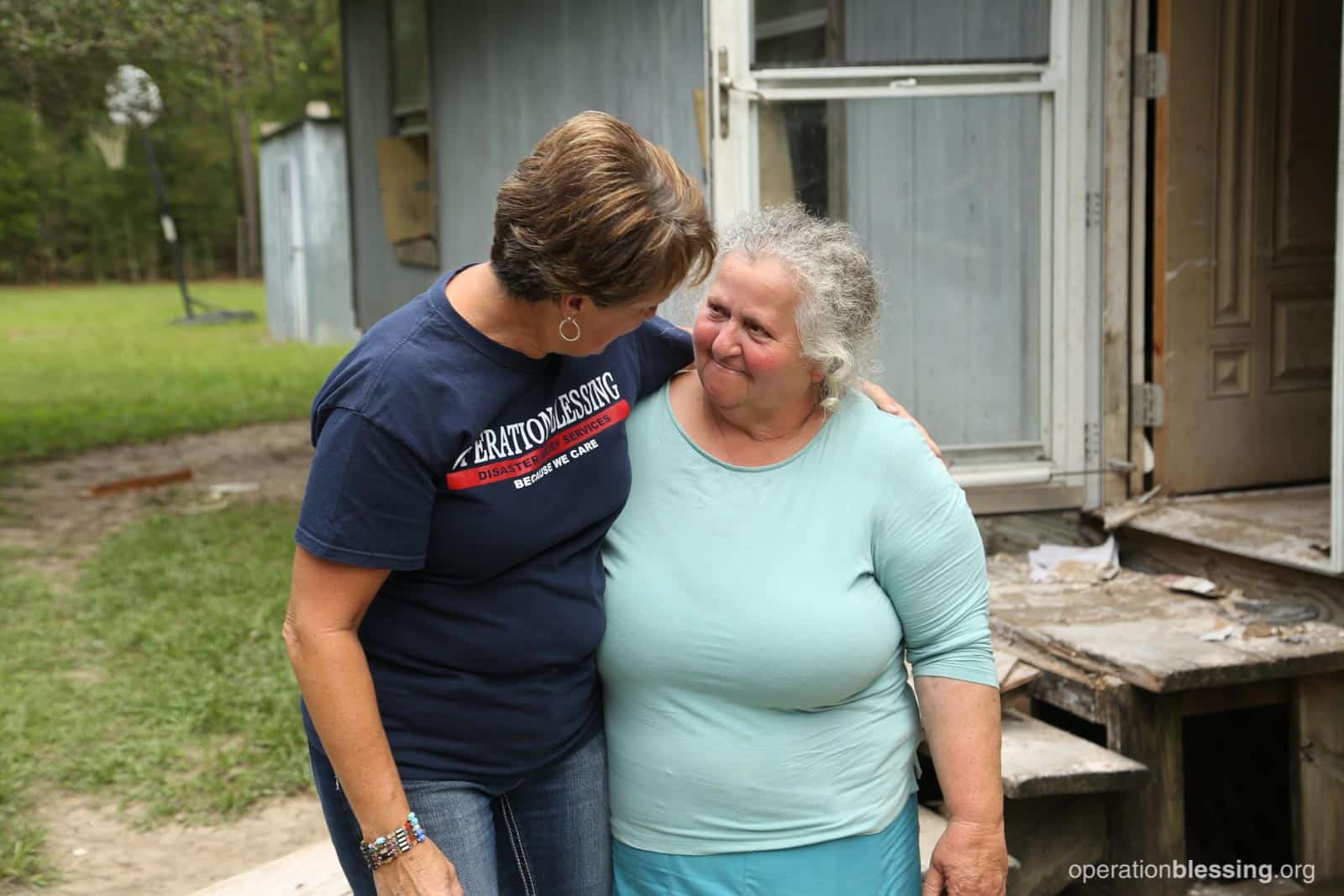 TEXAS, USA – Report from the field in Texas by Operation Blessing disaster relief worker, Sheila Griffin.
When I arrived to the home of a woman named Laura, my heart ached as I saw the huge pile of debris in her side yard. It consisted of toys for small children and items that teenagers would have in their rooms. I saw a child's wagon, a child's comforter and pillows, lots of toys, as well as pictures, couches, appliances, dishes, and clothes.
Being the mother of four children myself, this debris pile really hit me hard. As a part of the U.S. Disaster Team for the past nine years, I have seen a lot of debris piles and completely destroyed homes, but what I have personally witnessed from Hurricane Harvey is beyond anything I have seen before.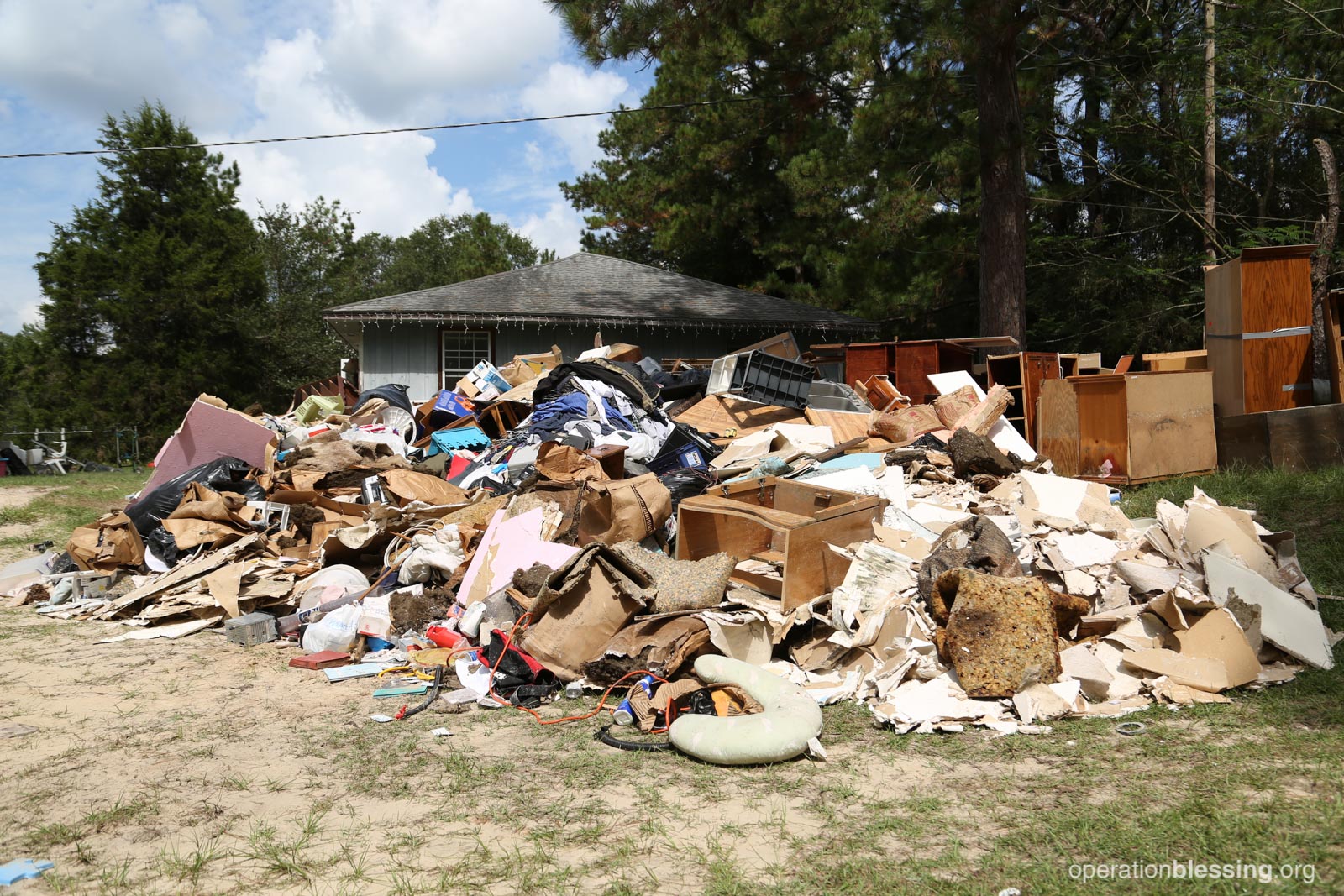 Walking through the sand and mud that surrounded Laura's home and not being able to take my eyes off the pile of debris, I could only imagine what this homeowner, who I was about to meet, could possibly be feeling. Our team of volunteers in their white Operation Blessing shirts gleamed with sweat in the hot Texas sun. They stopped to say hello and shared with me that I was about to meet one amazing woman.
Down the ramp, built to take the wheelbarrows of debris from the home, bounded a small, gray-haired woman in a long skirt. I introduced myself and was immediately pulled into Laura's arms. She thanked me for sending the "greatest group ever" to help in gutting her home. Laura wanted me to come inside to see what they had done for her family. The volunteers who had worked at Laura's home for the past two days had come back each evening with stories about her. It was a pleasure to finally meet the woman everyone was talking about.
As Laura and I entered her home, she excitedly told me what the volunteers had accomplished. The first four feet of drywall had been cut out throughout the entire house and was carried out to the debris piles. The kitchen cabinets and the bathrooms were totally gutted, and the floors were stripped to the sub-flooring.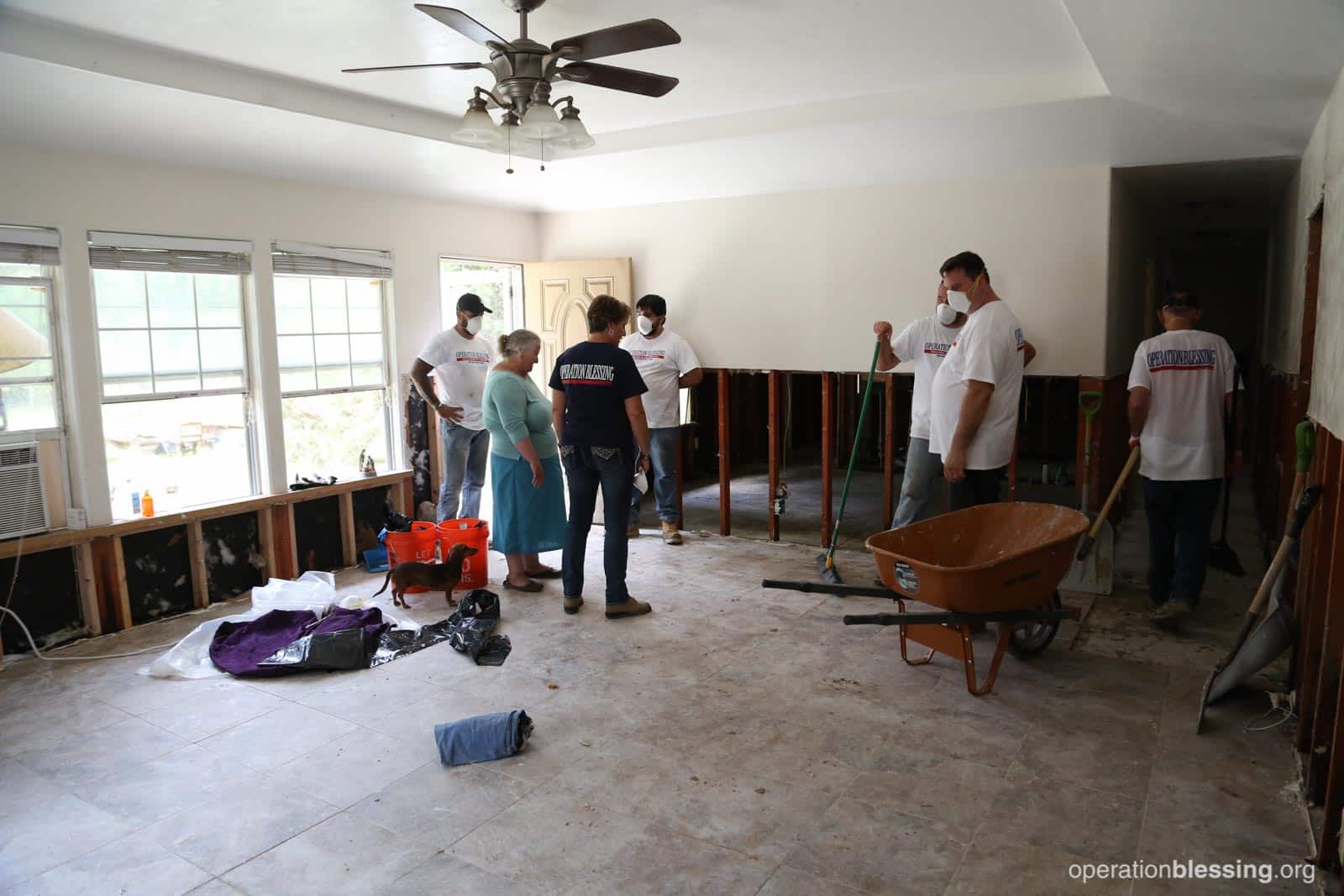 Two of the volunteers were using brooms to rid the remaining drywall and debris. The only thing that remained in the home was some storm water that had yet to recede from the back bedroom. Laura walked me through each room, sharing which of her three children had grown up in those rooms and the names of her grandchildren who occupy them now.
Laura and I walked back outside where she told me the story of how she and her husband became the sole caregivers for her five grandchildren, ages 7, 9, 11, 13, and 17. She also shared how she lost her first husband many years ago and raised their three children alone.
Her eyes lit up when she told me about the "very fine man" she met more than 20 years ago, a long-distance truck driver who is now her husband. She told me how wonderful he is with the grandchildren, whom they are now raising.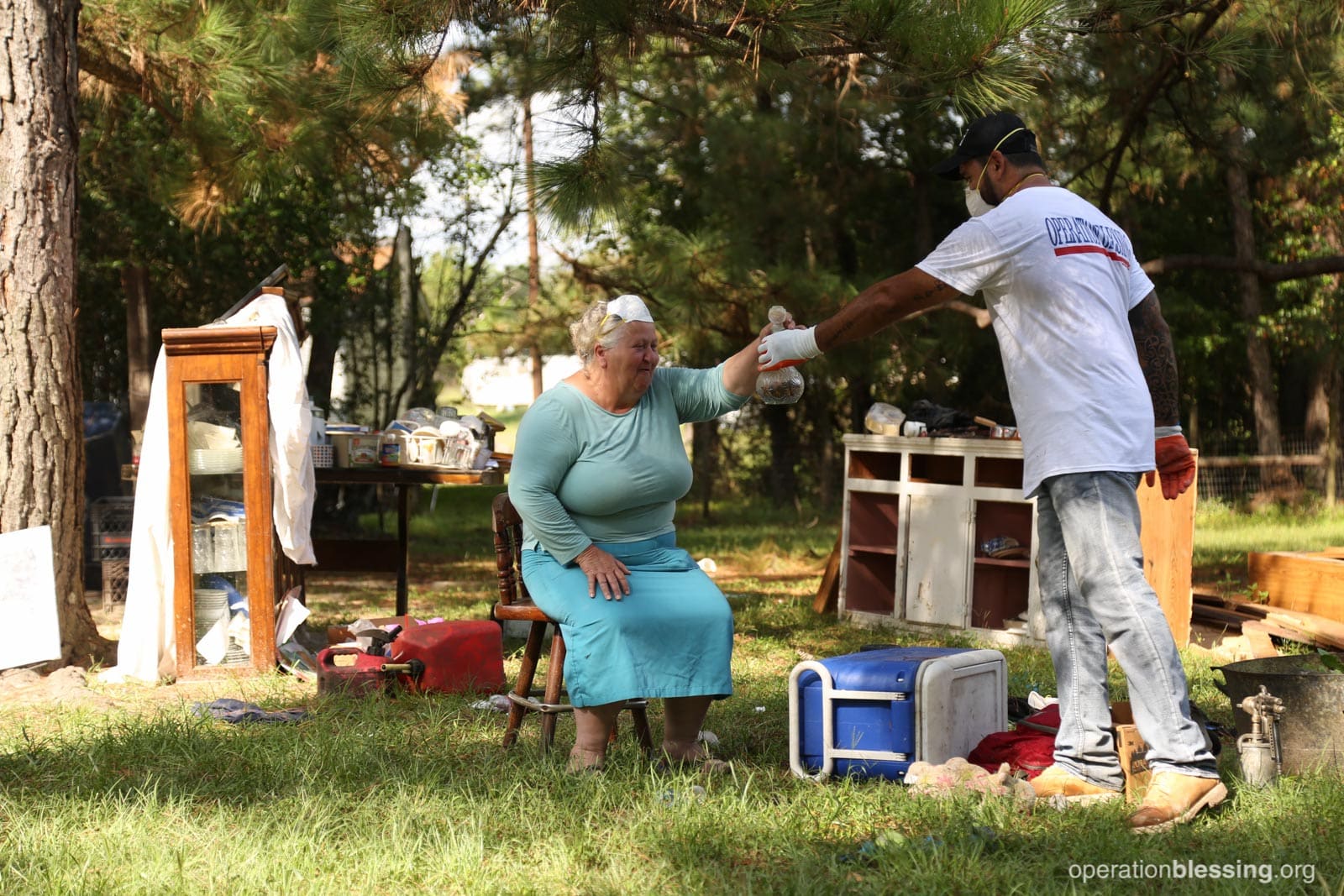 On the night of the storm, Laura asked her eldest grandson to go to the end of the street to see if it was flooding, as she was receiving calls from her friends that they needed to leave because the river waters were rising. Her grandson returned a few minutes later and said that the street was flooded and they would not be able to drive out.
Laura called the fire department, and by the time they arrived, they had to use canoes to come to the door to load the youngest children. She and the two oldest grandchildren walked as far as they could through the flood waters until another boat came and picked them up.
Laura and I next walked to the family's SUV, which had been flooded to the windows during the storm. She showed me precious pictures of her children and grandchildren, which she had been able to salvage. As she spoke about them, her eyes literally sparkled. She proudly stated that four of her grandchildren are at the top of their class in school. She also shared about her middle grandson, who has some special needs and how very proud she is of him and what a fine young man he has become.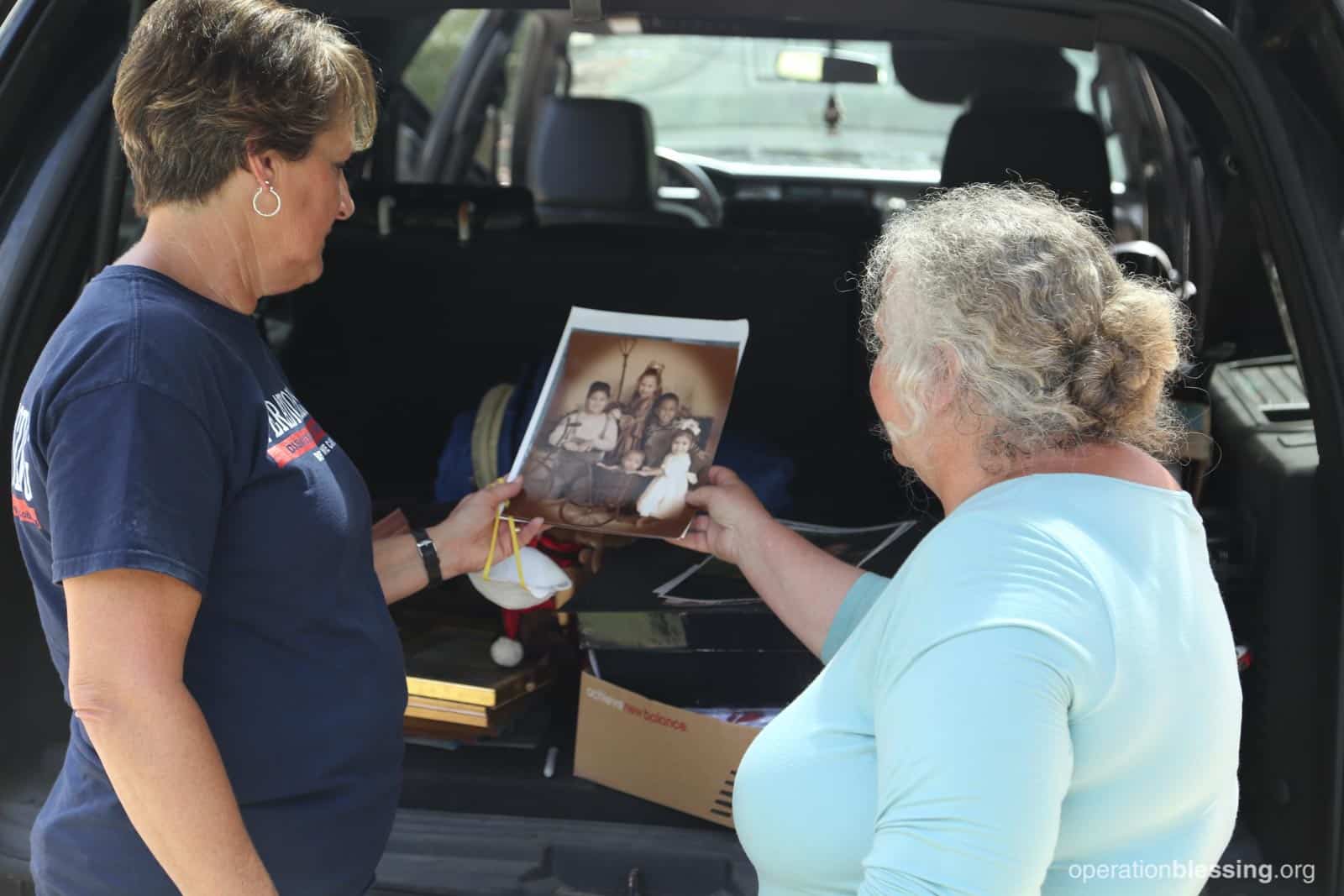 In addition, she mentioned that her family had taken in other children who had no place to go or were having troubles at home. It didn't take me long to understand why our volunteers called this woman amazing!
As Laura shared story after story, I asked her what her thoughts were when she looked at the pile of debris. Being the amazing woman she is, she simply stated, "It makes me sad, but the most important thing is that my babies are safe. We will rebuild our lives and buy new things, but the love we have for one another and God just can't be bought."
I thanked Laura for sharing her story with me. I told her that she was a ray of sunshine in my day, and that I was glad Operation Blessing was able to be a part of helping her family begin to rebuild their lives.
HOW YOU CAN HELP

Your support is critical in helping families fight poverty.
Click here to make an online donation today
and let your gift make a significant impact in the lives of those who urgently need it.