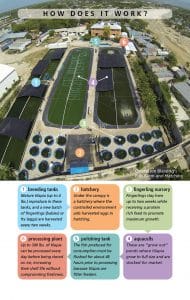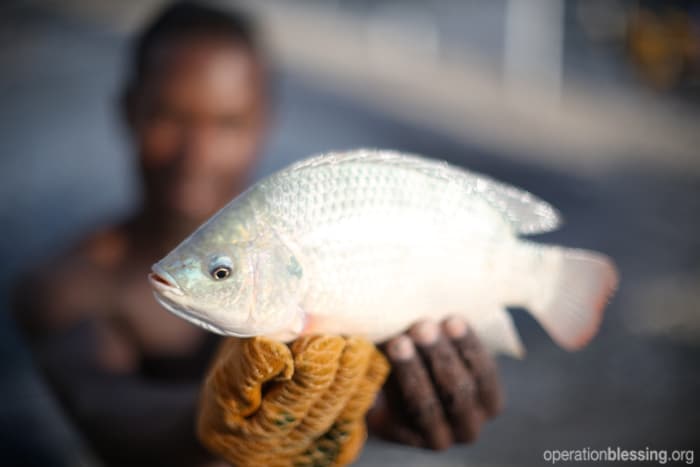 HAITI – As the saying goes: "Give a man a fish, and you feed him for a day. Teach a man to fish, and you feed him for a lifetime."
In many impoverished countries, poor diets and insufficient protein can cause a variety of health and learning problems and is a major factor in perpetuating poverty. Haiti, in particular, is struggling due to lakes that have been depleted by generations of fishermen, so Operation Blessing's Fish Farm and Hatchery was created to provide a source of nutritious food, educate Haitians about fish farming, generate jobs and develop new industries such as ornamental fish.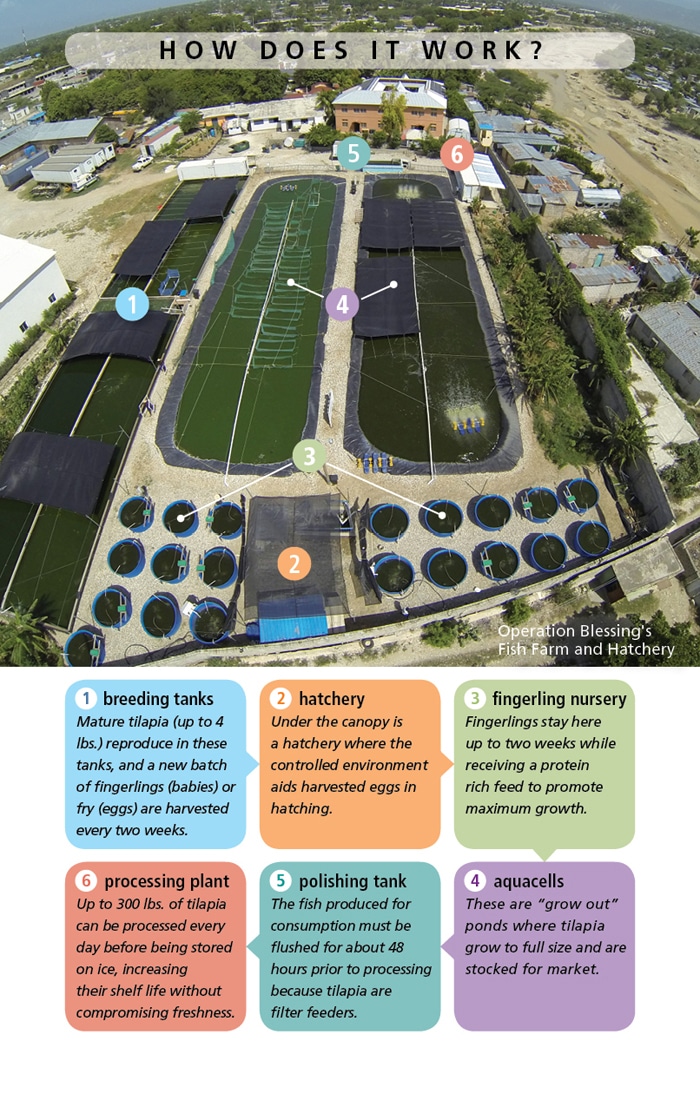 Fish Farming – The nation of Haiti has been crippled by disasters, creating a food security crisis. They need jobs to strengthen the economy and sustainable solutions to increase food security for the population. Operation Blessing is responding to that need through aquaculture — specifically, the farming of tilapia — which is providing jobs and food to hurting families across the nation.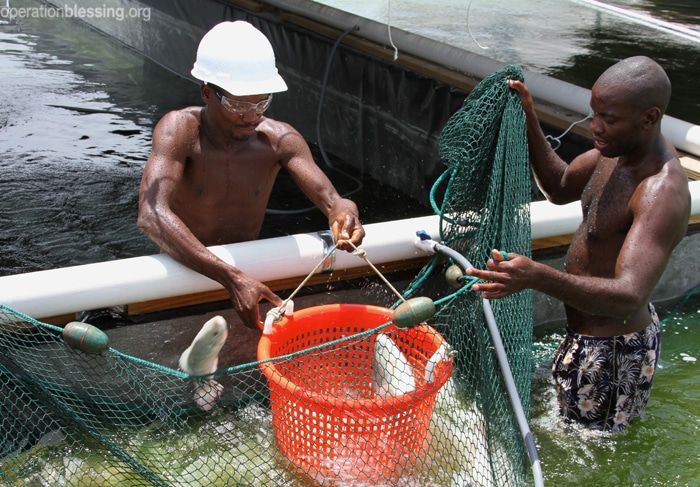 At OBI's Fish Farm & Hatchery, protein-rich tilapia are being raised to help feed children at Zanmi Beni Children's Home as well as nearby orphanages, schools and hospitals, while the tilapia hatchery is producing fingerlings (baby fish) that are then planted in ponds and reservoirs all over Haiti to help replenish the fish stock.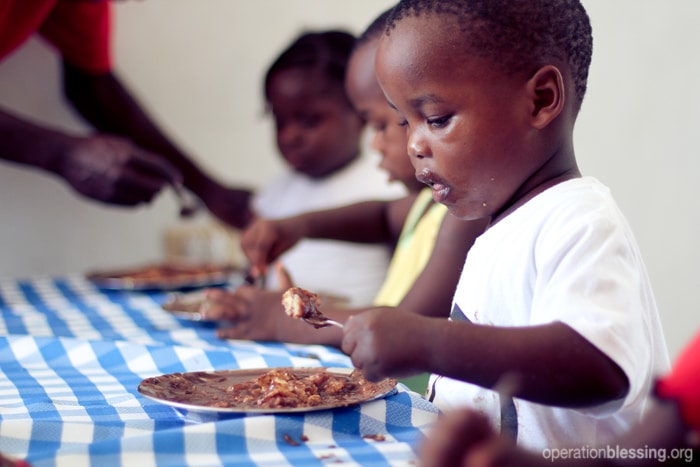 Fish Ranching – Unlike fish farming, where fish are raised in tight quarters and fed high-protein food so they can grow as fast as possible, fish ranching works in open ponds, lakes and reservoirs. Massive numbers of baby tilapia are released to forage on their own. Tilapia are herbivores and thrive grazing on algae the same way that cattle or horses graze on grass. Fish that cost a dime grow into fish worth $5 or more in less than a year.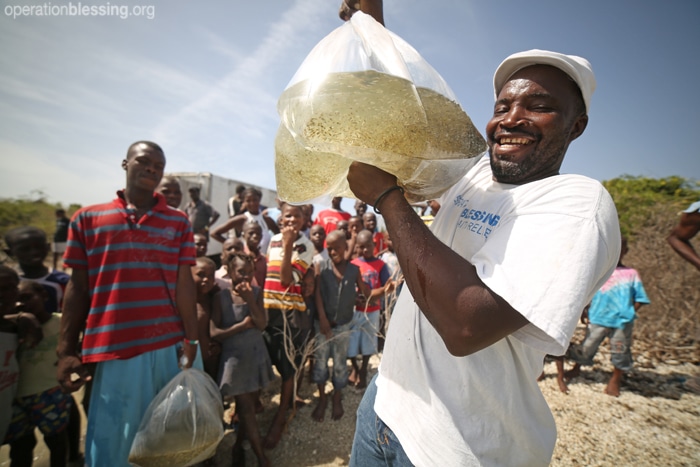 OBI is pioneering fish ranching in Haiti working with the Haitian Department of Agriculture as well as a faith-based local charity that builds lakes and reservoirs. Our goal is to populate these and barren public waters all over Haiti with tilapia. As they grow and mature, fishermen will catch many to feed their families and to sell for income, but many will survive, breed and multiply for years to come.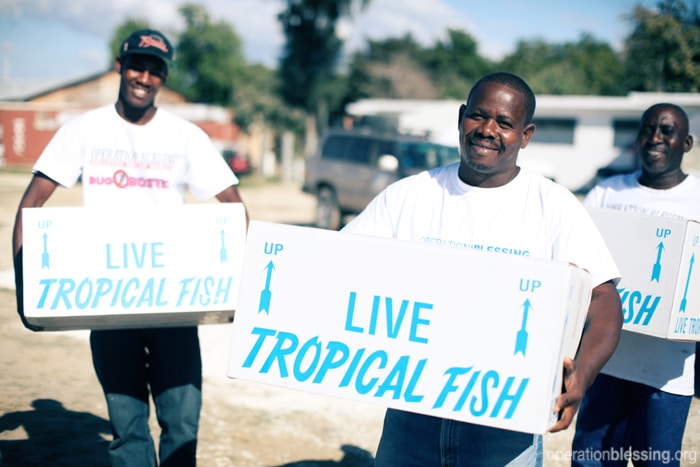 Ornamental Fish – At OBI's Fish Farm, Haitians are being trained on how to breed and care for ornamental tropical fish such as Platys, Gourami and Tiger Barbs to help stimulate a local industry for the production of these fishes.
The fish are also part of a school education project, where elementary and high schools are being given aquariums with ornamental fish to help teachers as they instruct students in biology, environmental science and conservation.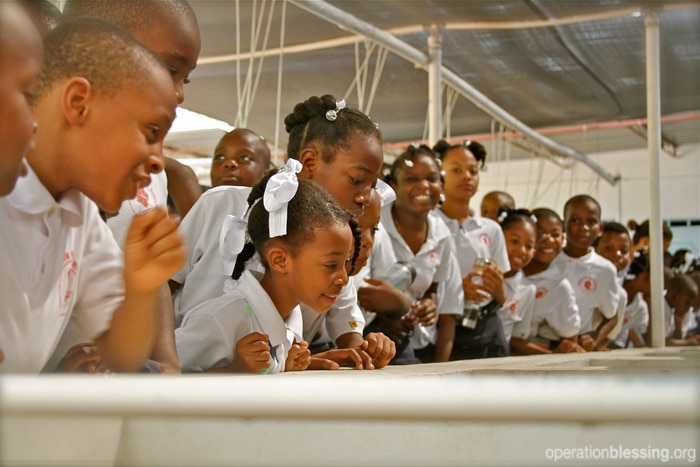 HOW YOU CAN HELP

Your support is critical to providing relief for the hungry, water for the thirsty, medical care for the sick, disaster relief for those in crisis, and so much more.
Click here to make an online donation today
and let your gift make a significant impact in the lives of those who urgently need it.

Print Friendly