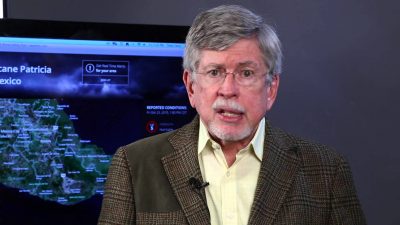 Catastrophic category 5 hurricane hurdles towards Mexico
MEXICO – Friday night, one of the strongest hurricanes on record is set to slam Mexico with torrential rains and wind gusts in excess of 200 mph. Operation Blessing teams are on the ground nearby, prepared to provide relief to victims devastated by the storm.
In the span of 34 hours, Hurricane Patricia went from a 40 mph wind tropical storm to the strongest category 5 hurricane on record in the Western hemisphere. Last year, Hurricane Odile hit the Baja Peninsula as a category 3, the first time a storm that strong had struck the region in 47 years. The likes of Hurricane Patricia have never been seen in this region in recorded history.
OBI is prepared to respond with chlorine generators to disinfect dirty water, plus power washers, chainsaws and other tools to begin cleanup and recovery. OB Mexico also mobilized two mobile kitchens to provide hot meals for hurricane victims.
HOW YOU CAN HELP


Your support is critical in helping families fight poverty. Click here to make an online donation today and let your gift make a significant impact in the lives of those who urgently need it.

Print Friendly