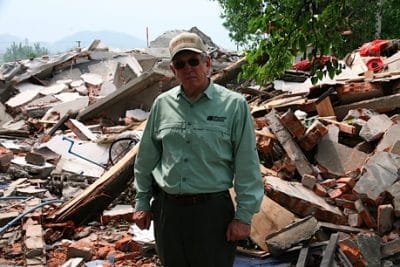 Death comes to quiet village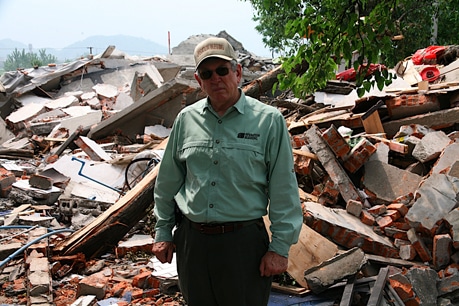 CHINA – Today, the China earthquake of May 12 got up-close and personal. We took a team of volunteers, doctors and a truckload of food and relief supplies, and drove into the mountainous region north of Chengdu, outside the city of Mianyang, and visited two tiny villages that have suffered 100 percent destruction.
Yao Jin (yow'-gin) was a quiet agricultural village of about 70 families living in small to medium houses built of block and sometimes brick, usually painted white.  The roofs were made of dark gray, slightly arched clay tiles, carefully nestled and perched between sloped wooden slats placed about a foot apart. Most of the homes in Yao Jin were quite old, but several were nearly new. The people there raise their own rice, and most families have a garden with corn, tomatoes and peppers. Some raise range-fed chickens and keep a few pigs and a family dog.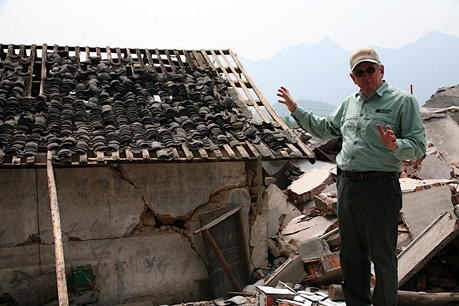 When the ground started to shake about 2:30 in the afternoon of May 12, falling roof tiles were the first sign that a house was about to be torn apart.  As the wooden roof slats shook, spread and started to buckle, hundreds of brittle tiles slipped between the slats, and like so many dominoes, cascaded into the home below. The killer quake shook the buildings harder and rocked the ground so violently that it was impossible to stand. Villagers told me of falling over one way, getting up to run… and being pitched to the ground in the opposite direction.
In one two-story house I visited, an 81-year-old grandfather was napping on the couch when the quake came. The home was sturdy and built of poured concrete and block, but the concrete floor of the second story cracked and crumbled, and the house fell down. Huge slabs fell on top of the old man, snuffing the life out of him. He died pinned to the couch. The grandmother and one-year-old granddaughter were visiting neighbors. They never came home and have not been found. There is no doubt that they are entombed somewhere in the rubble of the broken village.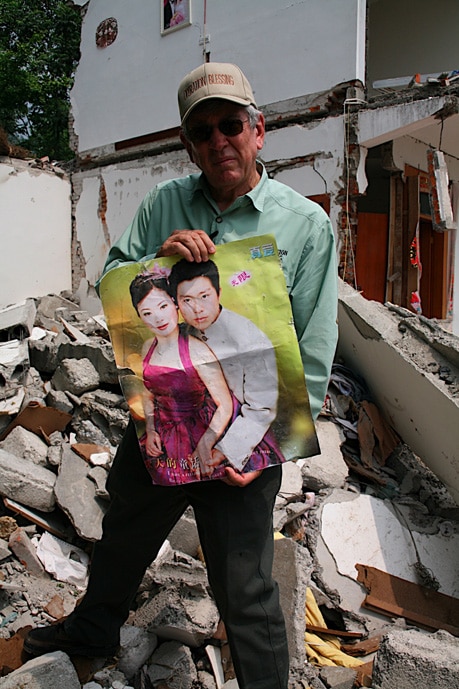 As I looked up at the still-standing wall next to the death bed couch, I noticed a large framed color wedding picture hanging on what used to be the bedroom wall of the young couple that owned the house. They survived, but lost their baby daughter and grandparents. I also found a crumpled picture of the couple and asked to have my photo taken with it.
Even though I have been around the world in the aftermath of many terrible disasters, I still find it impossible to grasp the scope and reality of a calamity while watching it on TV. No matter how high the definition and gruesome the photos, it all seems somehow other-worldly. Even though I know it's true, news bulletins streaming into my BlackBerry announcing millions of homes destroyed and tens of thousands killed, does not have real meaning to me until I stand in the wreckage and hear the story… of how just one person died. Today, as I listened to a neighbor describe an old man's death on a couch, the China quake became oh-so real.  I do, however, find great solace knowing that Operation Blessing is comforting survivors and helping them put their lives back together. Tomorrow I will write about what we are doing to help in Yao Jin and other places.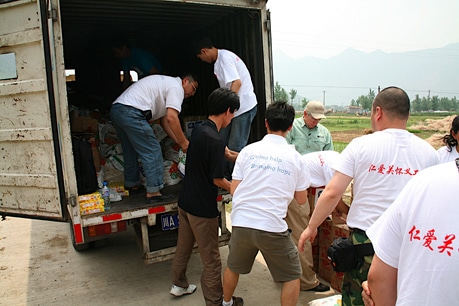 HOW YOU CAN HELP

Your support is critical to providing relief for the hungry, water for the thirsty, medical care for the sick, disaster relief for those in crisis, and so much more.
Click here to make an online donation today
and let your gift make a significant impact in the lives of those who urgently need it.

Print Friendly