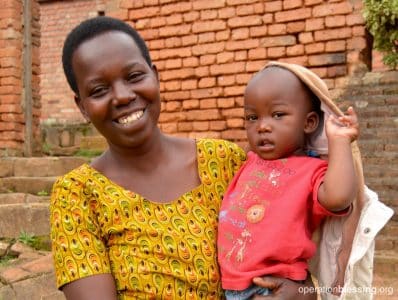 Nourished from the Inside Out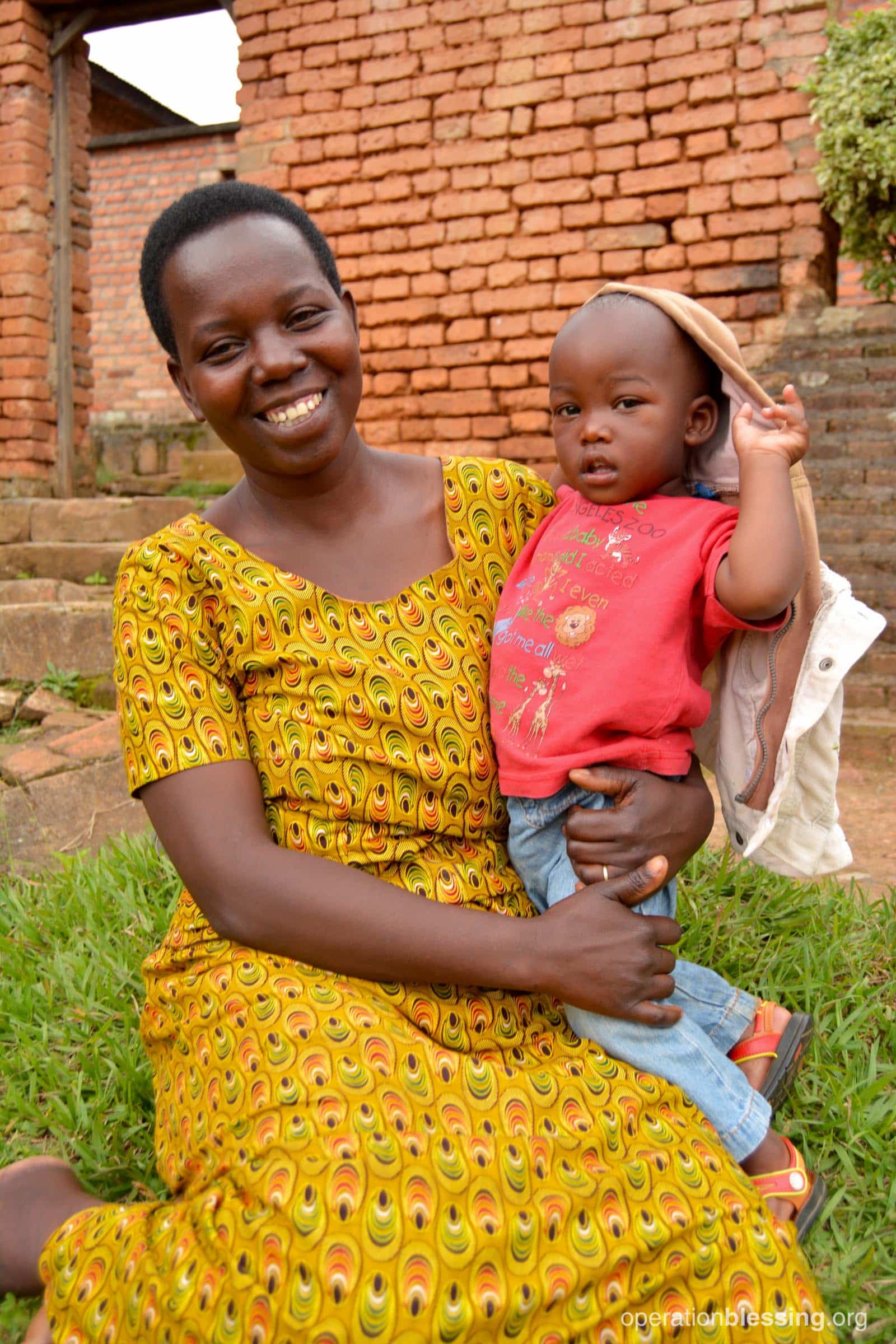 RWANDA – Francoise's son, Dubudonnee, once suffered from malnutrition, as do so many children in their country of Rwanda. But Operation Blessing partner, Gardens for Health International, is making a real difference in the lives of malnourished children and their families.
Francoise works as a street vendor and lives with her husband and son in a Rwandan community. In the past, she had vague ideas about nutrition, aware that a balanced meal is comprised of "energetic food, food rich in protein and minerals." However, she felt ill-equipped to act on that general concept, and young Dubudonnee's health was faltering. "Before being enrolled in this program, my child was unhealthy according to the measurements taken," she said.
Then she enrolled in Gardens for Health. The program provided Francoise with both the knowledge and the resources she needed in order to start preparing healthy meals for her family. Gardens for Health puts an end to childhood malnutrition through education and agricultural solutions. With support from Operation Blessing, they have improved the lives of more than 5,000 children and 10,000 individuals just in the past year. Children much like Dubudonnee.
"With this program we were [taught] how to make a balanced meal composed of four food colors," Francoise said. "It is an easy way to prepare a meal for everyone and to find food that makes a balanced meal." In the classes she was also taught the importance of composting, of using safe water, and of taking her child to a clinic rather than to a traditional healer if he shows signs of being malnourished in the future.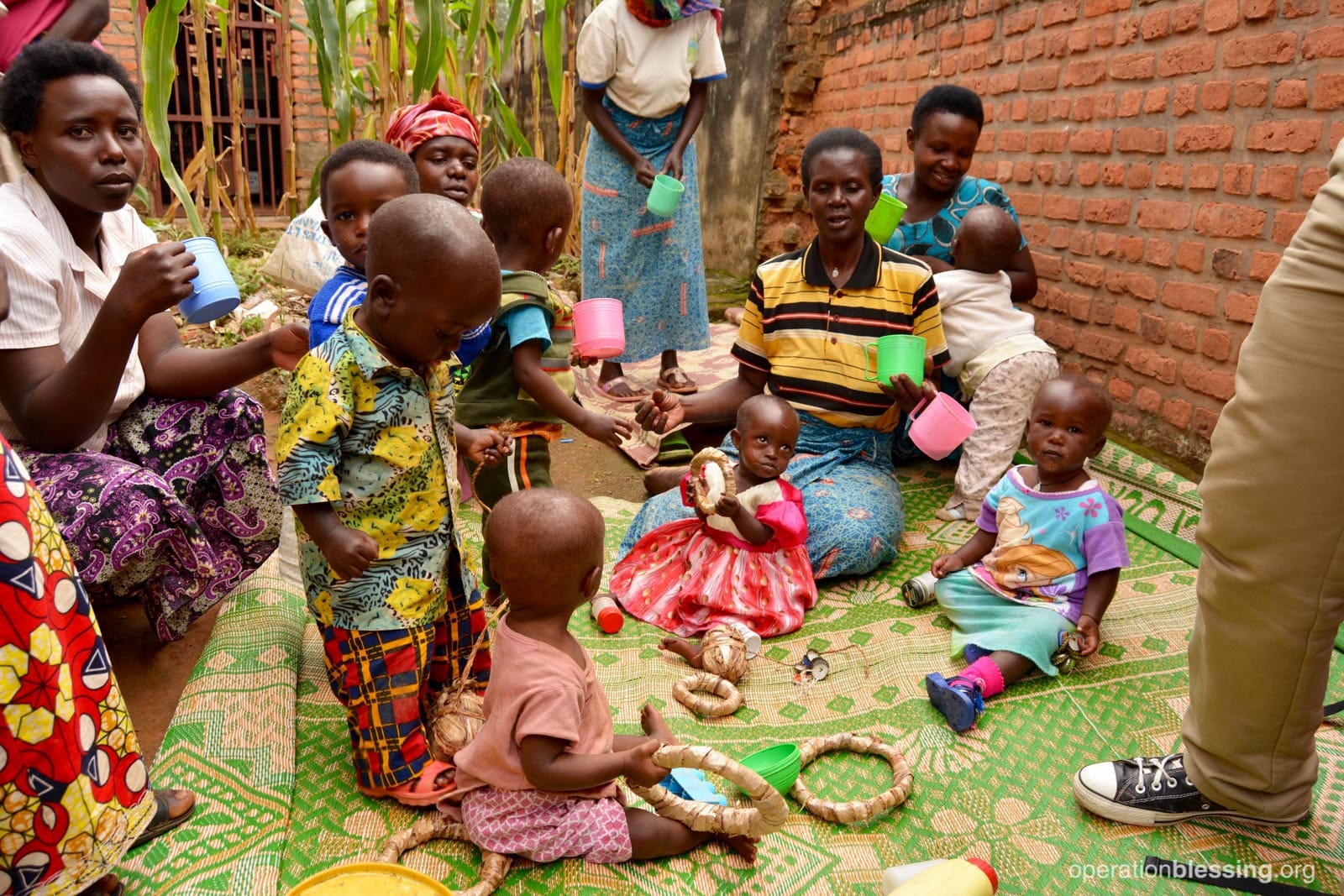 Thanks to GHI's Early Childhood Development program, Francoise now knows how to spot developmental delays within specific age ranges. And she understands the importance of peer interaction and healthy social and behavioral development for her son.
While Francoise attends her classes, Dubudonnee and the other children in the program enjoy mentally stimulating playtime with their caretakers. "It makes me happy to see someone caring for my child; I learn from them and it makes me knowledgeable," Francoise said.
Today, Dubudonnee is growing strong and healthy. He demonstrates a renewed sense of curiosity and is eager to play with other children. By addressing the full spectrum of issues that affect a child's development, Operation Blessing and Gardens for Health are transforming the lives of thousands of malnourished children each year in Rwanda. Thank you for being a part of that change.
HOW YOU CAN HELP

Your support is critical to providing relief for the hungry, water for the thirsty, medical care for the sick, disaster relief for those in crisis, and so much more.
Click here to make an online donation today
and let your gift make a significant impact in the lives of those who urgently need it.

Print Friendly