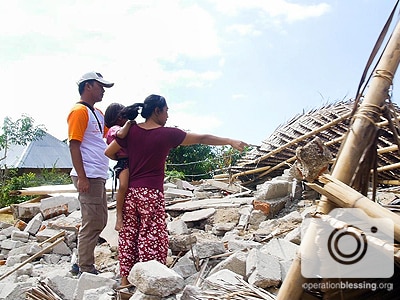 Earthquake Aid for Indonesia
Indonesia Earthquake
A recent 7.0 earthquake shook the island of Lombok in Indonesia. Hundreds have died, and hundreds of thousands have been displaced. Obor Berkat (Operation Blessing) Indonesia immediately responded with earthquake aid. As they reached the disaster area and began assessing the situation, they saw an urgent need for medical care. Quickly, they gathered a medical mission team of 3 doctors and 2 nurses and got right to work. Young Putri was just one of the disaster victims to receive care after being trapped under the rubble of her home. The team also reached out to other traumatized children to help calm them in this difficult time, and they will continue providing aid to this devastated area as the needs develop. Thank you for your ongoing support of Operation Blessing that allows us to respond to urgent needs in times of natural disaster.
HOW YOU CAN HELP

Your support is critical to providing relief for the hungry, water for the thirsty, medical care for the sick, disaster relief for those in crisis, and so much more.
Click here to make an online donation today
and let your gift make a significant impact in the lives of those who urgently need it.

Print Friendly