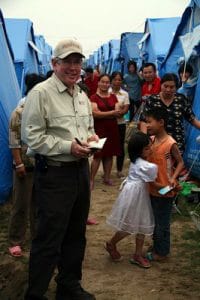 Earthquake survivors: "Two mountains became one"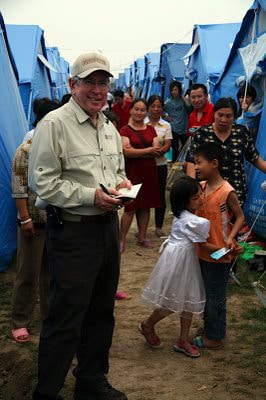 CHINA – I started the day meeting with top government officials and got the green light to bring in large quantities of tents from the U.S.
The government has been very cooperative and supportive of our efforts. Now, the challenge is to secure a large donation of family size tents from manufacturers.
OB China mobile teams and local church volunteers spent Memorial Day much the same as the day before: serving survivors in quake-torn mountain villages around Mianyang.
We served hundreds of families by distributing rice, sugar, cooking oil, salt, hygiene packs and plastic sheeting for building shelters while volunteer doctors looked after medical issues.
At the end of the day we visited a refugee camp near a sports stadium and delivered plastic sheeting used to provide a moisture barrier on the dirt floors of tents.
The camp manager had made a special request two days ago. He explained that rain was making a mess of the dirt floors. We provided plastic in the requested thickness in sheets cut to size.
There were around 500 blue tents, all in neat rows. Each tent, approximately 10.5' wide by 12' long, is a temporary home for 16 people who used to live peacefully in remote mountain villages.
I asked the camp manager to walk us around camp so that I could talk with the people and hear their stories. Everyone was anxious to tell us where they were when the quake hit, how frightened they were… and how thankful they are to have escaped with their lives.
One 83-year-old lady told of how she and her daughter waited almost three days before Army soldiers hiked in over the mountains to rescue survivors from their village. The old woman said she told the soldiers, "I am tired and too old to walk out, just leave me here to die."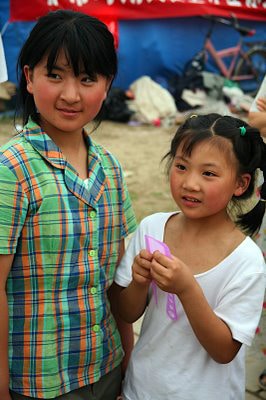 The soldiers told her they were not going to abandon her. They took turns carrying her on their backs for the 8-hour trek. The lady's daughter told how the soldiers carried out the very young, the very old and the handicapped.
The old woman told me that, "only the dogs and pigs were left behind, we could not bring them to the camp."
A sweet little girl with a pink comb told me of how her teacher, "threw me out the window while our whole school was falling down." I was afraid to ask what had become of her heroic teacher.
Several ladies told of how,"two mountains became one and the river between them disappeared."
We made the long drive back to the city and our hotel just in time for an 8:30 p.m. meeting with our friends from Samaritan's Purse and Southern Baptist Disaster Relief. We met for about two hours discussing ways that we might serve more people. The nights here seem so short; I've got to get some sleep now.
HOW YOU CAN HELP

Your support is critical to providing relief for the hungry, water for the thirsty, medical care for the sick, disaster relief for those in crisis, and so much more.
Click here to make an online donation today
and let your gift make a significant impact in the lives of those who urgently need it.

Print Friendly