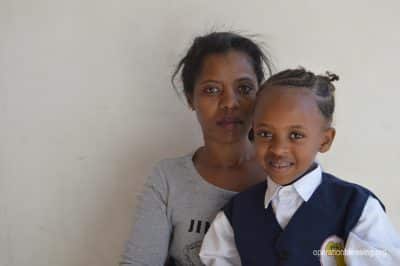 Empowered by a Community of Hope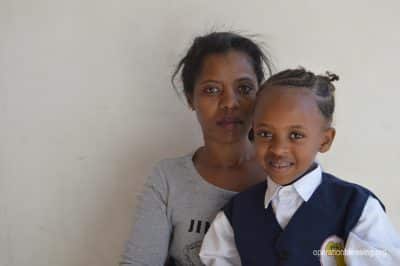 ETHIOPIA – When Zoe* was three years old her dad died, leaving her mother alone with multiple children and no way to provide for their daily needs. Zoe and her siblings were split up among other family members, and she went to live with her aunt and cousins.
Living with her extended family went well through childhood, adolescence and young adulthood. But then, in her mid-twenties, one of Zoe's cousins raped her and she became pregnant. She was unable to hide her pregnancy for very long. When Zoe's aunt learned of the baby, she chose to believe her son's claim that he didn't do anything to Zoe. Pregnant and with nowhere else to go, Zoe stayed with her aunt until her daughter Hana* was six months old.
Leaving an inhospitable home was difficult for Zoe because she didn't know where to go. She spent her days begging by the side of the road. A community member told the staff at Embracing Hope Ethiopia (EHE) about Zoe, and they stepped in to help. EHE is an Operation Blessing partner in the poorest, most vulnerable parts of Ethiopia. The organization's goal is to give families who are struggling to survive a chance to turn things around, all while staying together.
Zoe and Hana joined Embracing Hope Ethiopia more than five years ago, and since then the two have experienced tremendous growth. Zoe immediately received intensive counseling and other critical care, such as food, clothing, clean sheets, a mattress and hygiene materials. Both she and Hana received regular medical check-ups and legal assistance as Zoe proved that her cousin was the biological father to Hana.
EHE gives caretakers a way to earn a living and provide for their families; the jobs not only increase their financial autonomy, but also restore hope, confidence and dignity as they work for their provisions. Zoe cleans clothes for one organization and sells clothes for another, earning more each month than she likely ever expected. Hana, too, has shown great progress; she is in school, healthy and thriving in her safe and welcoming environment.
With support from Operation Blessing, Embracing Hope Ethiopia's mission is to work with the poorest families in Ethiopia to empower them into a future that includes autonomy, safety, hope, joy and a life they can be proud of. For women and children like Zoe and Hana, the gift has made all the difference.
*Names changed to protect identity.
HOW YOU CAN HELP

Your support is critical in helping families fight poverty.
Click here to make an online donation today
and let your gift make a significant impact in the lives of those who urgently need it.