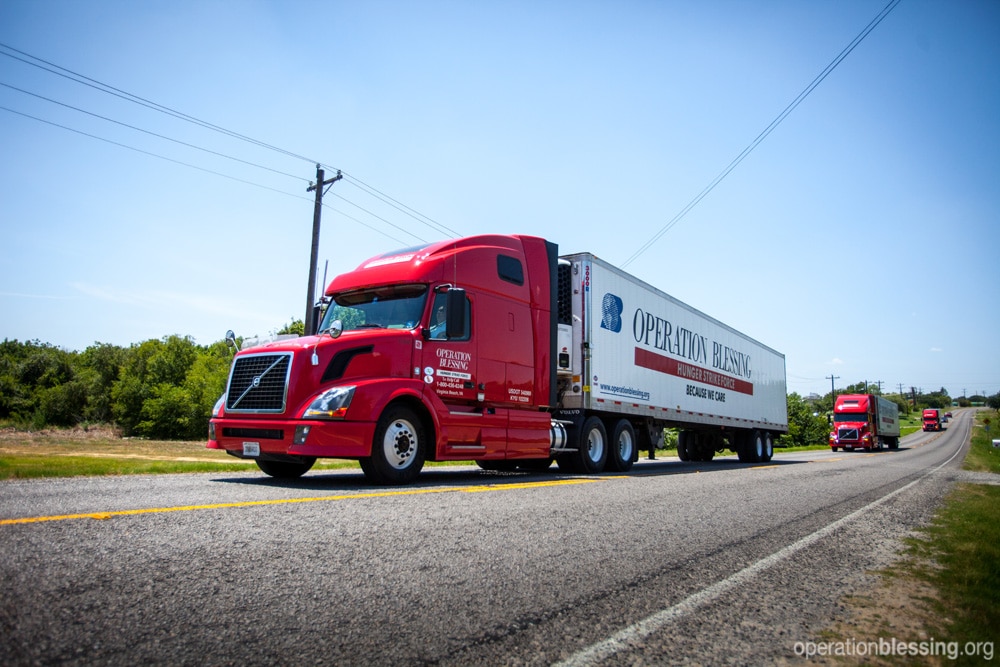 UNITED STATES – The other night, while driving home after a late meeting, I spotted an Operation Blessing 18-wheeler headed north. I wondered where the big rig was going at such a late hour and then remembered that our Hunger Strike Force is like a servant that never sleeps. The drivers have ten hours allocated to rest in each 24-hour period, but our fight against hunger goes on 24/7. My November Blessings column is a glimpse backstage into what keeps our fleet rolling.

Our procurement team, based in Virginia Beach, works long hours prospecting for new corporate donors and contacting existing donors to secure truckloads of food, medicine and relief supplies. The team's mission is to keep the trucks full. As each donation is secured, the information is entered into an online database and made immediately available to our dispatchers located in Ocala, Fla., and Charlotte, N.C. Each vehicle is equipped with a GPS that records and reports via satellite. The dispatchers have monitors on their desks showing a map of the U.S. highway system with blinking lights that indicate the location, speed and direction of travel of each truck in our fleet. Our dispatchers study their screens and determine which truck is best located to pick up the new donation and take it to one of our four hubs (Dallas; Ocala, Fla.; Chesapeake, Va.; and Bristol, Va.) or directly to a ministry recipient. On the receiving end, we bless a network of over 100 faith-based ministries with up to 2 million pounds of goods a week that they then distribute to hungry Americans, many of whom have lost their jobs and never before had to depend on charity. By operating with Swiss-watch efficiency, we leverage every drop of fuel and maximize each truck's capacity to pick up and deliver donated product. On average, we deliver over $10 worth of product for every dollar invested. This is another demonstration of Operation Blessing's "loaves and fishes" strategy to get more bang for every donor dollar. The next time you see an Operation Blessing truck on the road, please remember that besides the faithful driver and powerful diesel engine, the truck is driven by your compassion!
HOW YOU CAN HELP

Your support is critical to providing relief for the hungry, water for the thirsty, medical care for the sick, disaster relief for those in crisis, and so much more.
Click here to make an online donation today
and let your gift make a significant impact in the lives of those who urgently need it.

Print Friendly