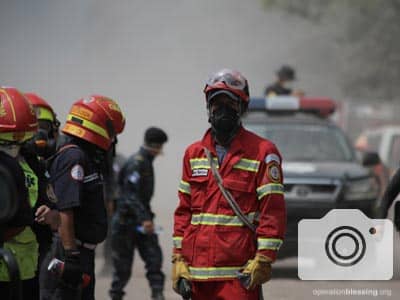 Fuego Volcano Relief Efforts
Disaster Aid in the Aftermath of Fuego Volcano
Guatlemala's powerful Fuego volcano erupted on Sunday, June 3rd, leaving the surrounding area covered in ash and debris. Over a hundred people have died, and hundreds more were left missing. But thanks to your ongoing support of Operation Blessing, our OB Guatemala team immediately rushed to the scene to provide aid to those in need.
Right away, they began collecting and distributing essential food supplies, hygiene items, face masks, medical supplies, and more. They also set up a relief kitchen to provide meals to rescue workers and others in need. Approximately 500 hot meals were served on their very first day of operations. Throughout the week, they expanded their efforts to supplying mattresses, solar lights, safe water, stoves, and medical care, as well as sponsoring fun activities for the children who have been through so much.
Thousands of precious lives in Guatemala will be made a little easier during this difficult time thanks to Operation Blessing's faithful partners and the hard work of OB Guatemala staff and volunteers on the ground. You can give to help disaster victims now.
HOW YOU CAN HELP

Your support is critical to providing relief for the hungry, water for the thirsty, medical care for the sick, disaster relief for those in crisis, and so much more.
Click here to make an online donation today
and let your gift make a significant impact in the lives of those who urgently need it.

Print Friendly