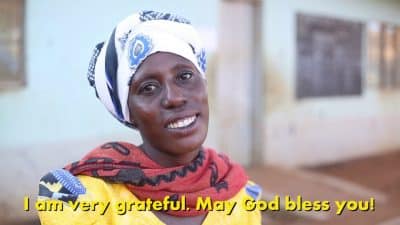 Getting Medicine To The Remote Tribes In Africa
Operation Blessing, in partnership with HOPE Citadel Foundation, conducted a medical clinic in the remote wilderness of Taveta, Kenya. Many of the families that attended this clinic do not have access to medical care. Monicah was suffering from a severe toothache so painful that she was unable to sleep. She had no money to see a doctor and was at her wits end. When she heard about Operation Blessing and the free medical clinic, she was overjoyed. A dentist examined her and extracted the troublesome tooth and supplied Monicah with medicine to help ease the pain. Shortly afterward, Monicah was feeling much better. Because of you, all over the world people like Monicah receive life changing aid. To learn more, go ob.org.
HOW YOU CAN HELP

Your support is critical to providing relief for the hungry, water for the thirsty, medical care for the sick, disaster relief for those in crisis, and so much more.
Click here to make an online donation today
and let your gift make a significant impact in the lives of those who urgently need it.

Print Friendly