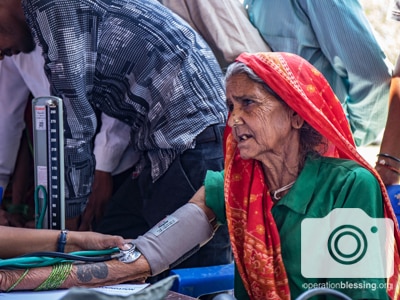 Hope and Health for Nepal
In the village of Silautiya, Nepal, the houses are made of mud, most residents do not have toilets, the poverty rate remains high, and the closest medical outpost lies 27 kilometers away.
Operation Blessing supporters and their partner, Revive Team Nepal, brought hope and health to the poverty-stricken village through a health camp providing free medical care to those in need.
Thanks to your help, a team of doctors, nurses, and volunteers conducted free consultations and check-ups in a broad variety of specialties, including dental, to over 800 attendees. In addition, they offered free blood pressure, blood sugar, and BMI screenings to create awareness about diabetes and hypertension.
HOW YOU CAN HELP

Your support is critical to providing relief for the hungry, water for the thirsty, medical care for the sick, disaster relief for those in crisis, and so much more.
Click here to make an online donation today
and let your gift make a significant impact in the lives of those who urgently need it.

Print Friendly