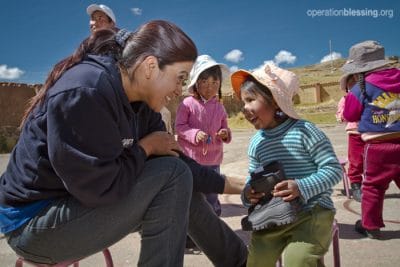 Helping change lives with new shoes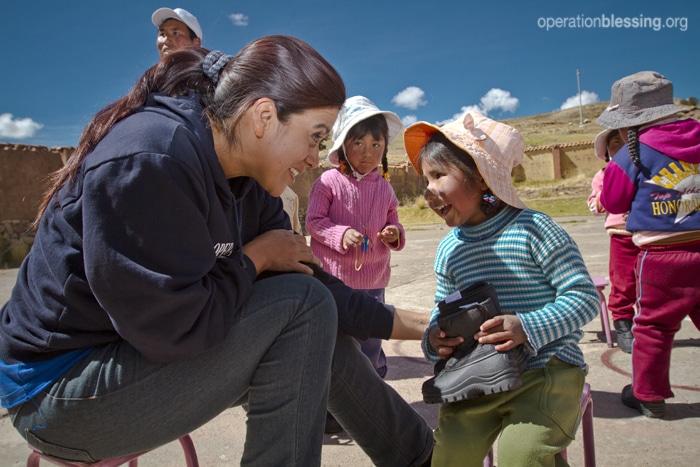 BALSABE, Peru – Three-year-old Vivian always has a bright, warm smile. But lately, that is about the only warm thing she has.
High up in the mountains of Peru, little Vivian lives along the shores of Lake Titicaca—one of the world's highest lakes. Here, the winter temperatures drop dangerously low, and children like Vivian, living in this impoverished region, suffer from the cold and frostbite because they do not have proper shoes to protect their feet.
The day Operation Blessing teams arrived at her preschool with new winter boots from TOMS Shoes, Vivian was the first in line—excited to try on her new shoes. She was carefully measured and given brand new boots to protect her tiny feet.
As Operation Blessing staff began measuring her classmates, Vivian eagerly helped distribute boots to other students so they too could warm their feet.
"She was the one that ran to pick shoes from every box to help me out," said Dr. Sandra Arbaiza, director of operations for OB Peru. "She would run fast to the boxes, take the shoes and run to the other kids telling them 'Put them on!' with a smile on her lips."
Vivian may be small, but her heart is big. "She is always helping," her mother said. "She loves to give from her time to others."
"In all the activities we do, people are thankful to receive shoes," Arbaiza added, "but this girl showed that it is better to give than to receive."
Now clad in new boots, Vivian and her classmates will be able to attend classes all winter long without risking frostbitten toes as they walk to school.
The TOMS shoe distribution was part of Operation Blessing's holistic program for young children in the jungle region of Peru. OBI teams visited nearly 200 schools, aiding more than 12,000 children with hygiene training to promote good health—including an interactive drama, coloring books and more to help children ages 3 to 12 learn how to wash their hands properly and the importance of wearing shoes. Operation Blessing staff also trained parents and caregivers, as well as teachers, and installed more than 250 hand washing stations in schools that needed them.
HOW YOU CAN HELP

Your support is critical in helping families fight poverty.
Click here to make an online donation today
and let your gift make a significant impact in the lives of those who urgently need it.