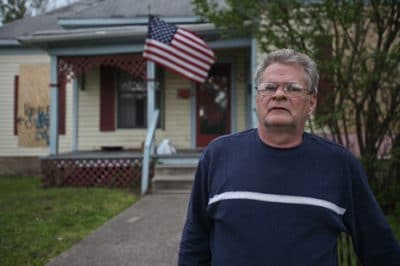 How do the residents of Joplin move on?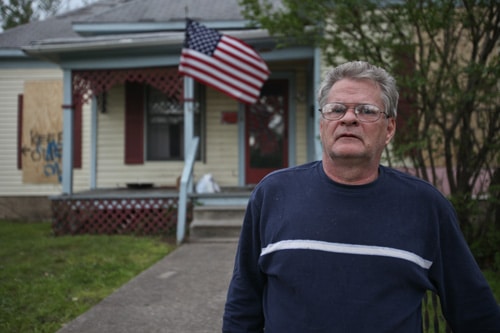 JOPLIN, Mo.— When I asked Randy, a 51-year-old Joplin resident, how he would move on after the tornado, he simply answered, "You've just got to live it every day, and the next day will be better than the day before and it will get better." This is true both physically and emotionally. Each day in Joplin, progress is being made in the cleanup process as compassionate volunteers swarm the streets and lend their hands and hearts to the survivors of this terrible tornado.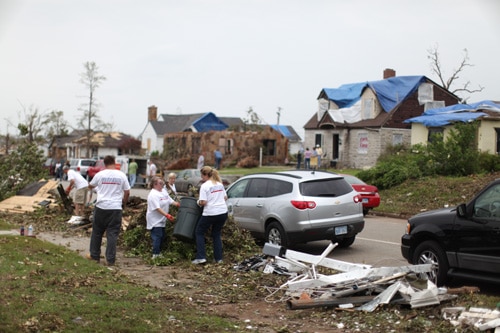 We first met Randy on Friday when teams from Operation Blessing were walking the streets of Joplin looking for survivors who needed help and having them fill out work orders. He was proudly flying an American flag and had his windows boarded up warning would-be looters to "Keep Out." When the tornado hit, Randy was at Walmart. Having seen the pile of debris that used to be Walmart, I asked him what happened and how he walked out. He said it sounded like a freight train rolling into town… shelves started shaking like an earthquake, and the building and items around him were lifted and dropped. He was in the back of the store near a concrete wall, but was knocked over onto debris that broke several ribs and a vertebrate in his back. As we talked, his movements were visibly stiff and painful.
He lifted his shirt to show a large, dark bruise on his back. He told me that as he left the store, the scene was like being in "a combat zone in Panama. It looked like an atomic bomb had gone off," he said.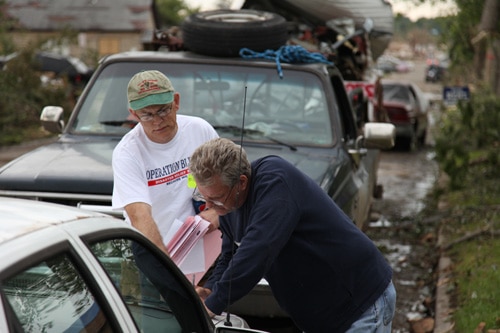 As he finished his work order, I turned to take a picture of his flag flying in front of his home and he asked if I wanted to take a photo of him with the flag. Of course I did—and with a simple gesture, a new friend was made.
Randy's was the last work order I was on because a thunderstorm was rolling in and we were headed back to The Bridge to seek shelter from the heavy rain, lightning and hail. An Operation Blessing team worked on Randy's house for the next two days, helping him clear fallen trees, debris, clean out his house, and tarp his roof. I visited him again and learned that there were new fears and emotions generated by the storm that had rolled in after we took his work order.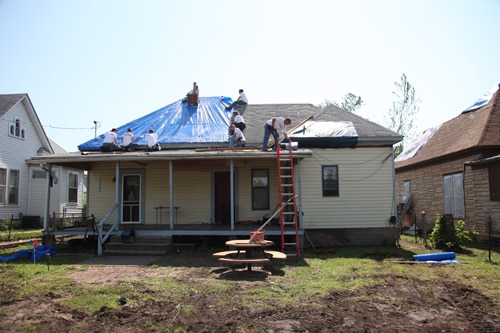 "It changed everything," said Randy about the tornado. "I get scared when it starts to thunder and lightning. I had a breakdown the other day and wound up having to go to Freeman Hospital."
He told me about a 3-year-old baby that had been found in the alley behind his house and how he wished that he could've taken her place so that she could grow up and see and enjoy the things that he has in life. He also mentioned that he lost a close friend who had been in the parking lot of Walmart trying to leave.
"You feel guilty sometimes because you've got still a place to live and other people around you don't," Randy said. "But then the guilt goes away and security starts, and the hope that something better will come out of it instead of nothing."
For Randy, that hope came in the form of a team of volunteers from Operation Blessing. Even before the tornado, Randy struggled with MS and seizures and has a full service dog that helps alert him when he is about to have seizure. Those complications coupled with the injuries sustained in the tornado made it impossible for him to do any of the cleanup on his own.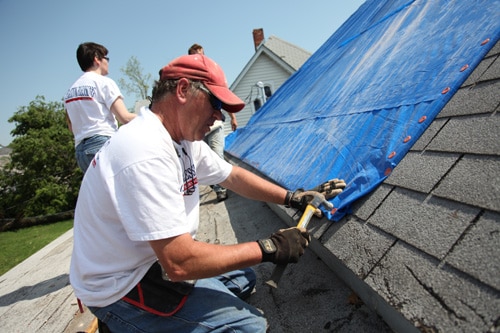 "If I didn't have help, it would've stayed the way it was," he said. "I didn't have the money to do it (clean up debris and fix the roof). I'm on a fixed income every month and it would've just had to sit there."
In fact, Randy had tried to get his Social Security check a few weeks early just to purchase tarps to use for his roof, but thankfully he didn't need to when OBI volunteers arrived to clean his yard and brought tarps to cover his damaged roof. It was another proud moment for me to be standing with our team and making an impact in the life of someone in need.
Thank you to all of the Operation Blessing supporters who are helping us continue to bless families in Joplin.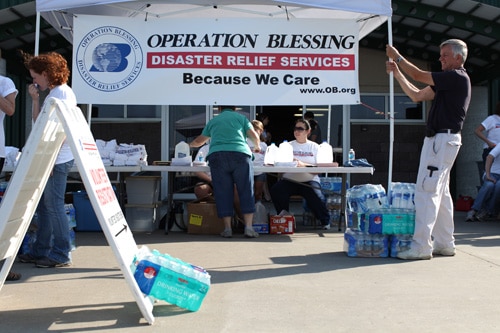 HOW YOU CAN HELP

Your support is critical to providing relief for the hungry, water for the thirsty, medical care for the sick, disaster relief for those in crisis, and so much more.
Click here to make an online donation today
and let your gift make a significant impact in the lives of those who urgently need it.

Print Friendly