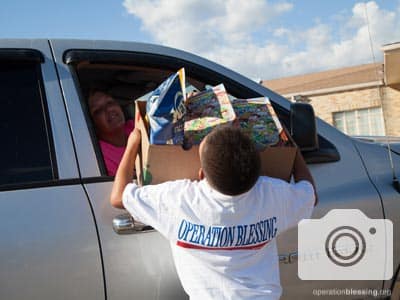 Hurricane Relief for Harvey Victims
Disaster Relief for Hurricane Harvey Victims
As Hurricane Harvey still dumps huge amounts of rain over Texas, Operation Blessing is on the ground offering disaster relief where and how we can. In hard-hit areas like Rockport and Taft, Texas, we are supplying hurricane relief in the form of encouragement, food, water, and basic hygiene supplies to those in need, while planning future recovery efforts.
Meanwhile in Dallas, Texas, we provided Pack 'N Play portable cribs for the mega shelter to house evacuees from Houston.
The work has just begun, and we will be in Texas to help and rebuild for a long time to come. Your continued support of Operation Blessing is making a real difference in the lives of hurricane victims.
HOW YOU CAN HELP


Your support is critical in helping families fight poverty. Click here to make an online donation today and let your gift make a significant impact in the lives of those who urgently need it.

Print Friendly