NORTH CAROLINA – It's easy to see obstacles to volunteering: age, health, time, etc… But 91-year-old Korean War Veteran, Marton Young, didn't let anything hold him back. He got right to work serving those in need after Hurricane Florence.
A Lifetime of Serving Others
Marton has done a lot of overcoming in his life. Born to an alcoholic father from the infamous McCoy clan, Marton had a rough start in an abusive home. His parents couldn't read or write. After earning only a fifth grade education, Marton seemed destined to work in the coal mines like many of the men in his family—and die of the same black lung disease as well.
But Marton wanted something better. In 1948 he enlisted in the U.S. Army. When he asked what protection he would have, the recruiter answered "a rifle." Figuring that gave him better odds than fighting black lung with a shovel, Marton decided to take a chance on a military career.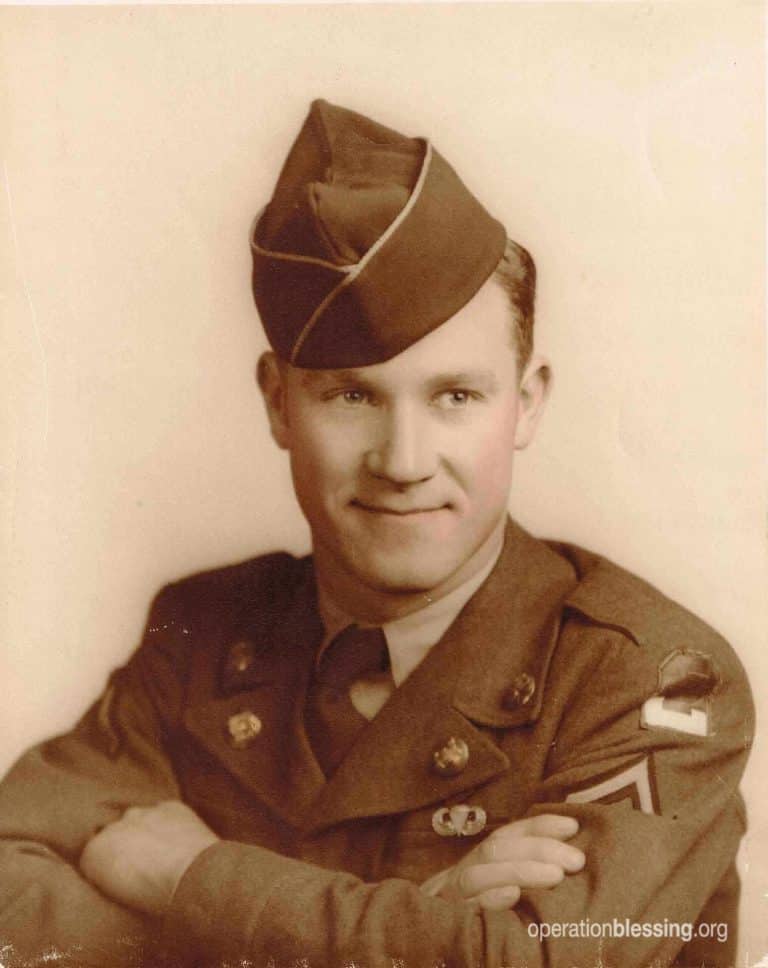 Over the next years he married his sweetheart Lucille, had a daughter, and managed to earn his GED. But Marton recalls that one of the hardest days of his life came in the early 50s when he was shipped off to Korea. From a bus window, he watched his wife and daughter standing in a foot of snow as they faded into the distance.
Again, Marton overcame his circumstances. He not only survived the war, he was made a sergeant, which allowed him to bring his family to live with him in Panama.
Although Marton's life was going fairly well, one day he just realized something was just missing. That Sunday, he accepted Christ. In that moment, he let go of a lot of anger from his past.
Decades went by as Marton worked for a bank, and he and Lucille enjoyed their lives together. Recently, overcomer Marton faced his greatest challenge yet. Four years ago, his precious wife Lucille passed away after 66 years of marriage. He admits he entered a bit of a slump.
Serving as an Operation Blessing Volunteer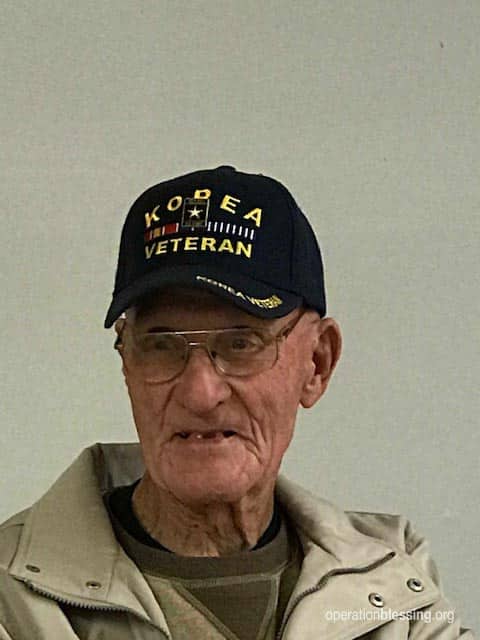 But when Hurricane Florence hit hard in his part of North Carolina, Marton found a new way to serve. He signed up as a disaster relief volunteer with Operation Blessing, and it helped bring him out of that hard season. He said, "It's great to see so many people working hard to help other people."
During the 30 days that Operation Blessing served hot meals to hurricane victims at East Lumberton Baptist Church, Marton didn't miss a single day. He came consistently to serve disaster relief to those hurting and in need, and proved to be a true blessing to every person he met. He even had a chance to meet the governor of North Carolina during his volunteer time.
His grandson, Michael, teared up when he said of Marton, "He came from nothing and contributes so much of his time to helping others."
It's only because of our faithful volunteers and friends like you that we can make such a vital impact in our nation and our world, and so we say thank you.