Beginning again in earthquake-devastated village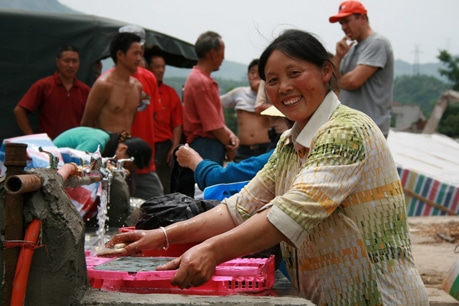 YAO JIN VILLAGE, China – Today's site visit was excellent. The villagers were warm and exceptionally motivated. By tomorrow they will have finished the construction of the 'bath house.'

When we arrived at the village, there was a small back hoe working to dig out rubble, brought in by the government to help. This evening there was also a troop of military men setting up tents and helping with odd jobs in the village.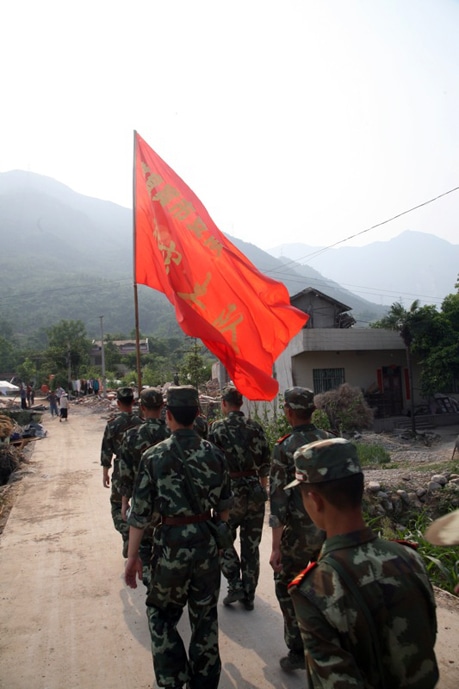 With the completion of the bath house nearing fast, we can now look for new locations to replicate the fantastic work we have done in Yao Jin. We will continue to liaison with the villagers there and search for ways to improve their lives, while also looking for new villages who share the same urgent needs of water and hygiene facilities.
This afternoon I set off to look at two villages where we have already distributed relief goods and see if they needed similar assistance. One of the villages was covered but the other, Yang Yim, was in need of water and latrines. The village is much more remote than Yao Jin and required a 30 minute drive up into the mountains. It is a village of 700 people, 19 of whom died in the quake.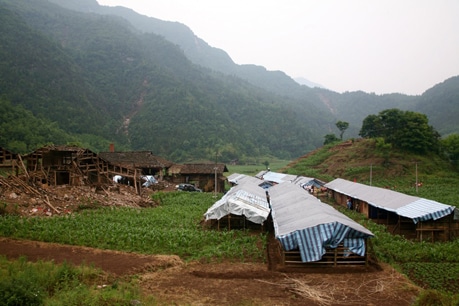 We spoke with the villagers and they seem similarly motivated – having already begun to construct temporary housing for themselves. We will be returning tomorrow to discuss the possibility of moving forward with them. Their water solution might not be as simple as it was in Yao Jin. They currently have a large cistern that was fed by a spring, but since the quake, the spring has stopped producing water.
They did say that the government offered a solution, probably by pumping water from a source just over a mile away, but they have no idea when that might happen. In the meantime, they are running very low on the water supply in the cistern. Like the villagers of Yao Jin, they don't want to have to relocate.
Yang Yim village is just 12 miles south of the epicenter in Beichuan. Tomorrow we will visit two more locations that might need similar assistance.
HOW YOU CAN HELP

Your support is critical to providing relief for the hungry, water for the thirsty, medical care for the sick, disaster relief for those in crisis, and so much more.
Click here to make an online donation today
and let your gift make a significant impact in the lives of those who urgently need it.

Print Friendly