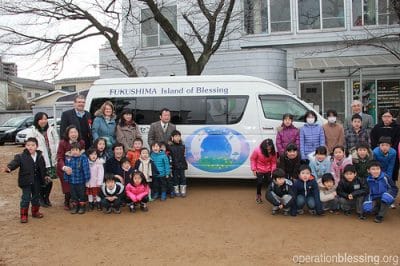 New School Bus for Fukushima Children
New School Bus for Fukushima Children
When the Japan tsunami/earthquake struck, it crippled the power plant in Fukushima. Children there are only allowed to play outside at designated locations, but without a bus, they could never get there. With Operation Blessing's help, these beautiful children have the transportation they need to have the playtime they deserve.
HOW YOU CAN HELP

Your support is critical to providing relief for the hungry, water for the thirsty, medical care for the sick, disaster relief for those in crisis, and so much more.
Click here to make an online donation today
and let your gift make a significant impact in the lives of those who urgently need it.

Print Friendly