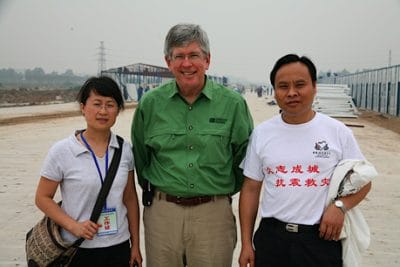 First school built for displaced students
CHINA – We had a 9 a.m. appointment with Mr. Wang, the Executive Director of China Foundation for Poverty Alleviation (CFPA). CFPA is one of the largest humanitarian organizations in China; they have a government mandate to improve the lives of the poor and respond to disasters. CFPA is one of OB China's primary partners and we are privileged to work with them.
Mr. Wang had a makeshift "office" set up in the parking lot behind the Department of Agriculture. As we pulled in I noticed people camping around the edges of the lot. Mr. Wang explained that most were heavy equipment operators that had come from all over China to volunteer running the many machines required to dig victims out of the rubble. They had been staying at the multi-story hotel next door, but all hotels in the city have been closed for fear of more severe aftershocks.
Mr. Wang told me about the extreme and immediate need for temporary schools. He explained that 1,600 schools had been damaged by the quake, more than 900 severely damaged and more than 400 completely demolished. The government believes that aftershocks may persist for as long as four years, so they have decided that until they are sure the ground is stable that metal structures for schools and mass housing is the way to go.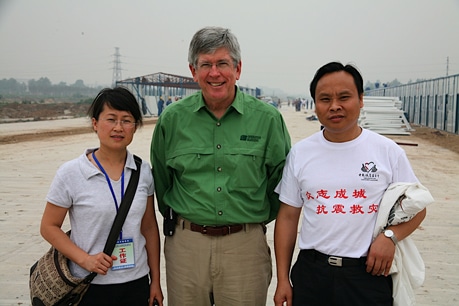 CFPA has committed to fund and build 200 schools, each to accommodate around 600 students. Mr. Wang took me to a nearby site where a school and dormitory was already well under construction. I was very impressed with the practicality of the structure and how fast it was going up. He asked me if OB could fund at least two schools, each that would accommodate 600 students. I told him we will fund this one – which is the first school to be built for students displaced by the earthquake – and then do our best to raise funds for more. A school like the one we visited, fully equipped with desks and all that is needed for 600 students, costs about $100,000.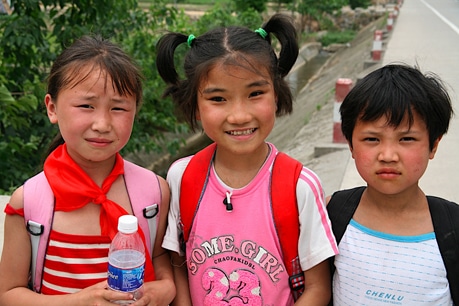 After the meeting, Kumar, James and I drove 90 minutes to Yao Jin, the tiny village we visited two days earlier to distributed food and plastic tarps. I had been so impressed by the gentle spirit of the people there and what a good job the village leader was doing. In spite of all the devastation I have witnessed in China, I just couldn't get that little community out of my head.
Fifty-five families live in Yao Jin and every house was demolished. Their water system was disabled and all sanitary accommodations destroyed. The village is so small that they were being overlooked and other than the truckload of relief we had delivered, no one was helping them. I woke up several times thinking about how OB might "adopt" the village, so we set up a meeting with the village leader. He had no idea why I was coming back.
We met in the tent of "the mayor." He offered me a tiny child's chair and he sat on the bed. I asked him how he planned to rebuild the village. He said, "I can only dream, we have no money. " I asked him how he would start if he had the money and resources required. He said, "I would clean up all of the broken houses and then rebuild them."
I told him that OB wanted to help him rebuild the village, but that we needed a step-by-step a plan. I suggested that he gather his elders that night and create a plan. I told him that in order to protect the health of the villagers that we would like to start with renovation of the water supply system, then construction of a community latrine and simple bathhouse, then… get on with clean up of the debris. As my words were translated into Chinese by OB's local manager the mayor couldn't stop grinning. I could hear the women gathered outside the tent giggling and buzzing. I told him we would be back tomorrow to discuss a plan of action.
HOW YOU CAN HELP

Your support is critical to providing relief for the hungry, water for the thirsty, medical care for the sick, disaster relief for those in crisis, and so much more.
Click here to make an online donation today
and let your gift make a significant impact in the lives of those who urgently need it.

Print Friendly