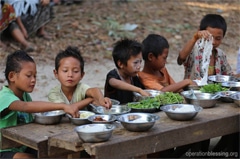 Rebuilding a School for Refugee Families
Rebuilding a School for Refugee Families
Due to recent peace negotiations, refugees are beginning to return to their homes in Myanmar (Burma). Entire villages were nearly destroyed as a result of the violence and many families must rebuild. To bring hope to these families, Operation Blessing has partnered with Asian Tribal Ministries to improve the condition of the primary school in Ler Ri, supplying building materials, a generator and a clean water unit as well as tables, chairs, text books and supplies like notebooks.
HOW YOU CAN HELP

Your support is critical to providing relief for the hungry, water for the thirsty, medical care for the sick, disaster relief for those in crisis, and so much more.
Click here to make an online donation today
and let your gift make a significant impact in the lives of those who urgently need it.

Print Friendly