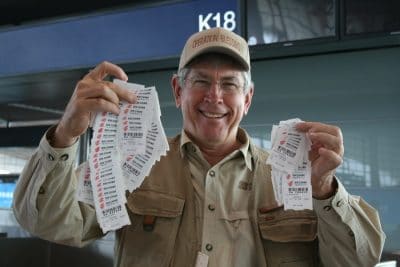 Relief supplies fill the airport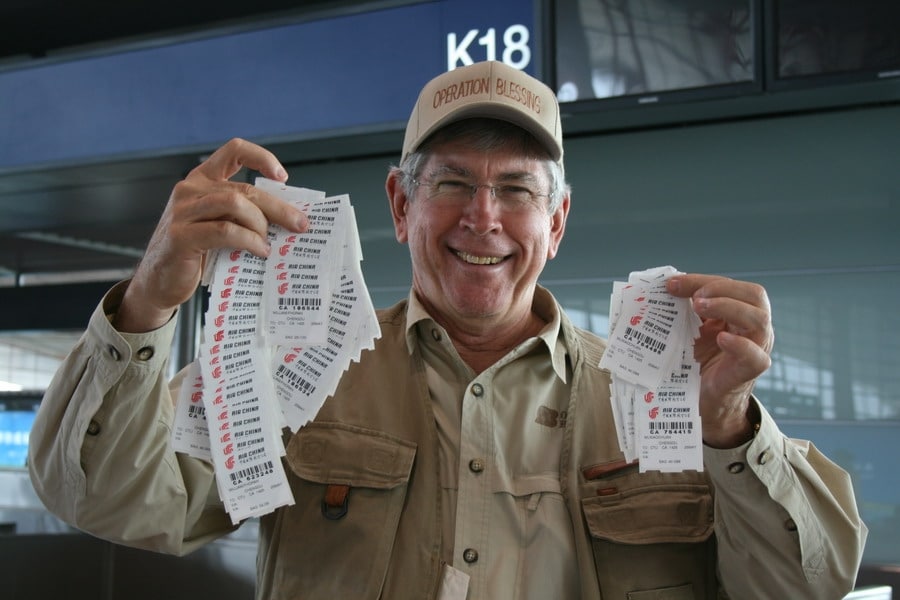 CHINA – At about 3 p.m. today, my taxi rolled up to the sprawling new terminal at Beijing Airport. OB China staffer, James Moo, met me at the curb and explained China Air needed my passport right away. James was breathing hard from running all the way from the ticket counter.
China Air wanted me checked in so they could print my boarding pass and attach 129 "checked luggage" tags to it! Each tag represented a box stuffed full of either medicines or family sized relief kits containing soap, shampoo, tooth brushes, paste and hygiene items. James had already put in a long day. His first trip to the airport was at 4 a.m. to check in 138 boxes of medicines.
China Air is flying OB's relief supplies into Chengdu for free. The airline is bending over backward to help us help victims. OB's Chinese staff members and volunteers are working crazy hours, but somehow still joyful and full of energy in spite of many days without a break. I am so proud of them. It seems like all of China is united to help the victims of the earthquake.
It was a 2.5 hour bumpy flight to Chengdu and a wild scene when we landed as the boxes started streaming into the baggage claim area on a the baggage conveyor belt. There were about 15 OB staffers and volunteers lined up with baggage carts, but the conveyor soon swamped us all. Bystanders and other passengers pitched in to help get all the boxes off the belt and loaded onto carts. We wheeled the carts outside the terminal and loaded the boxes onto two trucks.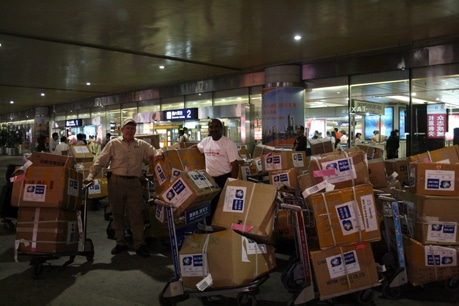 At 7 a.m. tomorrow the team will roll out to a mountain village still desperate for help. We will deliver food, water, plastic sheeting and some of the supplies that we brought in today. Kumar says the Chinese government and military are doing an incredibly good job, but they cannot possibly be everywhere at once. OB China is finding remote villages with 100 to 400 families and serving them.
Tomorrow I will report details from the field. Tonight I pray the ground does not shake. Kumar told me this afternoon there was a very strong tremor that lasted for about a minute. He had just returned to his 13th floor hotel room, when he suddenly felt dizzy and thought he was getting sick… but then realized the whole building was swaying. He looked out his window and saw people streaming into the street far below. He said he didn't know whether to run for the elevator or stay put, but after a minute or so, it stopped.
Please pray for the people of China that they may be spared any more earthquakes. Besides those who lost their homes already, thousands whose homes were not damaged by the big quake are sleeping in tents next to their homes…terrified to sleep indoors. I am doing my best not to feel the fear as I prepare to go to sleep in my 16th floor hotel room.
HOW YOU CAN HELP

Your support is critical to providing relief for the hungry, water for the thirsty, medical care for the sick, disaster relief for those in crisis, and so much more.
Click here to make an online donation today
and let your gift make a significant impact in the lives of those who urgently need it.

Print Friendly