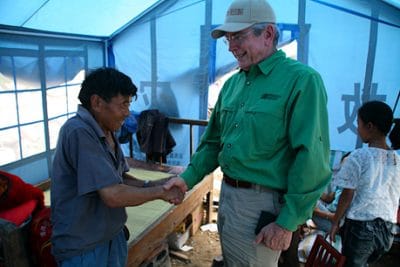 Resurrecting Yao Jin village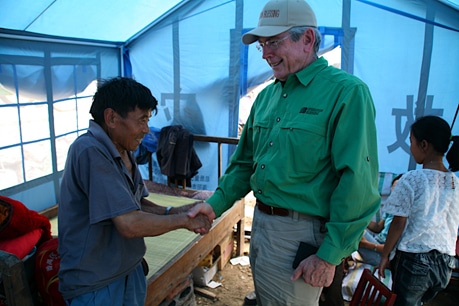 YAO JIN, China – Yesterday I met with the village leaders in Yao Jin and planned "phase one" of the village resurrection project. The mayor wanted to talk about the size of new houses and urged me to focus on rebuilding the first few houses. I explained that building could not occur until clean water, sanitation and debris removal was accomplished.
He was disappointed at first, but as we started discussing specific steps, became enthusiastic. I have been through this evolution of events before; in Aceh, Indonesia, right after the tsunami, village leaders caught in the emotional swirl of tragedy and responsibility needed step-by-step help with their strategic thinking.
This is a key ingredient that Operation Blessing always brings along with physical relief. We try to provide order amid the chaos that a disaster leaves behind. Cleaning up debris and providing a community bathroom is not exciting work, but it has to happen before disease gets a grip on the weakened population.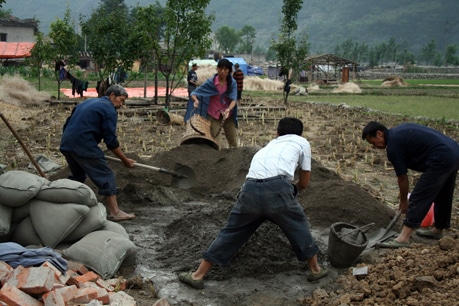 We agreed that the first priority was to get the water system fixed, and then to build a community bathroom. Once those critical issues were in hand we could then turn to debris removal. I asked the mayor and village elders to help me make a list of what they needed in order to repair the water system and build a community bathroom.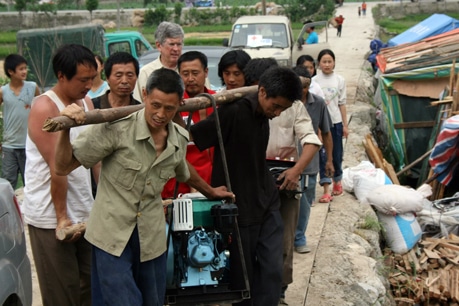 We came up with a long list that included a generator, 600′ of water pipe, plumbing fittings, 10-ton hydraulic jack, pry bars, picks, shovels, sledge hammers, gloves , hammers, saws, chisels and other hand tools, plus 1,500 lbs of cement powder, four tons of concrete sand and some roofing material. They said they could glean the lumber and bricks for the bathroom facility from wreckage in the village.
This morning James Woo and I, along with a volunteer and his truck, went to a huge market in the City of Chengdu where there are hundreds of shops selling everything under the sun. It took 5 hours, but we found all the items on the list, except the cement and sand which we are buying elsewhere, and loaded up the volunteer's truck. I noticed that the truck, swatting under the heavy load, had bad tires. In spite of the volunteer's arm-waving protest, I insisted on replacing the baldies with new tires before we started the 2 1/2 hour drive to the village. The trip to Yao Jin went without a hitch and we arrived around 3 p.m. The mayor and his staff were so happy to see us roll in.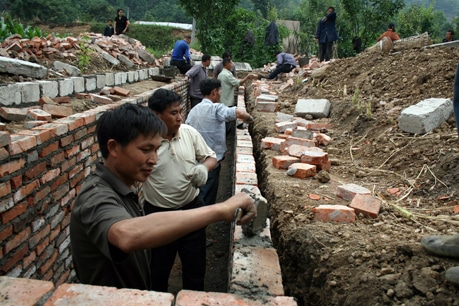 I was thrilled to see that the villagers had already dug the deep pit for the bathroom, just as we had drawn it out the day before. The site was a beehive of activity and high spirits. The men were digging while the wives hauled bricks to the site and dirt away using small baskets. The mayor told me that some government officials had stopped by to compliment him on his intelligent foresight in taking care of first things first. It almost made me cry when he hugged me…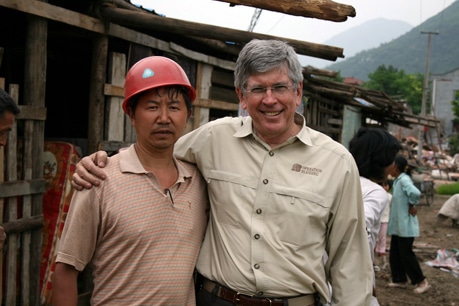 HOW YOU CAN HELP

Your support is critical to providing relief for the hungry, water for the thirsty, medical care for the sick, disaster relief for those in crisis, and so much more.
Click here to make an online donation today
and let your gift make a significant impact in the lives of those who urgently need it.

Print Friendly