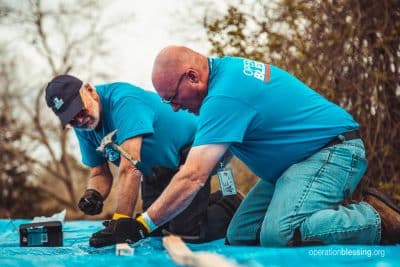 Rushing Tornado Relief to Alabama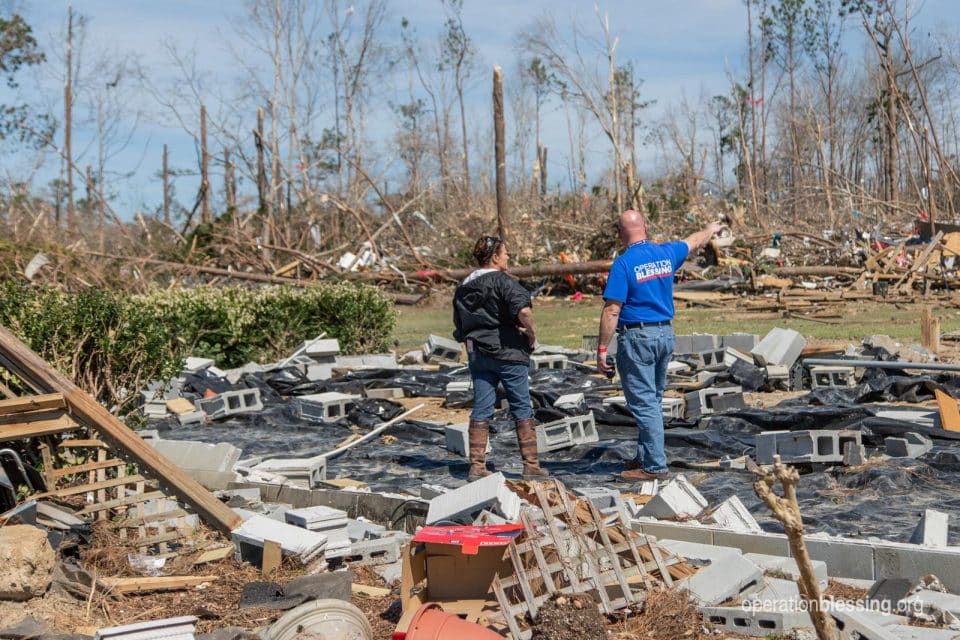 ALABAMA – Thanks to amazing friends like you, Operation Blessing always stands ready to respond to disaster situations in the U.S. and worldwide. Recently, when a string of deadly tornadoes ripped through the southern U.S., OB quickly sent disaster workers to help.
Grandmother Liz was just one of the victims we met when we first arrived in Alabama. When she sensed danger was near, she told her daughter, Harley, to grab her granddaughters, Monica and Leah, and hurry to the bedroom. They sat in a circle, huddled together for protection, and Liz warned them to hold on tight for what felt like a very long time. When she finally worked up the courage to look out her side door, everything was gone.
Seeing the extreme devastation, our experienced staff quickly assessed the situation in Alabama. They conferenced with government officials and other relief organizations to fully understand the needs of the community. Then they decided to deploy a convoy of disaster relief supplies along with our full U.S. disaster relief team to the hardest hit area of Alabama where an intense EF-4 tornado had carved a path of devastation nearly a mile wide and took 23 lives.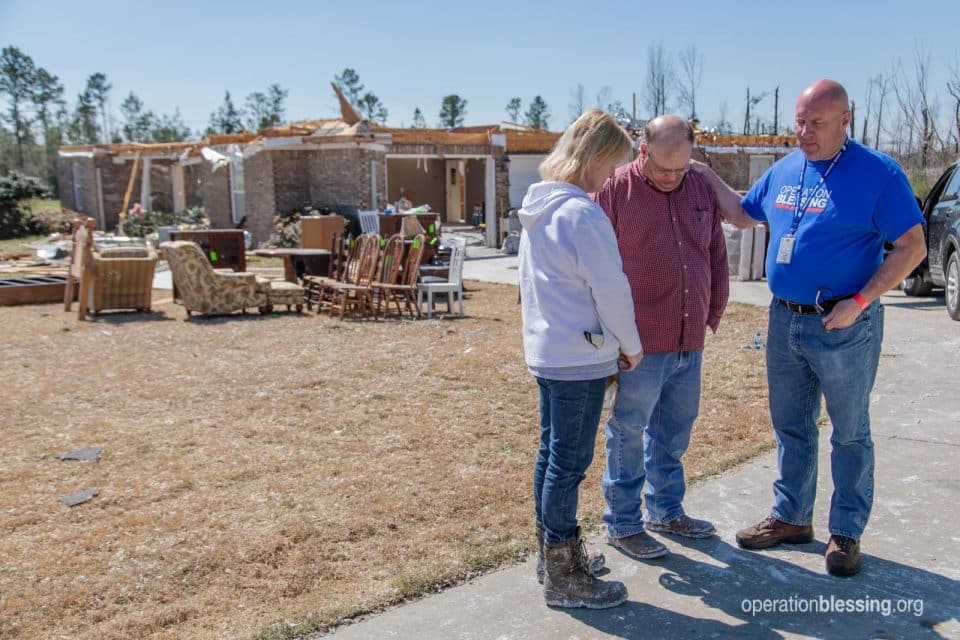 You sent tornado relief in the form of equipment and supplies to those in need, and our workers rushed in to bless overwhelmed victims like Tracy and Tommy who lost their entire roof. And Barbara, who was spared because she wasn't home when the tornado hit, but whose house now lies in rubble. Many of the victims lost neighbors or loved ones, and were still reeling from the devastation.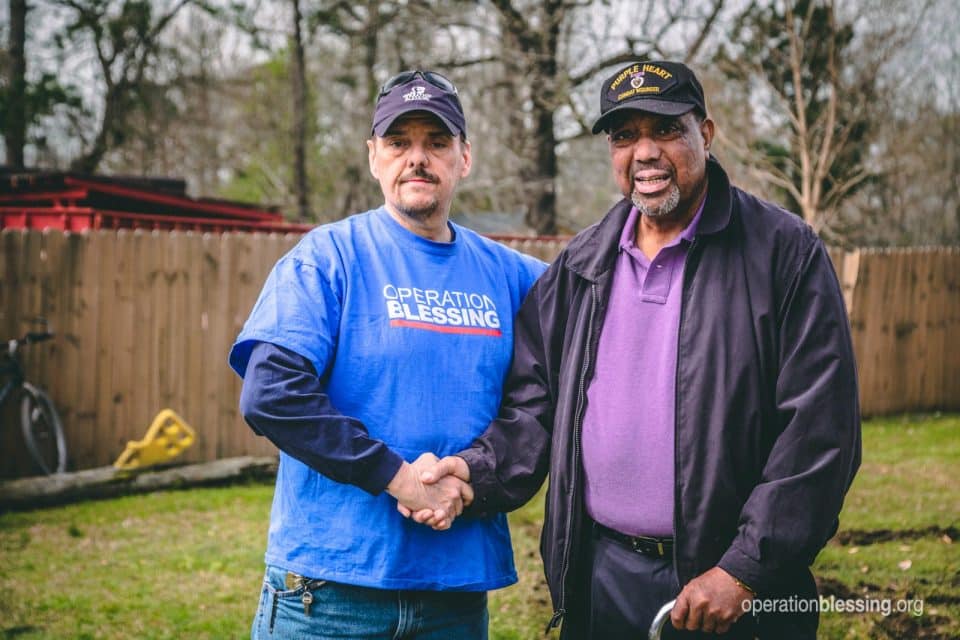 Another deserving family you helped was Kathy and Rudy. Rudy is a Vietnam veteran who received a Purple Heart after being hit by a mine. And Kathy, a retired nurse, takes disabled veterans into their home so that they don't have to go into institutionalized facilities. She selflessly serves 14 veterans and takes care of all of their physical and medical needs. Kathy said, "To me, it was always about other people, and not myself."
After church that Sunday, Kathy heard about a tornado heading for her area and rushed home. She gathered the veterans in the hall and prayed. Miraculously, although the tornado hit her street, the house remained standing and everyone was totally safe. But when she opened the door, the area was littered with fallen trees and debris. Some of the trees looked like they'd been cut in half. Then she noticed that the tin roof had been blown off the building they use for recreational activities.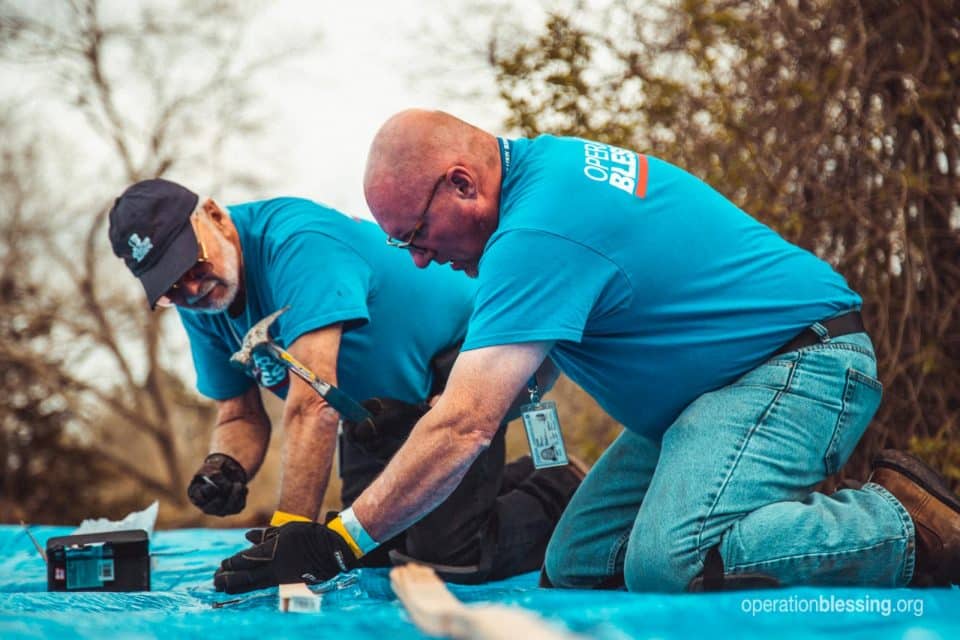 Thanks to friends like you, OB stepped in. Kathy didn't even have to ask for help. A friend requested it on her behalf. Workers assisted with her Loving Touch facility by clearing trees and debris and tarping their damaged roof to protect it from the elements. Kathy said, "I'm so grateful to you!" and she plans on becoming an Operation Blessing supporter herself in the very near future.
It's only because of your ongoing support that we're able to rush in with disaster relief at a moment's notice. Thank you for blessing tornado victims in their time of need. Please give a special gift to disaster victims through our disaster relief fund today.
HOW YOU CAN HELP


Your support is critical in helping families struck by disaster. Click here to make an online donation today and let your gift make a significant impact in the lives of those who urgently need it.

Print Friendly