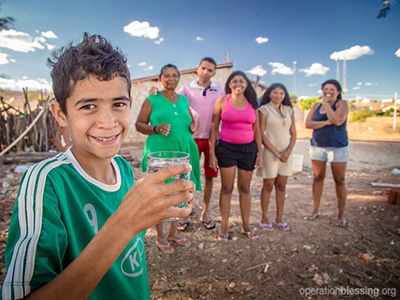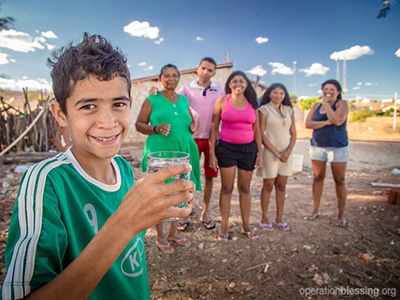 BRAZIL – It is 10:00 in the morning and the heat is unbearable, the sky is completely clear and there has not been a single drop of rain in Adrian's community in months.
For generations they have only had access to poor quality, salty water, but even so, water is very valuable to the 14-year-old and the rest of the region's population as they experience one of the most severe droughts they've ever had.
Adrian showed Operation Blessing staff where he and the rest of the community get water to drink. He prefers to dig into the ground in search of water because it comes out cleaner, but the river bed that used to be a source of water for the community is bone dry these days.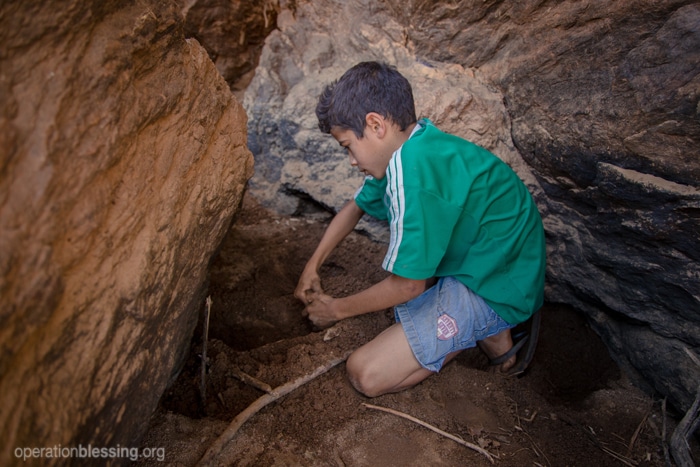 "If we found water there, we would drink it," said Mama Rosa, Adrian's grandmother, "but we went there today and there was none, so we had to drink water from the dirty pond."
It was another 20 minutes to reach the small pond of brown water that exuded an unpleasant smell, yet Adrian filled his jug with the water and began the journey back home.
"The dirty pond water is polluted, smelly, animals die there and it tastes salty. It's not good for drinking, but we drink that water because there is nothing else to drink," Adrian said.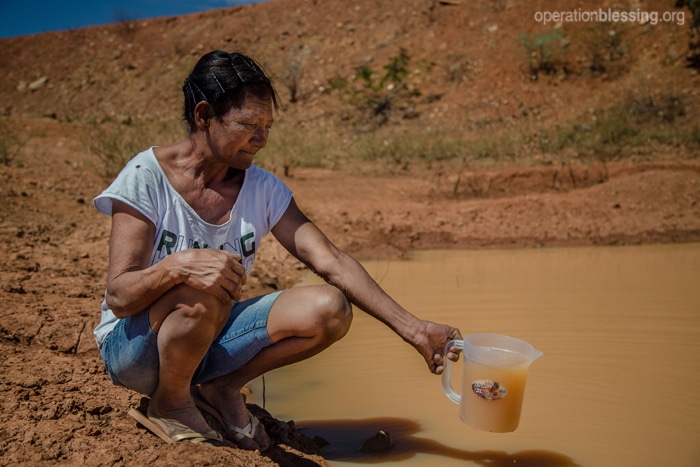 For the vast majority of families living in this community, it is common to have frequent stomach ailments and continuous diarrhea. Urinary diseases are also prevalent due to the high salt content in the water.
"I got sick many times because of drinking that polluted and dirty water," Adrian said.
To combat this problem, Operation Blessing, in partnership with a local ministry in Brazil, drilled a deep well in the middle of the community. Because the water in this area has a high salt content, Operation Blessing also installed a modern desalination system that has the capacity to generate more than 26 thousand gallons of safe drinking water each month.
"The treated water from the filter is good," Adrian said. "It is good for drinking, for cooking, and it's much closer so we don't have to walk all the way to the dirty pond anymore."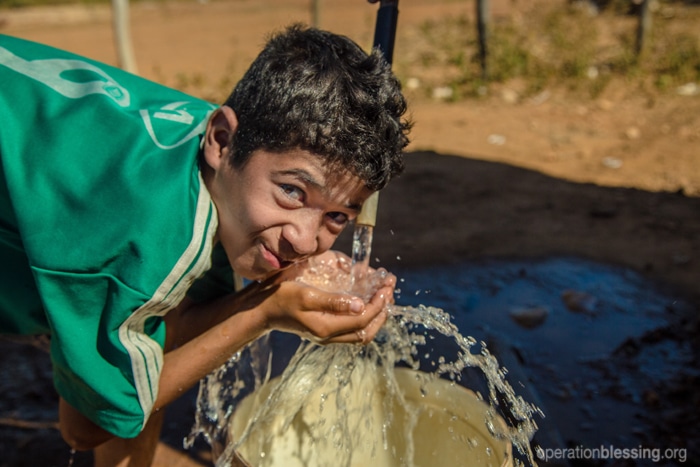 Mama Rosa, who has lived her entire life in the region and remembers when she would have to go look for water every day as a child, was extremely grateful, saying: "We thank you God, Lord Jesus, for this blessing, for this water which is good and pure safe water."
Thanks to your support, more than 5,000 people in Adrian's community are blessed with safe water every day of the year. The stomach problems they dealt with from drinking salty, contaminated water are now a thing of the past.
"Thank you very much, Operation Blessing, for giving us this water and making my life and the life of my family better," Adrian said.
HOW YOU CAN HELP

Your support is critical to providing relief for the hungry, water for the thirsty, medical care for the sick, disaster relief for those in crisis, and so much more.
Click here to make an online donation today
and let your gift make a significant impact in the lives of those who urgently need it.

Print Friendly