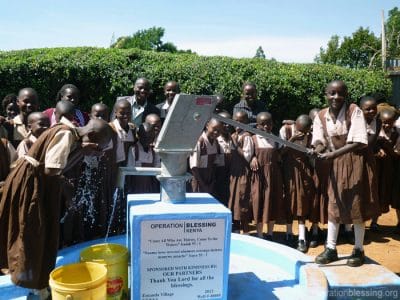 Safe water for school girls in Kenya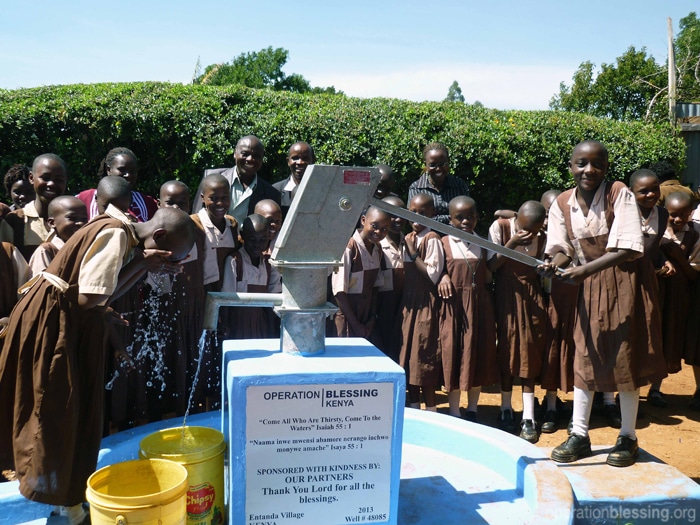 KENYA – For the students at the Entanda girls' boarding school in Kenya, asking their teacher if they could get a drink of water was no small request.
The nearest water source was an open stream over a mile away, which students would have to walk to daily — bringing back enough water for all 172 girls.
"This being a girls' school, we need plenty of water," the head teacher said. "Water is needed for showers, cooking, laundry and cleaning their classroom."
Each day, at least eight girls at a time would have to leave class to get water, causing them to fall behind in their studies and making it difficult for teachers to move forward with their lessons.
Even worse, the stream was easily contaminated by livestock as well as those bathing and washing in the water.
When Operation Blessing installed a well and pump system for their school, a dedication ceremony was held and all the students, teachers, board members and parents attended, extremely grateful for such an impactful gift. The Operation Blessing team also instructed the students and villagers on proper hand washing, the process of pumping the well and well maintenance.
"I would like to thank OB Kenya for seeing the need and helping us access clean water easily," one student said. "Thank you for being a blessing to our school!"
HOW YOU CAN HELP

Your support is critical to providing relief for the hungry, water for the thirsty, medical care for the sick, disaster relief for those in crisis, and so much more.
Click here to make an online donation today
and let your gift make a significant impact in the lives of those who urgently need it.

Print Friendly