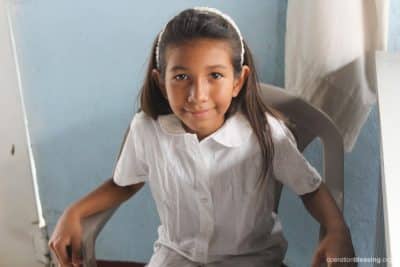 Scholarship Makes Dreams Possible
NICARAGUA – Her dream is to heal the sick, and her mother's greatest hope has been to give her that dream—no matter what it took. Kelinger is only 11 years old but already knows she wants to be a medical doctor when she grows up.
It's a dream that nearly died because her mother could not afford her school fees. Her mother was a victim of prostitution, but since she was already trapped in it, she saw it as the only way she could support her family. Still, she came up short when it came time to pay Kelinger's school fees. The little girl was forced to withdraw from classes.
It was a dire situation in need of a miracle—one Kelinger and her mother found when they met Operation Blessing's partner organization in Nicaragua, House of Hope. With support from Operation Blessing donors and House of Hope, Kelinger now has a full scholarship so she can resume her studies.
"I feel happy that I now have a scholarship," Kelinger said. "I feel privileged because God has blessed us, and with the help of Operation Blessing I can have a better future."
And now Kelinger's mother knows that she can escape prostitution without worrying about the money for her daughter's education. With help, she is learning how to support her family free from that bondage.
"Thanks to God and to the people that make this possible," Kelinger said. And we say thanks to you, our faithful partners, for making this possible.
HOW YOU CAN HELP

Your support is critical to providing relief for the hungry, water for the thirsty, medical care for the sick, disaster relief for those in crisis, and so much more.
Click here to make an online donation today
and let your gift make a significant impact in the lives of those who urgently need it.

Print Friendly