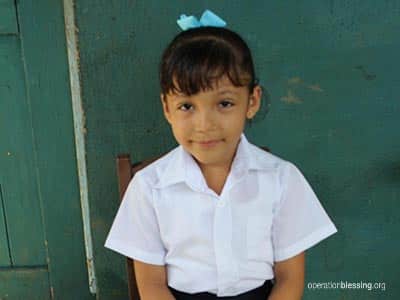 Education for an Unhindered Future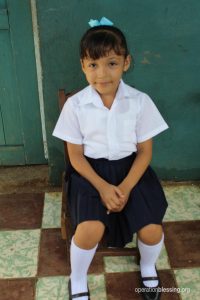 NICARAGUA – Aylin is a little fish in a big pond. At six years old, the first grader lives in a part of the world where going to a safe, high-quality school is a luxury. She stays with her mother, two brothers, her grandmother and other aunts, uncles and cousins, all together in her grandmother's house.
Aylin's mom, Juana, participates in House of Hope, a local organization, and Operation Blessing partner, that gives women rescued from prostitution the means of providing for themselves and their families. Juana's life changed for the better when she joined House of Hope; she earns an income by washing clothes by hand on a scrub-board. The job can be physically taxing, but Juana has continued with it faithfully.
Thanks to Juana's commitment to the program, Aylin recently qualified for a scholarship to House of Hope's school. Aylin attends her classes while Juana works, which lifts the burden of walking an extra kilometer each way to school and back.
Aylin likes the school at House of Hope because she knows the teachers truly care for her. An enthusiastic learner, Aylin most loves math and Bible class. The redemptive actions of her mom, and OBI partner House of Hope, will give Aylin a chance at an unhindered, joy-filled future.
HOW YOU CAN HELP

Your support is critical in helping families fight poverty.
Click here to make an online donation today
and let your gift make a significant impact in the lives of those who urgently need it.