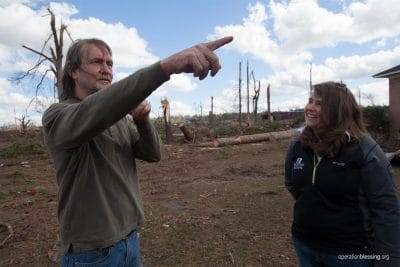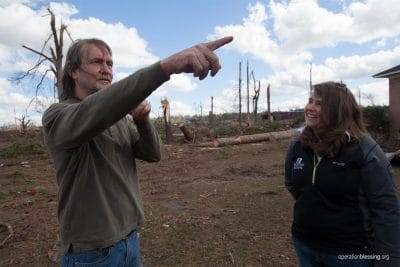 GEORGIA – Eddie does not think of himself as a hero, but his actions during a deadly tornado that swept through his Albany, Ga., community may have saved the lives of his elderly mother and 9-month-old granddaughter.
Hearing an ominous sound approaching, he sprang into action. Eddie rushed to pick up his granddaughter, who was crawling across the floor. Carrying her, he hurried to his mother and guided them to a secure wall in the house where he knelt down, shielding them with his body from whatever might happen.
"And then all the debris started coming from one end of the house to the other," Eddie said. "Doors were tearing loose and flying into us and all. And that was when I realized what was happening."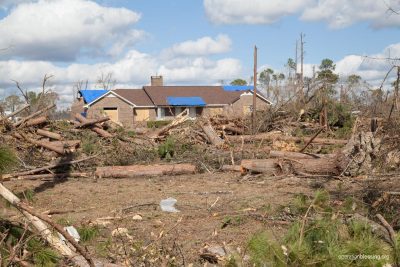 As they huddled together, they could hear the house breaking apart as trees crashed through the roof. When the winds died down and trees stopped falling, Eddie stood up to see the home badly damaged, but his precious granddaughter and elderly mother were safe.
"We were spared," he said with tears in his eyes.
Eddie knew there were too many downed trees in the yard for him to get out with both his mother and granddaughter, so he called family to come get the baby.
"It took my brother and sister-in-law over an hour and a half to climb over the trees from two streets away to come get my granddaughter," he said.
He and his mother were rescued later, and that was when people started calling him a hero. The wall Eddie had chosen to safeguard his mother and granddaughter was a load-bearing wall, and one of the safest places in his home.
"All these people were saying, 'You're a hero,'" he said. "And I was like, 'No, God did this.'"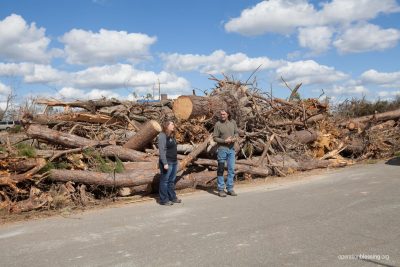 He said he moved without thinking, not even realizing it was a tornado. He just knew he needed to protect his baby granddaughter and mother. And he likely saved their lives.
The yard was covered with trees, and the damage to the house extensive. The work was too much for him to accomplish alone, but a friend told him about Operation Blessing and the assistance already being provided to tornado victims in Albany. He called Operation Blessing, and soon a team of volunteers arrived ready to help.
"All of a sudden these people, they act like family. They act like they've known me all my life. They'll do anything to help me," he said. "It's the best feeling in the world."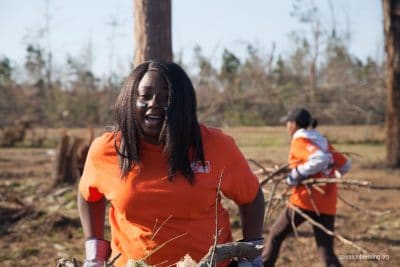 Through a special partnership between Operation Blessing and Home Depot, volunteers helped him clean up and sort through the rubble of a building in his backyard where he stored family mementos. In the debris, volunteers were even able to find precious family photos Eddie worried he had lost!
There is no way Eddie could have handled all of this on his own.
"Until somebody [shows] up, you feel alone. You feel helpless," he said. "They just come in and let us know we're not by ourselves. They're there for us. God bless each and every one of them."
HOW YOU CAN HELP


Your support is critical in helping families fight poverty. Click here to make an online donation today and let your gift make a significant impact in the lives of those who urgently need it.