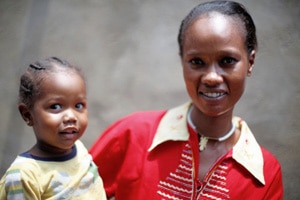 Sudanese refugees journey to freedom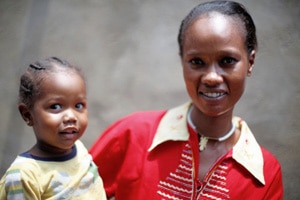 JUBA, South Sudan – The bombs usually come at night, and there is little warning.
Many of the women in Sudan's Nuba Mountains take their children to hide in nearby caves, where they hope to be protected from the violence of their once peaceful foothills. Others are making the long, dangerous journey south to freedom in the newly independent South Sudan.
Batamas is one of the lucky ones. The young mother and her two-year-old daughter have made the thousand-mile journey to safety across the border into South Sudan, but their safety has come at a price. Her home has been destroyed, her neighbors killed, and her husband still in danger as he fights for their freedom.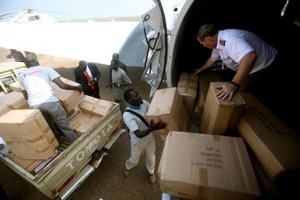 As the people of the Nuba Mountains struggle to survive against the forces of the Sudanese government, hundreds of refugees like Batamas are seeking shelter in the new nation of South Sudan.
In an effort to support the new nation and the influx of refugees, Operation Blessing teams arrived in South Sudan with a shipment of relief supplies including food, blankets, tents, mosquito nets, and vitamins.
"Operation Blessing is here, helping these refugee families in this—their time of greatest need," said OBI President Bill Horan who was on the ground delivering aid and supplies. "We will also do all we can to help jumpstart the new nation of South Sudan."
In addition to emergency food and relief, OBI is setting up a chlorine generator in the Juba Teaching hospital that will produce enough chlorine to disinfect 360,000 gallons of water a day, and also looking into plans to provide children with anti-parasite medicine as well as bring in much-needed resources and technology to assist the South Sudanese in growing more food for a hungry nation.
"It is such a privilege to be here," Horan added.
HOW YOU CAN HELP

Your support is critical to providing relief for the hungry, water for the thirsty, medical care for the sick, disaster relief for those in crisis, and so much more.
Click here to make an online donation today
and let your gift make a significant impact in the lives of those who urgently need it.

Print Friendly