Tackling poverty, one fish at a time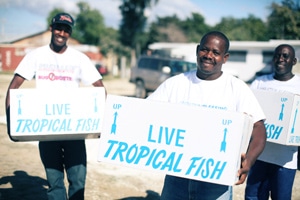 FORT PIERCE, Fla. – This was no ordinary flight. As a chartered DC-3 plane was preparing to take off from Fort Pierce, Florida, the captain said a quick prayer for its 11 passengers, two dogs and 62,000 fish.
That's right. 62,000 fish. Destination? Port-au-Prince, Haiti.
The thousands of tilapia fingerlings were headed to Zanmi Beni Children's Home where they will help jumpstart a major tilapia fish farm project that will benefit impoverished children and families in Haiti.
"Tilapia are known for being a hardy fish," said OBI President Bill Horan who accompanied the fish on their flight to Haiti. "These are the same type of fish from biblical days found in the Nile River."
When the fish arrived in country, they were promptly taken to their new home—two large aquacells on the Zamni Beni property, where they were acclimated and released.
This tilapia farm will have an estimated yearly output of up to 50,000 lbs. of tilapia—a big deal for a country where many Haitians suffer from malnutrition and protein deficiencies. Fish is highly desired in Haiti, but stocks have declined from overfishing, forcing Haitians to consume much more costly, imported fish.
The goal of OBI's aquaculture facility is to provide a high protein food source to partnering children's homes and hospitals, and also to create a live fish market, where Haitians can purchase fish that is cheaper, fresher, and healthier than imported canned and dried fish.
But tilapia is not the only fish making a splash now in Haiti.
OBI has also constructed an ornamental tropical fish hatchery at Zanmi Beni—bringing in boxes of Angelfish, Tiger Barbs, Swordtails, Goldfish and other freshwater aquarium fish.
The project is in conjunction with the National School of Agriculture to educate young Haitians in aquaculture techniques and spawn a local ornamental industry that will provide training and jobs.
All in all, there's quite a bit of activity going on at Zanmi Beni. But according to Horan, it's all worth it for one very simple reason: alleviating poverty.
"Today was a very good day for Haiti," he said, "and a very bad day for poverty."
HOW YOU CAN HELP

Your support is critical in helping families fight poverty.
Click here to make an online donation today
and let your gift make a significant impact in the lives of those who urgently need it.