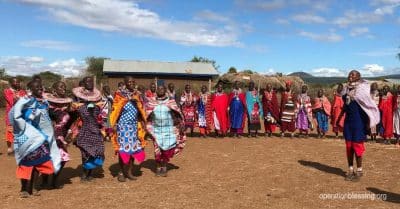 You Are Transforming Maasai Villages
KENYA – Allow us to take you on the trip of a lifetime, to Kenya and the land of the bright, cheerful Maasai people. A land where Operation Blessing friends like you are transforming lives every day.
Along the way through the broad valleys of red brown earth and patches of tall grass, you might spot zebras, lions, elephants and giraffes. Once there you'll notice that these villagers love to sing and dance and wear the most colorful clothing and jewelry you can imagine.
However, many of these villagers also struggle with extreme poverty and survive in mud homes. Women have few legal rights. Food and clean water can be scare, and children lack educational opportunities that might help them break out of poverty in the future.
But you're making a huge difference for the Maasai and transforming their village. You are reaching out and providing the compassionate care they need to keep those bright smiles on their faces. In the community of Kimana, pictured here, you support a high-quality preschool. This helps give children a strong start and prepare them for further education.
The school also feeds the kids two nutritious meals a day, helping them to better learn and develop. You send opportunities like an agricultural program, including gardens, chickens and goats. These all help women struggling to support their children. In this region, you offer other vital care like health services, clean water, and irrigation as needed.
The Maasai have a lot of beautiful culture and community to smile about. And now, thanks to you, their most basic needs are also being met. And they're moving into an even brighter future.
HOW YOU CAN HELP

Your support is critical to providing relief for the hungry, water for the thirsty, medical care for the sick, disaster relief for those in crisis, and so much more.
Click here to make an online donation today
and let your gift make a significant impact in the lives of those who urgently need it.

Print Friendly