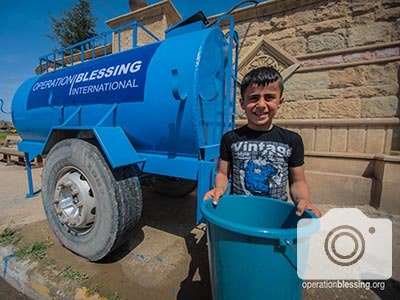 Water Restored in City Liberated from ISIS
Water Restored in City Liberated from ISIS
In 2014, ISIS invaded the city of Qaraqosh, Iraq where around 50,000 Christians lived. Recently, armed forces liberated the city and residents are beginning to return home. With the water system badly damaged by ISIS, it will be some time before the infrastructure is repaired. Operation Blessing renovated a well on the property of the city's largest church. The well has been connected to a portable water tank and now residents have access to public water for the first time in years!
HOW YOU CAN HELP

Your support is critical to providing relief for the hungry, water for the thirsty, medical care for the sick, disaster relief for those in crisis, and so much more.
Click here to make an online donation today
and let your gift make a significant impact in the lives of those who urgently need it.

Print Friendly