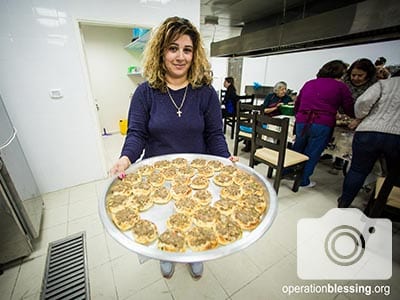 West Bank Church's Kitchen Serves Community
West Bank Church's Kitchen Serves Community
The members of Latin Patriarch – Holy Family Church in the West Bank of Israel have always enjoyed serving their community with warm meals. However, they wanted to do more and simply lacked the capacity. With Operation Blessing's help, they now have a new industrial freezer, two ovens, working stainless tables, sink, industrial freezer and an industrial mixer. With these new tools, they can reach more of the impoverished members of their community with food and love.
HOW YOU CAN HELP

Your support is critical in helping families fight poverty.
Click here to make an online donation today
and let your gift make a significant impact in the lives of those who urgently need it.