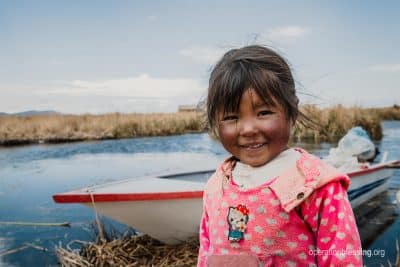 Whole, Healthy & Fighting Hunger in The Highlands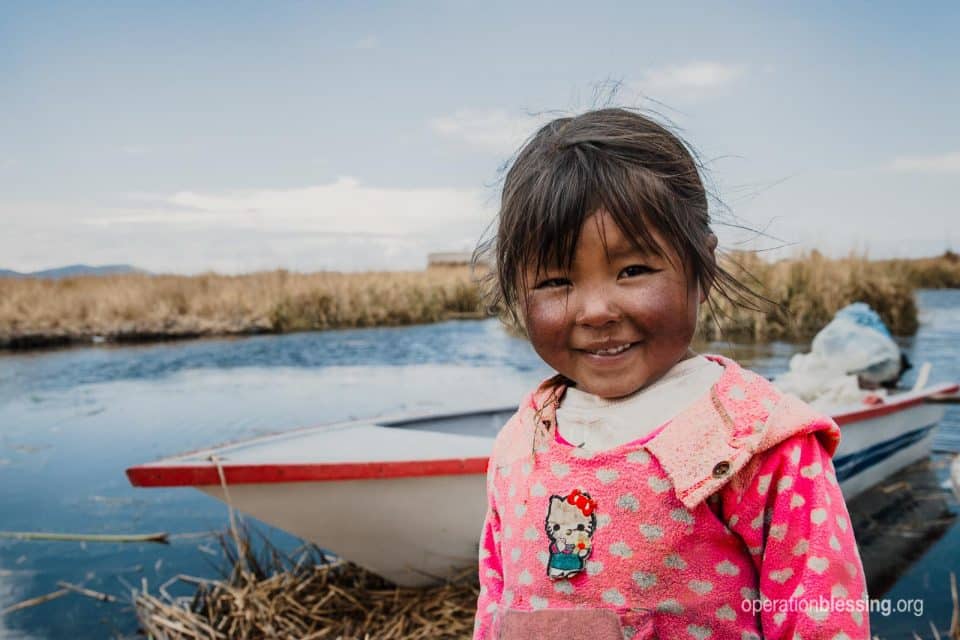 PERU – The Ccapi Uros people have built a floating world for themselves on Lake Titicaca in the Highlands of Peru. They live on islands made from tortora reeds that they weave together. These mats of reeds support the homes, schools, and villages of the people who live on the lake, but they have few resources for fighting hunger.
Life here is hard and progress often comes slow. Julieta, who's been here since birth, said, "None of us could finish school… There wasn't even a kindergarten during that time." She then adds, "But there is now!"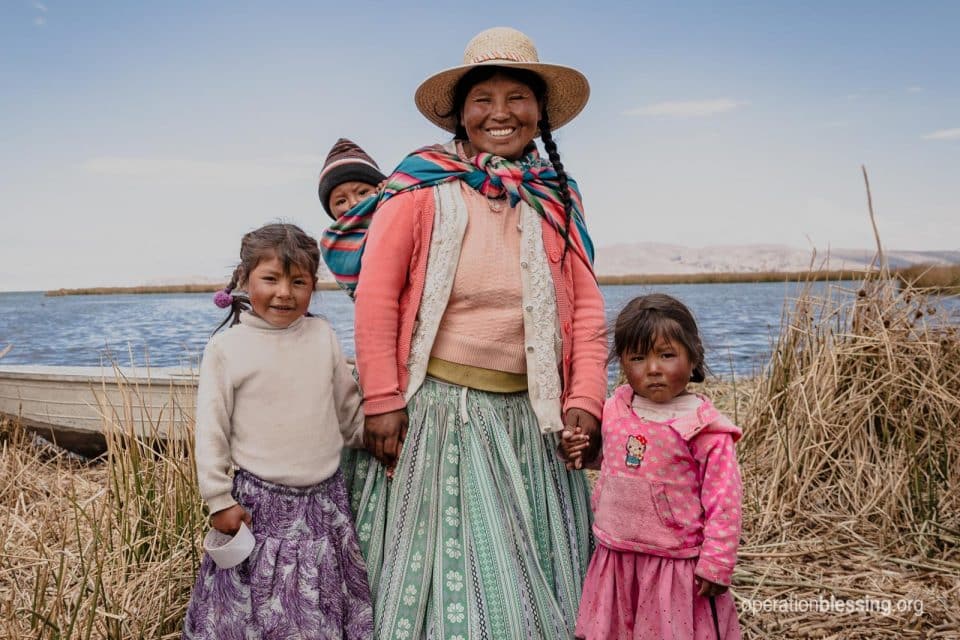 OB Friends Help Fight Hunger And Poverty While Making A New School Possible
Operation Blessing's faithful friends made a new school possible by providing a badly needed restoration for the old building. Today, Julieta's daughters, Rosi and Marisol, attend the renovated school. However, before they could fully reap the benefits of a quality education, Rosi and Marisol faced another seemingly insurmountable problem—anemia. In fact, not only did Rosi and Marisol suffer from anemia, many of their classmates did too.
Anemia, a condition where a person does not have enough healthy red blood cells or hemoglobin, is often caused by low iron and a poor diet, indicative of hunger. Anemia can cause serious health problems as it lowers the body's ability to absorb oxygen. It can lead to heart problems, severe fatigue, and, in children, developmental issues.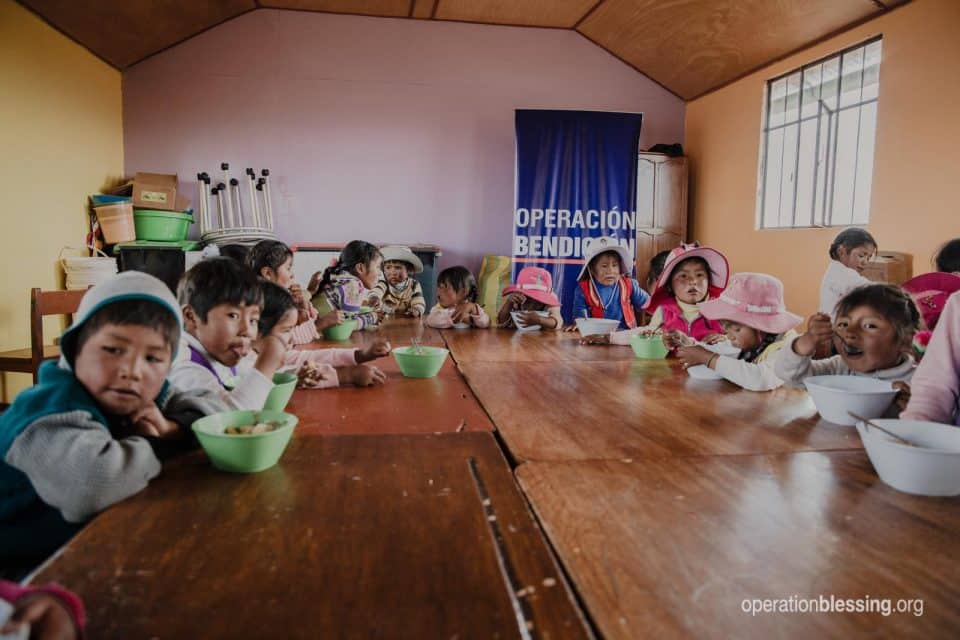 Fighting Hunger Means Fighting the Altitude
Unfortunately the reduced oxygen at Lake Titicaca's extreme altitude of 12,500 feet only made the situation worse. For Rosi, Marisol, and the other children at their school, their diet simply didn't supply the nourishment they needed for fighting hunger and overcoming anemia. When Julieta took her daughters to the community health center, she learned about their condition.
"I realize it is because of anemia that children do not learn well and tend to sleep," Julieta said. "They are not happy when they come out to play."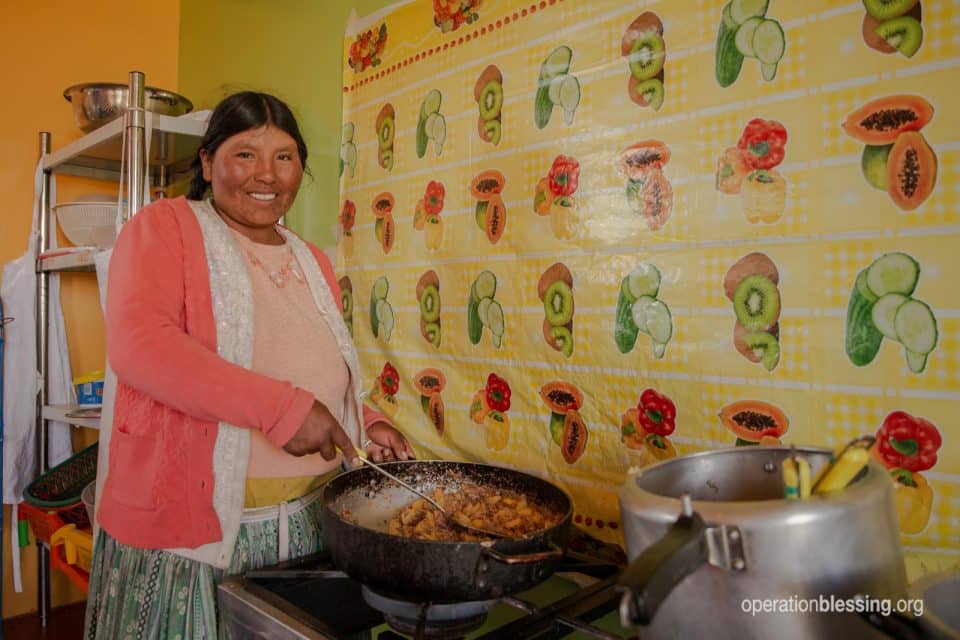 Our Faithful Partners Are Fighting Hunger By Providing Food And Nutrition
Once again, faithful partners like you made all the difference for Rosi, Marisol, and all the children at their little school! Because of your support, Operation Blessing is fighting hunger by providing nutritious, protein rich meals every day. Julieta and the other moms pitched in with the cooking. OB also began offering iron supplements to help the children overcome anemia.
This simple program changed everything for the precious children of this Ccapi Uros community by fighting hunger. Anemia is a thing of the past and the children are now growing healthy and strong! "I am so thankful that my children can study in a kindergarten where they receive everything they need," Julieta exclaimed. "I'm thankful for Operation Blessing!"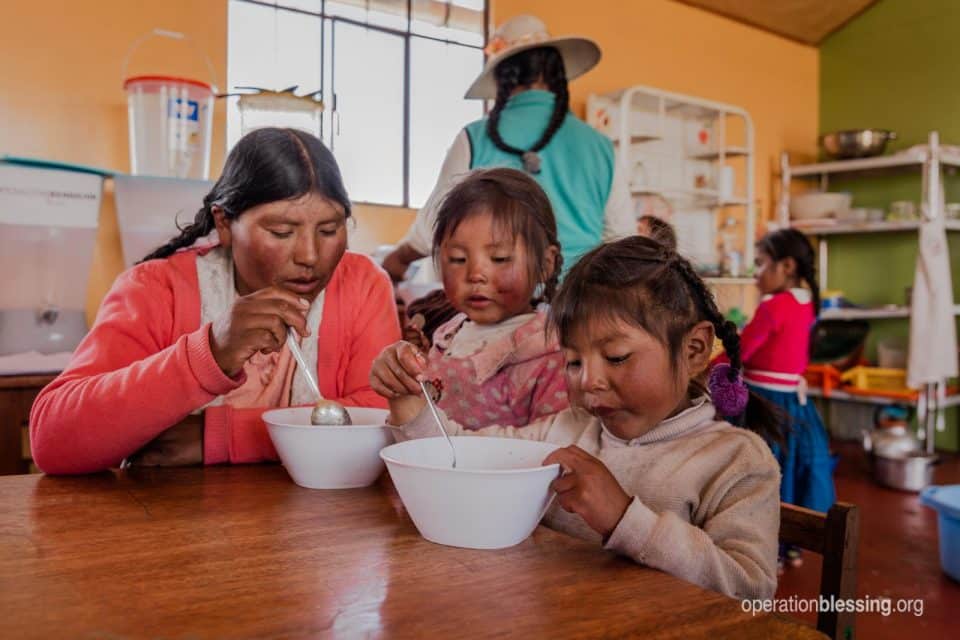 Related Articles – How Our Faithful Partners Are Fighting Hunger
https://www.ob.org/fighting-hunger-today-future/
https://www.ob.org/tag/hunger-strike-force/
https://www.ob.org/fighting-hunger-worldwide-thankful/
HOW YOU CAN HELP

Your support is critical to providing relief for the hungry, water for the thirsty, medical care for the sick, disaster relief for those in crisis, and so much more.
Click here to make an online donation today
and let your gift make a significant impact in the lives of those who urgently need it.

Print Friendly