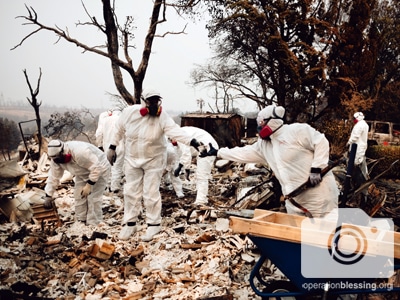 Wildfire Relief in California
Carr Wildfire Relief
California has suffered through terrible wildfires in the past, but few compare to the Carr Fire that's been burning in and around the city of Redding since July 23. The fire has burned over 200,000 acres and destroyed over 1,000 homes. For those whose homes have been burned, the loss is devastating.
To help these victims, Operation Blessing partners are joining forces with Bethel, a local church in Redding, to recover some of what's been lost. With help from OBI supporters that includes respirators, gloves, goggles, shovels, rakes, protective gear, and more, teams are visiting burned homes and helping homeowners sift through the ashes to look for any sentimental belongings that might have survived. In addition, your support is helping to financially assist those who have lost their homes.
HOW YOU CAN HELP

Your support is critical to providing relief for the hungry, water for the thirsty, medical care for the sick, disaster relief for those in crisis, and so much more.
Click here to make an online donation today
and let your gift make a significant impact in the lives of those who urgently need it.

Print Friendly