OPERATION BLESSING'S GIVING CATALOG
It's a good feeling, knowing that you've made a different in the world—that you've helped children, families or entire communities in desperate need—that's the joy of giving a gift that matters. It is your generosity that keeps Operation Blessing going; it enables us to provide food for struggling families, help victims of natural disasters, transform villages with safe water and so much more.
This online giving catalog details a variety of gifts that you can choose from, whether you make the gift for yourself or on behalf of a friend, a loved one, an acquaintance or an associate. Be assured that whichever giving catalog option you pick, your heartfelt act of generosity will positively impact the world in a real and lasting way.
Few gifts have the power to change lives and demonstrate God's love to those most in need of it, to be an agent of answered prayers. But that's what the amazing gifts in this giving catalog have to offer. Thank you for opening your heart and making a difference in the lives of "the least of these."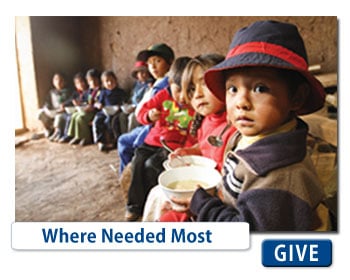 Where Needed Most is the cornerstone of Operation Blessing's relief efforts.
Here's what your gift to Where Needed Most can deliver right now, whether around the corner or around the world:
Help for Vulnerable Children caught up in war, famine, natural disasters, human trafficking and more—they are often the first to suffer and the hardest hit.
Safe Water to replace sources fouled by disease and pollution.
Food to stave off starvation in famine-stricken regions.
Medicine and Healthcare that rescues children from a life of deformity, disease, and injury.
Disaster Relief including food, building supplies, bedding, water and more to help communities ravaged by catastrophe.
Community Development that seeds industry and brings jobs to adults so they can earn a living and support their children.
Give to Where Needed Most