Give a Gift that Gives Back!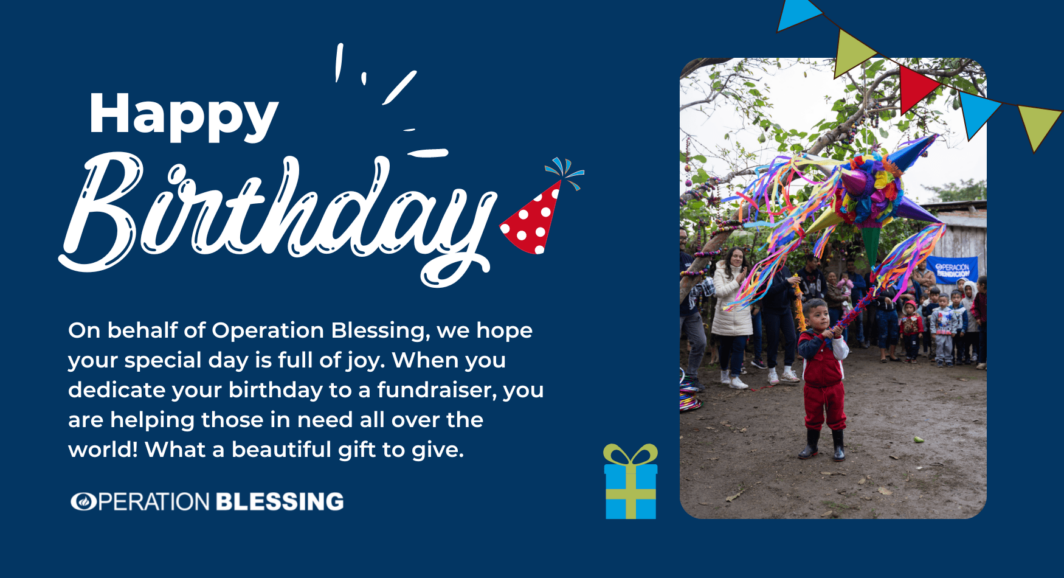 ---
Your Birthday Can Bless Others!
We already know that you are a caring and compassionate person. But did you know that your birthday creates a unique opportunity to bless the needy and suffering? By creating your birthday fundraiser, you have the opportunity to share your personal mission to give hope to the poor and hurting and inspire your friends and family to join you!
---
Creating your personal fundraiser with Operation Blessing is quick and easy. In a few short clicks, you will be on your way to making a real and meaningful difference in the lives of those most in need. Every dollar you raise will support critical humanitarian relief efforts like disaster relief, clean water initiatives, hunger relief, and life-changing medical care.
---
How You Can Share Your Birthday Fundraiser
---

STEP 1
Create Your Fundraiser Page
---
Sign up to start your fundraising journey by creating your personal donation page.
Pick your goal and upload a photo of yourself. This is where your friends will go to make a donation to help you reach your goal!

STEP 2
Tell Your Story
---
Share with your audience why you are inspired to partner with Operation Blessing to help the poor, and why they should consider donating to your cause.
---
The Power of Together—Multiplying Your Impact
Dedicating your birthday to helping children and families in need through Operation Blessing is a powerful way to multiply your impact in changing—and even saving—lives. When you encourage your loved ones to donate to your cause, you help us reach more people and change more lives by providing the relief they need.
---
About Operation Blessing
The mission of Operation Blessing is to demonstrate God's love by alleviating human need and suffering in the United States and around the world. With the support of our generous partners, Operation Blessing provides strategic relief through core programs such as disaster relief, medical care, hunger relief, and clean water. Along with our faithful supporters, we put a special emphasis on not only providing physical relief to those in immediate need, but also equipping them to create sustainable solutions to combat poverty. Operation Blessing partners are devoted to being God's hands and feet in the world.
---
Give the Gift of Hope on Your Birthday!