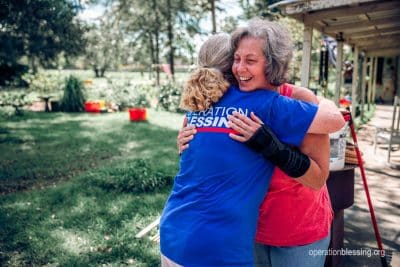 Blessings Come Back in Their Time of Need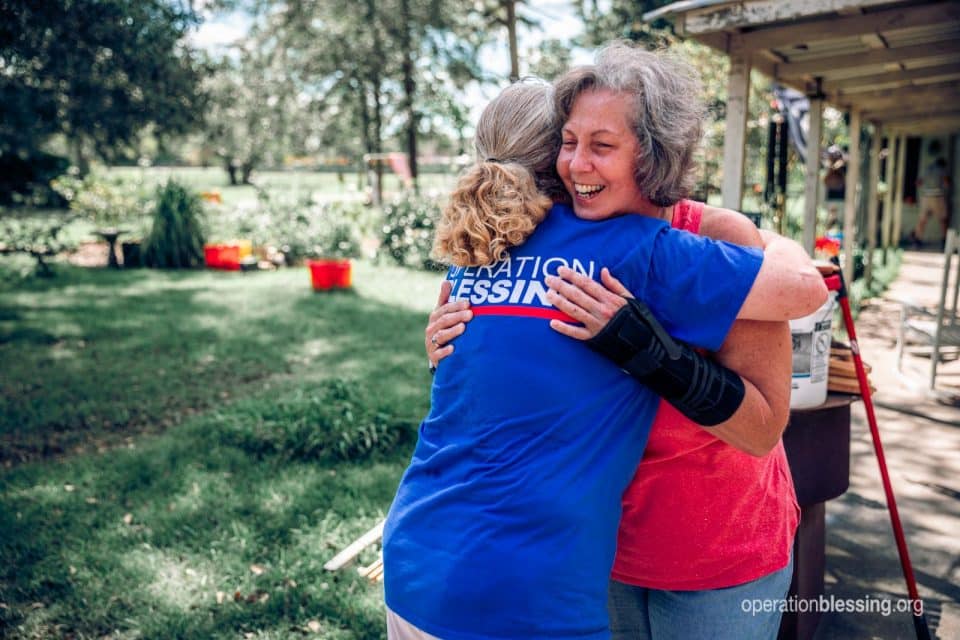 TEXAS, USA – One of the amazing experiences in disaster relief work is the opportunity to bless those who bless others. But rarely do we actually have a chance to bless someone who's volunteered with us before—which is exactly what happened with Brenda from Beaumont.
Two years ago Brenda volunteered with us as we helped the good people of Beaumont recover after Hurricane Harvey. Not only did she work with us cleaning out damaged homes, but she also served victims with medical care.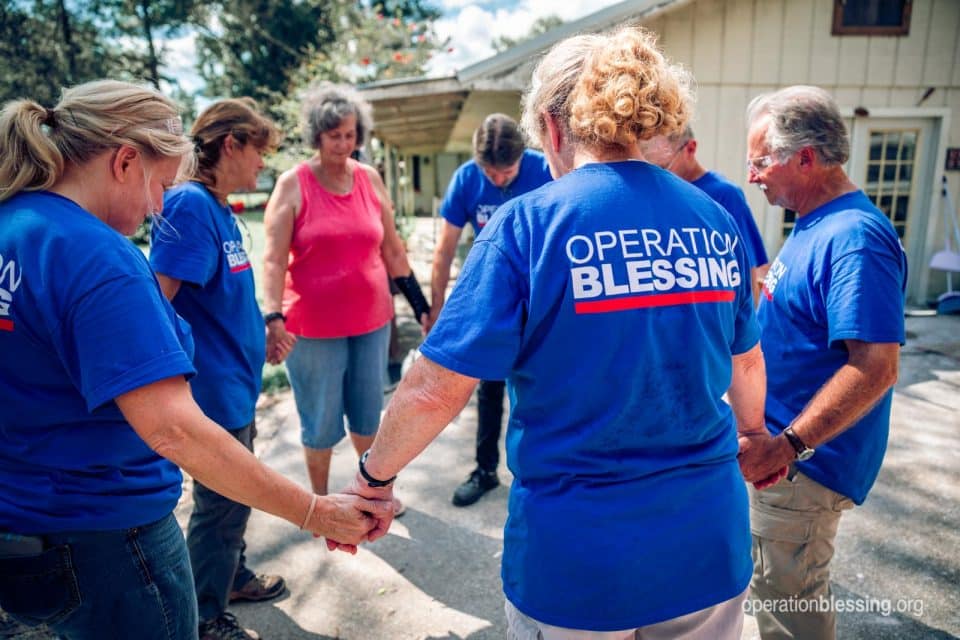 Then came Tropical Storm Imelda. According to the forecast, Imelda wouldn't bring near the rain that Harvey had. And Brenda's home had never flooded in over 60 years. But the morning of the storm, as Brenda enjoyed her coffee, water began to rush into the house. It covered her ankles and then the tops of her boots "just that quick."
There was nowhere to escape because the whole surrounding area had flooded. So she and her family sat tight and prayed, hoping for the best. Thankfully, the family and the animals stayed safe, which was the truly important part. "Our dog was surfing on the mattress," Brenda joked. But immediately after she broke down and said, "It's devastating. It's heartbreaking."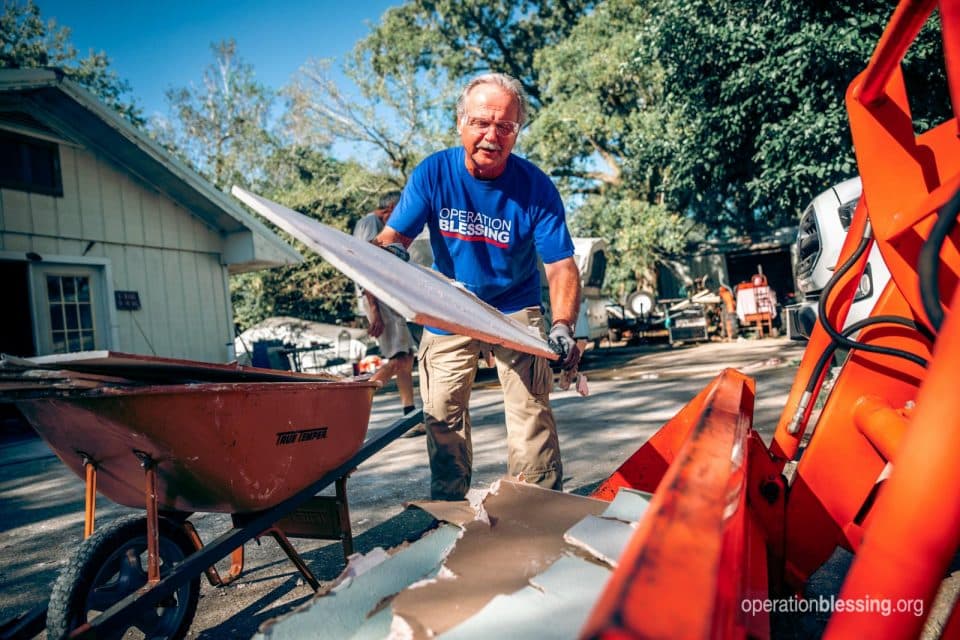 Although her home only received 6-8 inches of floodwater, it took days to recede. By that time, incredible damage had already occurred. And in the aftermath of the storm Brenda slipped, spraining her wrist and ankle. She and her husband Gerald faced an enormous challenge to come back from this disaster.
They needed help removing ruined sheet rock, paneling, flooring, cabinets, and more. "Of course I thought about Operation Blessing," Brenda said, "because I had served with OB during Harvey. And I was hoping you guys would come back. And you did."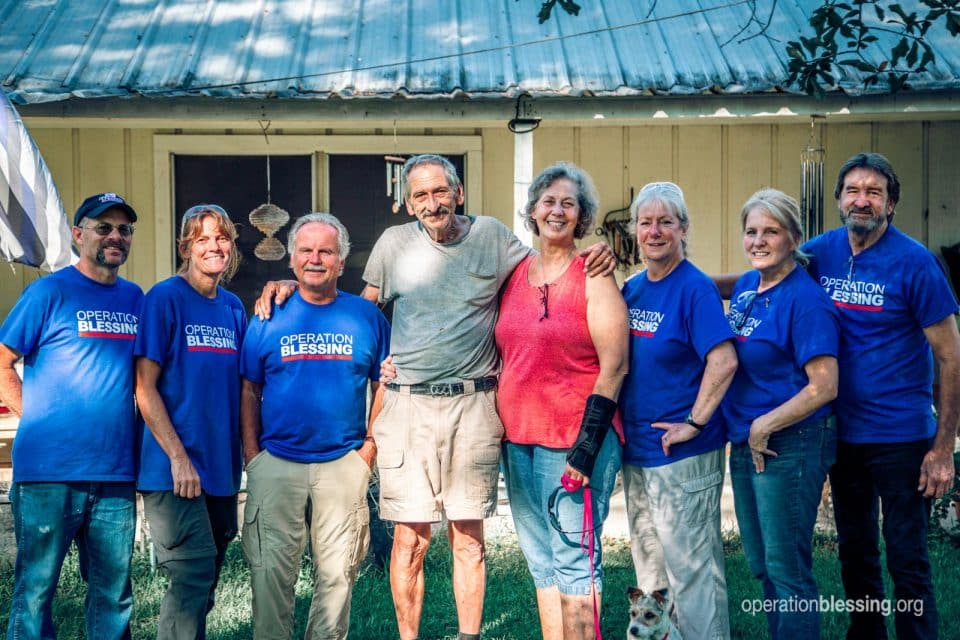 The team arrived on the scene to help Brenda and her family, as well as many other Beaumont residents, with their recovery work. She felt truly thankful and blessed for all you're doing to assist her community. She said, "You're helping a whole lot of people who've lost everything…. Operation Blessing cares so much about the hearts, not just the houses."
When asked how it felt to be a victim of this storm rather than a volunteer, Brenda said, "It's humbling. You have your life right out on the street."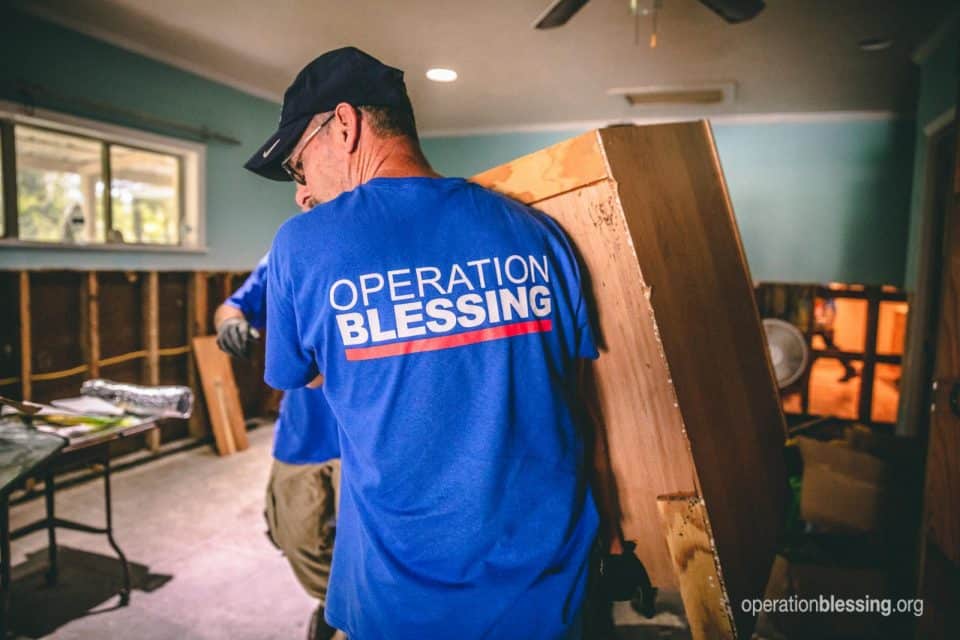 As someone who has been on both sides of disaster relief, Brenda strongly encourages whoever is able, to volunteer with Operation Blessing. "Man can't stop this from happening. But man can help." She said, "You will get blessed more than the person you help. Trust me."
During this difficult time, Brenda has found joy in catching up with old disaster relief friends and making new friends among the volunteers as well. She's so thankful that the blessings have come back to her. In the true spirit of Southern hospitality she said, "I wish I could fix you up a huge meal and serve you iced tea."
In a final thought, she said, "Donate, donate, donate. Please donate to Operation Blessing, because they do so much for so many! And they can't do it without your help."
HOW YOU CAN HELP


During times of crisis and disaster victims desperately need your help. Click here to make an online donation today. Your gift can make a huge difference. Thank you for your compassion to bless the hurting.

Print Friendly