KENYA – Meet Emmy, a warm and kind teenager who wants to be a doctor someday. She lives in Kenya with her mother and four siblings. Sadly, Emmy has endured incredible pain and loss in her young life due to burn scars that threatened her future.
A Horrible Accident Causes Burns
Two years ago, Emmy went out to buy some paraffin for the lamp that her family used for light. Unfortunately, instead of paraffin the shop sold her gasoline. When Emmy went to light the lamp after she got home, tragedy struck and Emmy was engulfed in flames.
The accident left Emmy badly burned across much of her body. She was taken to a local hospital where she had a lengthy stay as she recovered. Her medical bills were partially covered by the national insurance and partially with the help of her village. Even so, Emmy's treatment was incomplete, and money had run out to pay for the remaining care that she still needed.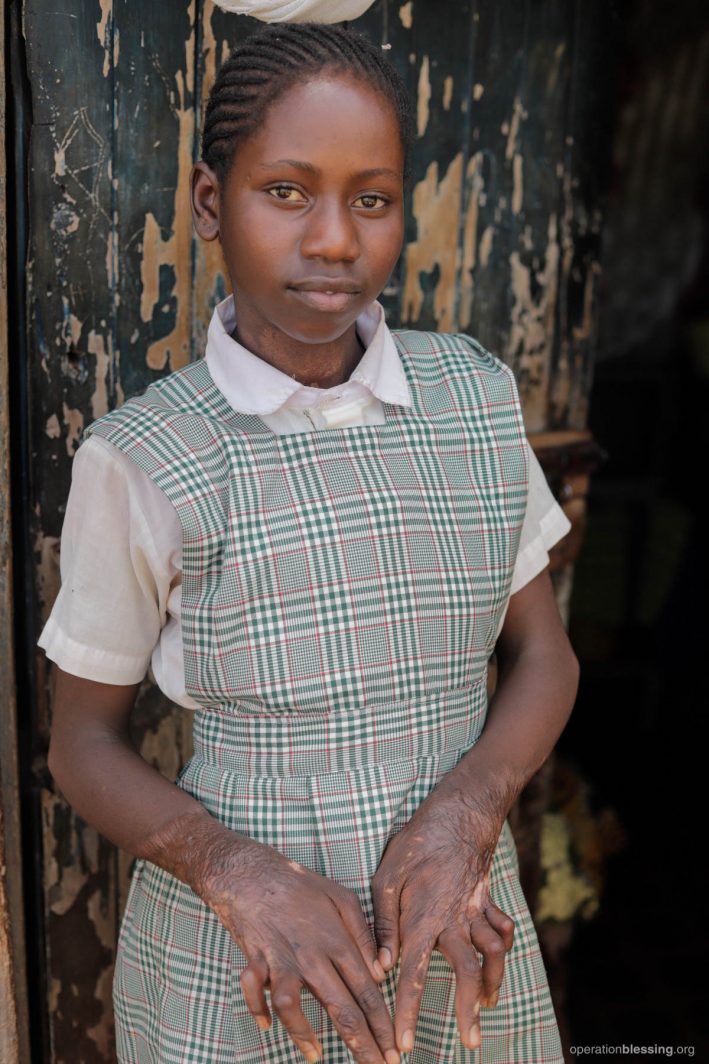 A Need for Surgery in Kenya
The burn scars had left the skin on Emmy's hands badly contracted, sharply restricting her movement, and it only got worse as she grew. To compound the issue, Emmy's father abandoned the family right after the accident, leaving Emmy's mother to support the family alone. 
The injuries made it difficult for Emmy to perform basic life tasks and particularly to do her schoolwork, as the contractures made it difficult for Emmy to hold a pencil and write. Though her whole life was still before her, things were looking very bleak for Emmy. Then faithful Operation Blessing partners like you stepped in to change her life with burn scar surgery.
You Made Burn Scar Surgery Possible
After hearing about her situation, Operation Blessing launched a special fundraiser just for Emmy through our Life-Changing Surgeries catalog and compassionate people like you stepped in to bless her. Soon, all the money needed for Emmy's burn scar surgery had been raised!
Since then, Emmy has had her operation and is making a remarkable recovery—all thanks to the generosity of friends like you. "Thank you for helping me with the medical bill," Emmy exclaimed. "I hope to go back to school and study to be a physician. God bless you!"