TEXAS, USA – When Amy Fernandez, wife, mother of six mostly grown children, and online student from California, heard about an opportunity to help Hurricane Harvey disaster victims in Texas, God tugged at her heart and she felt that she needed to get involved. But at the time she had no idea how huge her involvement would become.
Amy's heart always pulls her toward helping others. Back home in California, she serves as a Sunday School teacher, runs a ministry called Servant Heart that delivers meals to people in need, and she and her husband lead P.S.A.L.M. Outreach, a support group for parents of children who have been sexually abused. In fact, when the hurricane first hit, she was on a mission trip in England.
Meanwhile, some friends of Amy's familiar with Operation Blessing decided to organize a group to help disaster victims in Texas. Although Amy had never done disaster relief work before, she knew she needed to go along. After just a few days at home, she packed to travel to Texas, planning to stay for only a week. But God had other plans!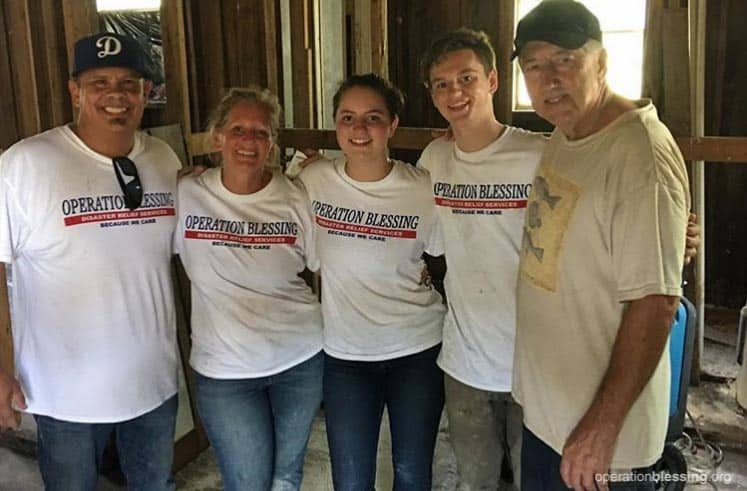 Amy was so touched by the disaster recovery work going on in Texas, and the people she met, that she decided to stay. "I've watched the Lord work every single day," she said. "Why wouldn't I want to be a part of that?"
For the last several months, dedicated volunteer Amy has been an integral part of Operation Blessing's disaster relief work in Texas. During that time, she's made a few brief trips home. Several of her family members, including her husband Gary and her youngest three children Riley (15), Ian (16), and Meghan (19), have also traveled to Texas to visit her and help with the relief efforts. Her whole family has been very supportive of her decision to stay in Texas and help disaster victims.
Although at times Amy has found it challenging to keep up with her online school work as a Christian Studies major at Grand Canyon University, her teachers have been understanding. Amy said, "The Lord is all over this. Just grace all the time."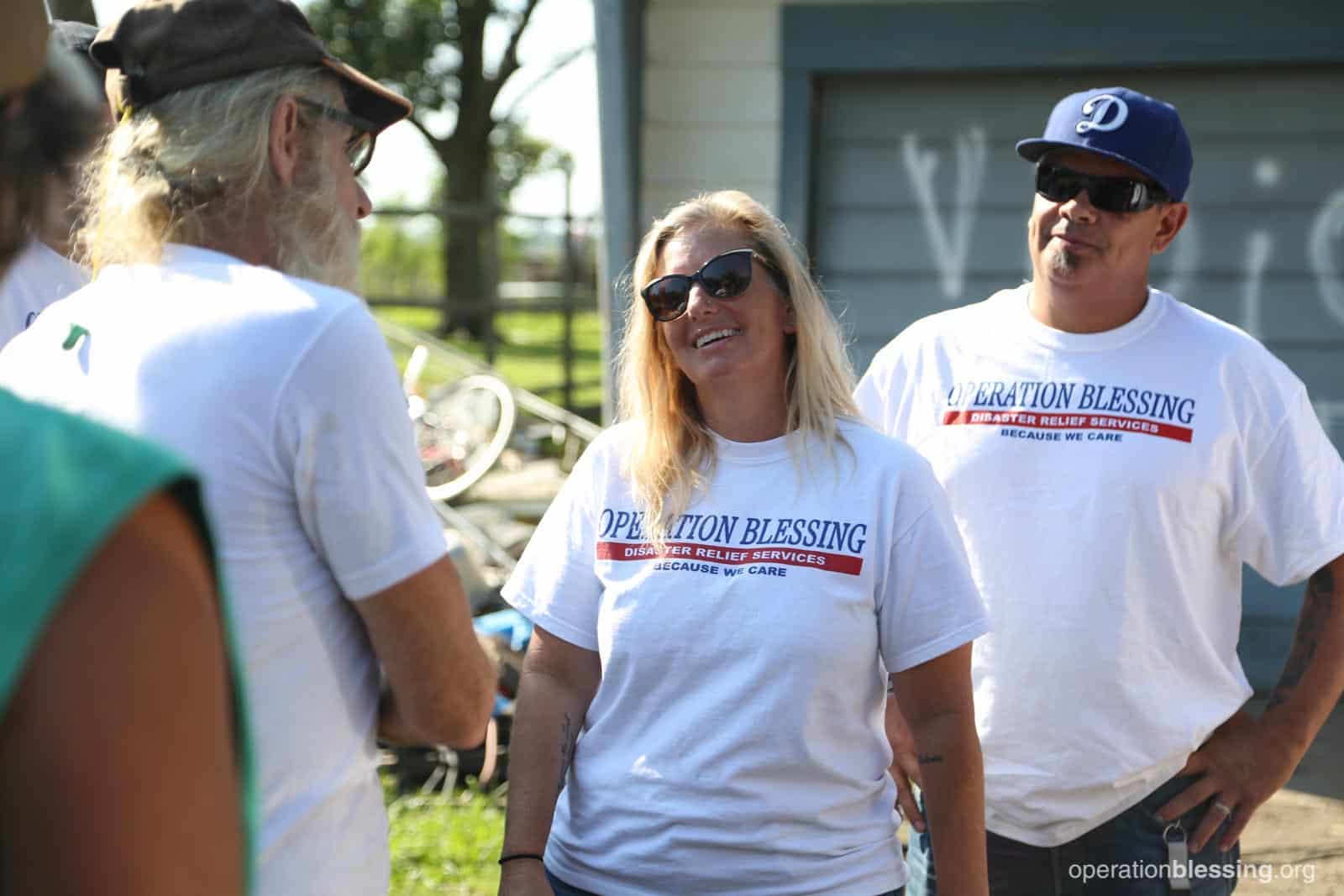 Operation Blessing volunteers like Amy are offered free housing and meals, and are merely asked to provide their own transportation to and from the work sites. However, as Amy became more and more a part of OBI's efforts in Texas, it became clear that some special accommodations were in order. Amy now works leading other volunteers, and has become a part-time employee for Operation Blessing.
In addition to the gutting, mucking, and sanitizing of flooded and molding houses that typically occurs during disaster relief work, Amy ministers to the many people in need—showing them love and compassion, praying with them, and giving them hope. In just a few days, Operation Blessing teams can help residents accomplish what might have taken them weeks or even months on their own. Amy has learned from the people and their experiences even as she serves them.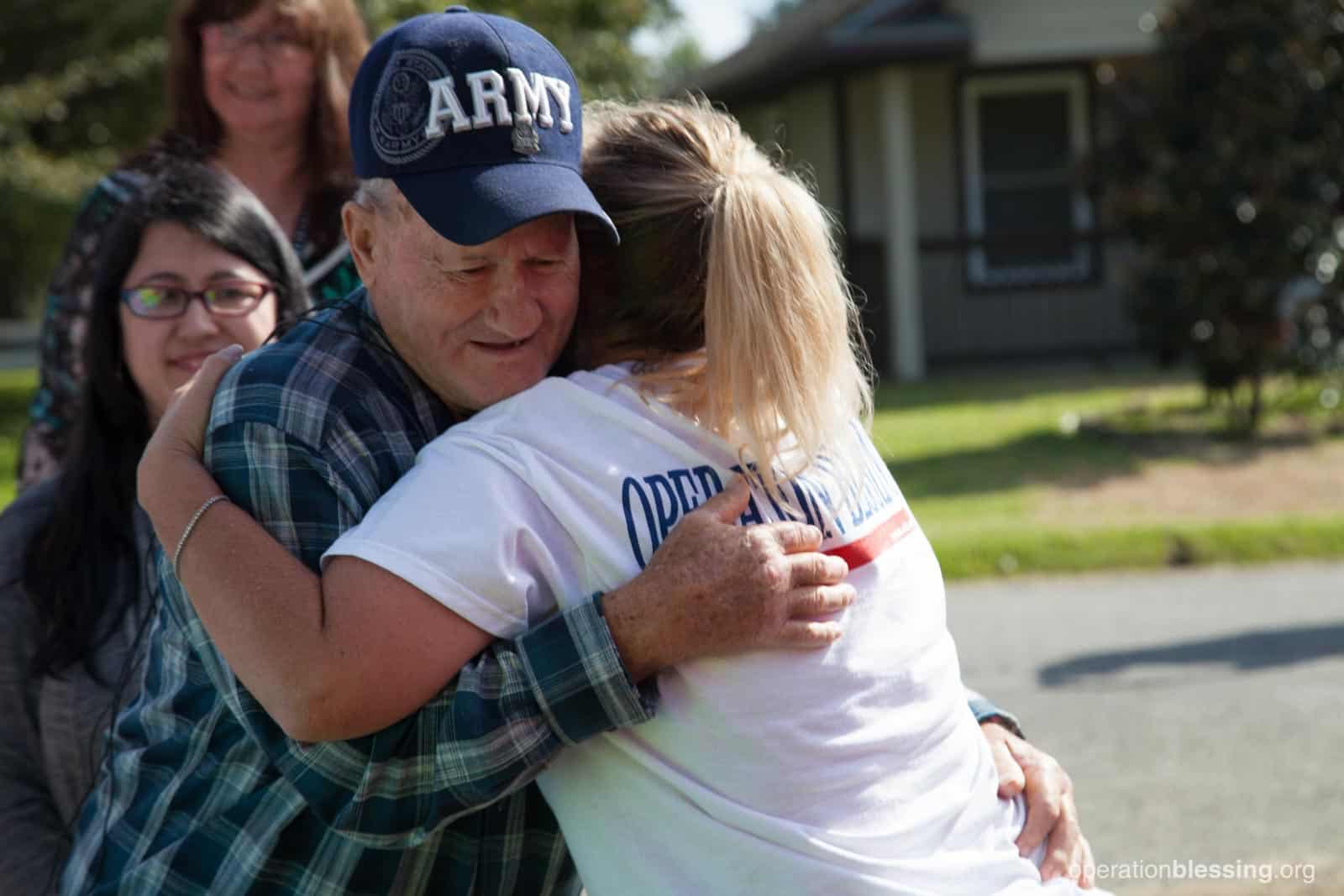 Additionally, she's had the opportunity to be involved in two Extreme Blessing projects in which OBI completely restored, and even decorated, homes for two very special people in need. Amy was particularly involved in working on the home of a veteran and widower named Allen. Of all the many projects she's worked on, this one especially touched Amy's heart. She doesn't have grandparents of her own, and she said that Allen "became a grandpa to me."
Amy's love and enthusiasm is evident in every word and action, and her positive outlook on life is contagious. In addition to her work in the field, she has also regularly shared her experiences on Instagram to generate prayer and awareness. After the immediate danger of a disaster passes, it's easy to forget the huge task of recovery that's yet to be accomplished, but Amy is determined to help people remember.
Dedicated volunteer Amy Fernandez is certainly an inspiration. While few people can spend months at a time doing disaster recovery work, many have helped by giving a few dollars or a few days of their time. Some Hurricane Harvey victims in Texas are still desperate for help in recovering and rebuilding their lives. Operation Blessing plans to remain in the area assisting those in need through March, 2018.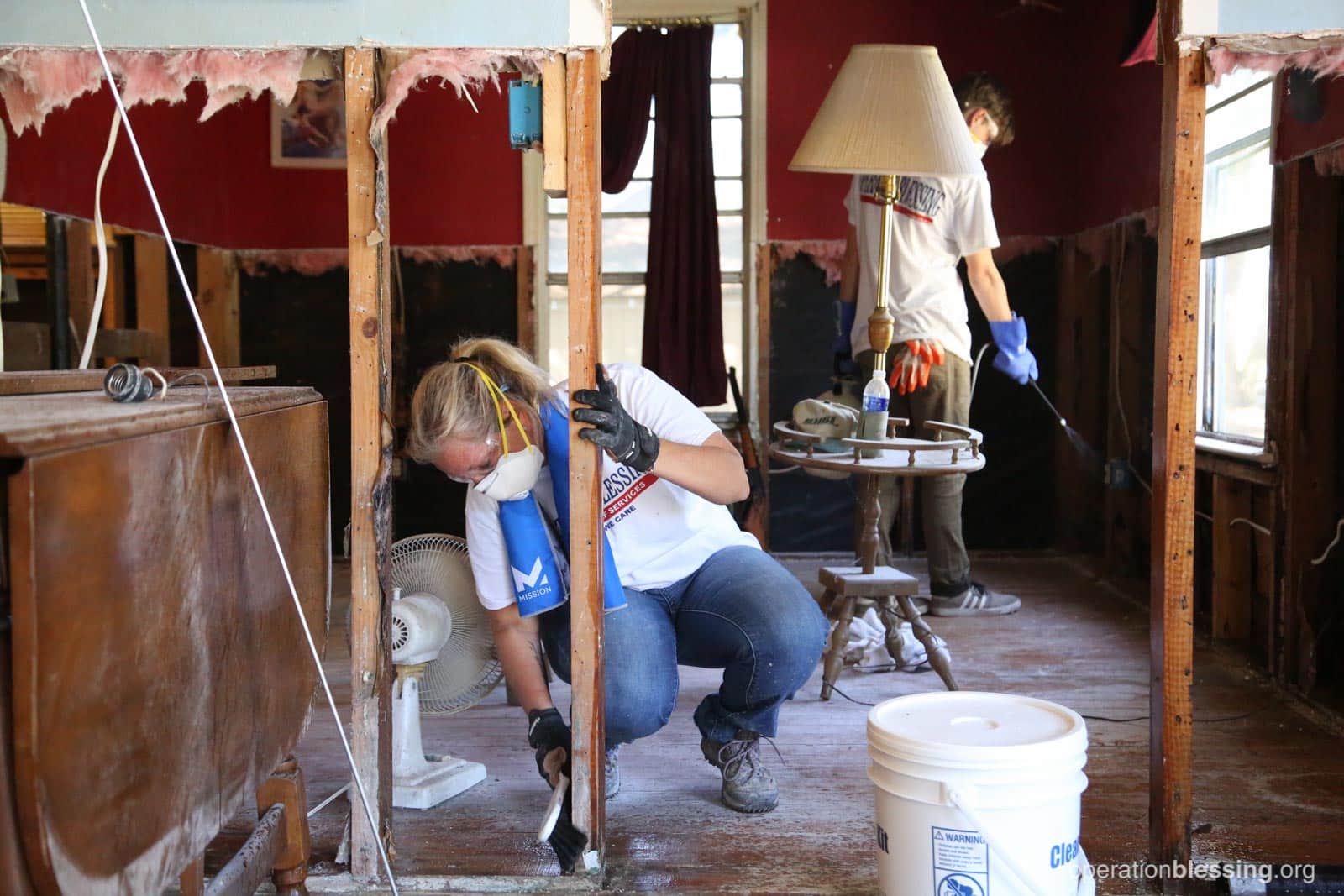 What does Amy have to say about volunteering with Operation Blessing? "It's pretty amazing. I can't really put a feeling into it. You just have to come and experience it…. There's so much love here. It's just a blessing…" She also points out that it doesn't matter "how old, how young, how strong, how fit, how healthy… There's really a position for everybody." Amy urges everyone to get involved in volunteer disaster recovery work, so that the victims will know they're not alone.