KENYA – Today, Rose is blooming in Kenya—and it's all thanks to caring friends like you. It's been a long time since she felt so free, strong, and capable. Compassion truly has lifted her burdens from a disfiguring goiter and given her hope for tomorrow through life-changing surgery. Her burdensome, disfiguring goiter is now gone!
For years, Rose battled constant fatigue and debilitating headaches while striving to provide for her 10 children. Parenting them by herself was difficult enough, and farming to keep food on the table became that much harder as she got older. But when the glands in her neck began to swell out of control, Rose's troubles pushed her to a breaking point.
Rose would suddenly grow winded and weak as she worked the land, struggling to do activities she could once sustain for hours. If she went home to rest, the mountain of daily chores pressed in on her—as she labored to choke down a quick meal past the swelling in her throat.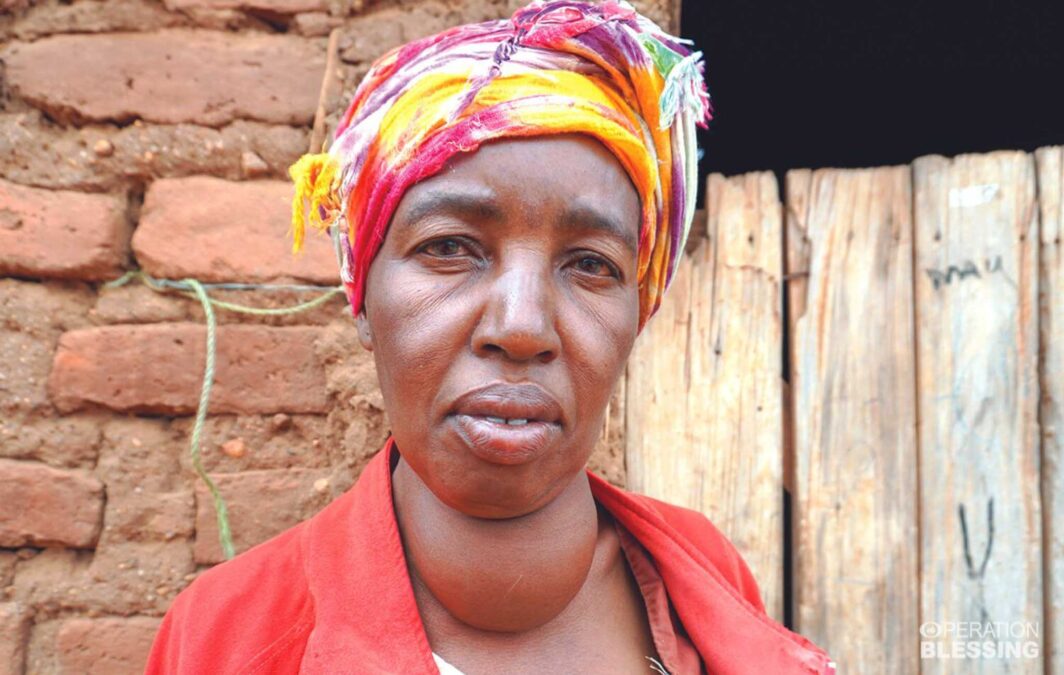 Suffering Due to a Disfiguring Goiter
As if these challenges weren't enough, the massive lumps on Rose's throat started to draw attention everywhere she went. She began to feel ostracized in the marketplace and even feared church gatherings. It became easier to withdraw and keep to herself rather than risk damaging her mental health and her business relationships.
But God saw, and He answered—through caring friends like you. Rose found Operation Blessing and received life-changing surgery. The masses on her neck were successfully removed, and she breathed a long-awaited sigh of relief. At last, the weight was gone.
"May God bless Operation Blessing for helping me," Rose shared. "I saw the hand of God and believe that He indeed uses people to bless others."
Now, because of your compassion, she cooks and cleans for her family, works hard in the fields, and is building her business in the local marketplace. Rose feels welcome in public again, her confidence renewed. Headaches and heart palpitations are a thing of the past. Today, her mind is set on building a better future for her family. Those 10 kids have a much better chance to thrive, thanks to our partners like you.