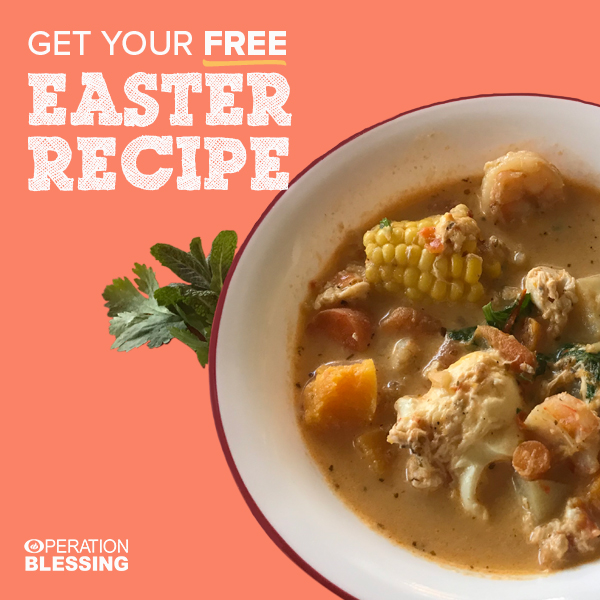 In Peru, where OB friends like you have blessed many lives through Operation Blessing, Holy Week is a national celebration that starts on Palm Sunday and concludes on Easter. During this time, many Peruvians fast from red meat, which makes fish a very popular meal during Holy Week. That's why we want to share this delicious Peruvian seafood chowder recipe with you!
*By signing up to download the free material, you agree to receive occasional email updates from Operation Blessing, from which you can unsubscribe at any time.
Free Easter Recipe Download
Do not miss out on this free Easter Recipe download from Operation Blessing. Celebrate Easter Sunday or Easter week with a delicious dish from the culinary traditions of Peru. Easter week in Peru is a special time full of unique tastes that are part of the religious tradition. The digital recipe you are downloading is a Peruvian seafood chowder.
Learn More About Holy Week Customs in Peru
In this free download, you will also learn about some of the rich traditions of Holy Week in Peru that you can use to inspire your own Easter celebrations this year.
Easter Peruvian Seafood Chowder Recipe
There are a number of Peruvian chowder recipes that are popular both at Easter and other times of the year. One in particular is a savory seafood stew. There are many recipes with multiple variations of this hearty soup. Versions of this recipe usually feature fresh seafood with a myriad of seasonings proprietary to Latin American cooking. Beyond just great taste, this chowder also helps fulfill a religious tradition—no meat during Holy Week.
Holy Week In Peru Means No Red Meat
In the nation of Peru, the Easter celebration stretches over the entire Holy Week, from Palm Sunday to Easter Sunday. Peruvians honor the Stations of the Cross, remembering the experiences of Jesus from His arrest to His resurrection. They hold other religious ceremonies and processionals throughout the week as well. Then beginning on Saturday, celebrations and street fairs break out across the country, including fireworks, music, and lots of dancing! Because many fast from red meat during this time, fish dishes are especially popular. Seafood chowders are often enjoyed on Good Friday. Accordingly, our Peruvian Chowder can also be called "Chupe de Friday."
Easter Recipe Download: Chupe De Friday
Chupe De Friday is another name for this Peruvian Easter Chowder. The recipe is a hybrid of different flavorings and ingredients you might enjoy at an authentic celebration. We encourage you try the huacatay paste, available on Amazon, for an especially authentic flavor. The recipe gives you the flexibility of using fish, shrimp, or a combination of both, depending on your taste. It still offers the zesty flavorings of Peru and it will have a deep aroma that can tease any appetite. In fact, we suggest making a double or even triple batch, because you'll want to have plenty of this delicious chowder on hand! Seafood stock can be found at many Walmarts or at amazon. Get this unique and free Easter recipe download now.
More About Easter In Peru
Semana Santa: A Weeklong Celebration Of Easter In Peru
You cannot really understand Easter in Peru without understanding Semana Santa. Referred to as Semana Santa, it is the holy week that leads up to and includes the Easter Holiday. ("Celebrating Easter in Peru," 2020). Easter in Peru is not just celebrated on one single Holy day. Easter in Peru is a week long tradition. Here are some other food traditions that are part of Easter traditions in Peru:
Nix the Red Meat: For those observing Semana Santa in Peru, no red meat is consumed until Easter Day.
Easter Candy?: This is probably more prevalent in other parts of the world that observe Easter. Some people in the large cities do use chocolate as part of the celebratory menu offerings.
Maundy Thursday Traditions: You will not find red meat at this Thursday smorgasbord but you will find a number of tasty dishes as part of the Semana Santa.
---
Works Cited
Alvarado, Christopher. "Celebrating Easter in Peru." Peru for Less, 6 Apr. 2020, www.peruforless.com/blog/celebrating-easter-in-peru/. Accessed 25 Feb. 2021.
Amigofoods. "Parihuela, Peruvian Seafood Soup." The Best Latin & Spanish Food Articles & Recipes – Amigofoods, 31 Aug. 2020, blog.amigofoods.com/index.php/peruvian-foods/parihuela-peruvian-food/. Accessed 26 Feb. 2021.
"Chupe de Camarones (Peruvian Shrimp Chowder)." BigOven.com, www.bigoven.com/recipe/chupe-de-camarones-peruvian-shrimp-chowder/173814. Accessed 26 Feb. 2021.
Department, Author Comms. "An Arequipeñan Easter!" Helping Overcome Obstacles Peru, 4 Apr. 2015, www.hoopperu.org/2015/an-arequipenan-easter/. Accessed 25 Feb. 2021.
"Peru." www.adventure-life.com www.adventure-life.com/peru/articles/peruvian-food-top-20-plates-in-peru. "What Peruvians Eat for Easter." Enigma Blog, 28 Mar. 2018, www.enigmaperu.com/blog/what-peruvians-eat-for-easter/. Accessed 25 Feb. 2021.