NORTH CAROLINA – Divya, Terry, and their twelve-year-old son Lucas lived through the heartache of seeing their home in Lumberton, NC, destroyed not once, but twice by hurricane flooding. But thanks to The Home Depot Foundation and Operation Blessing supporters like you, their tragedy is turning to triumph through an extreme home makeover they never imagined.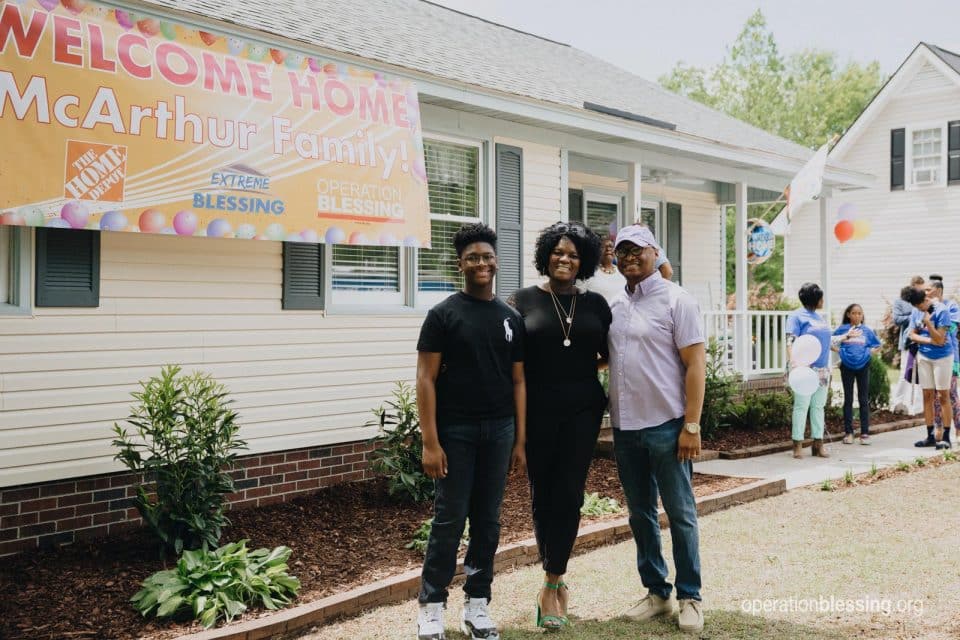 Divya grew up in Lumberton, and she received her grandmother's house when she passed away. That place was very special to her and always takes her back to her childhood. She said simply, "It's home." So when Hurricane Matthew struck in 2016, the family decided to repair their home and stay put.
They felt certain that Matthew had been a once in a hundred years' storm. They worked hard to get their home back into shape. Meanwhile, Divya continued working at her small salon in town, and Terry as a corrections officer.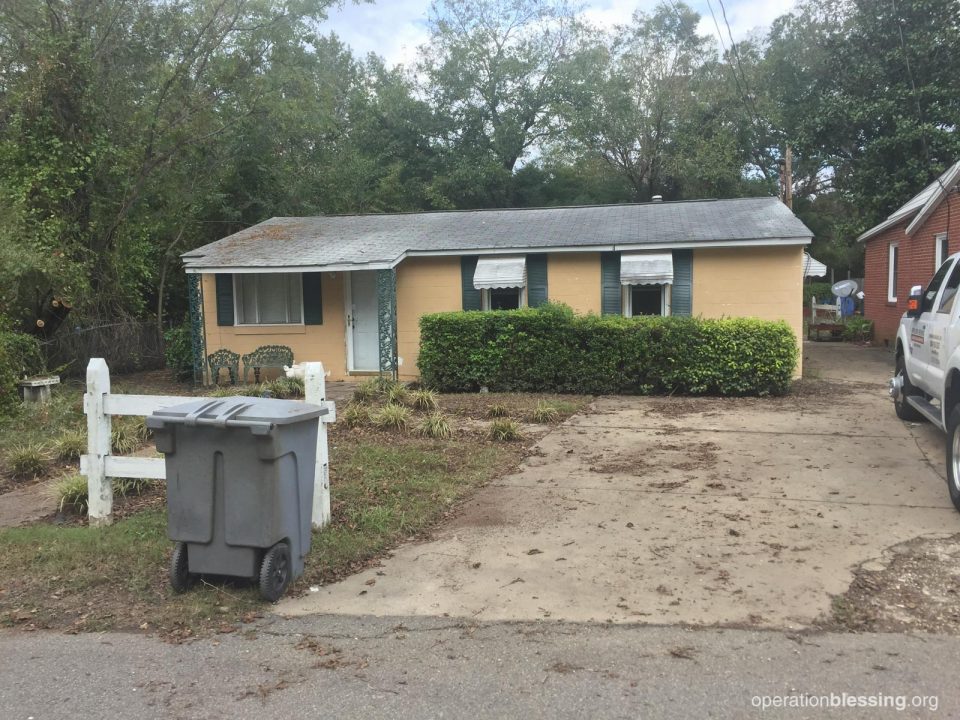 When Hurricane Florence headed their way this year, they thought their house would be fine. Still, they heeded the warnings to get to higher ground just to make sure they didn't get trapped. And they took all the precautions they could to protect their house.
It wasn't until after the worst of the storm, when a nearby river crested later that week, that tragedy struck for a second time. Divya experienced the heartache of seeing her home destroyed with contaminated water and mold once again. She said, "For lack of a better word, it's a disaster…. I was kind of numb. You don't want it to be true."
Facing the flooding with no flood insurance for the second time proved truly challenging for the family. But they managed to maintain their faith. In the midst of it all Divya quoted Romans 8:28. "'All things work together for the good of those who love the Lord.' So that's where I'm finding peace."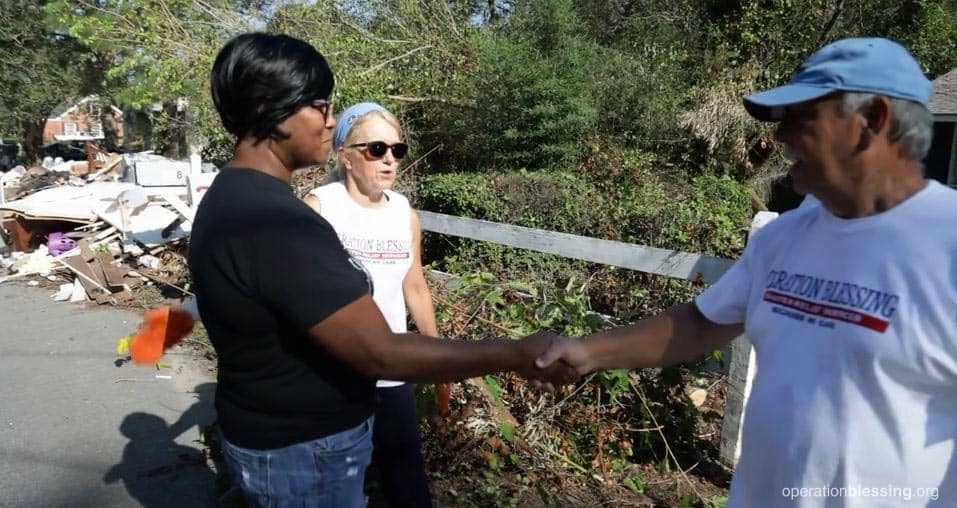 As Operation Blessing disaster relief volunteers showed up on the scene to help remove flooring, sheet rock, and damaged items from the home, matters began to look up for the family. At the time, Divya said, "Thank you to those who give…. I'm grateful and my heart is leaping. I have some hope now."
Little did they suspect the relief they received at that time was just the beginning of the blessings in store! On November 27th the couple had a chance to attend The Tonight Show. But they had no idea the surprise waiting for them.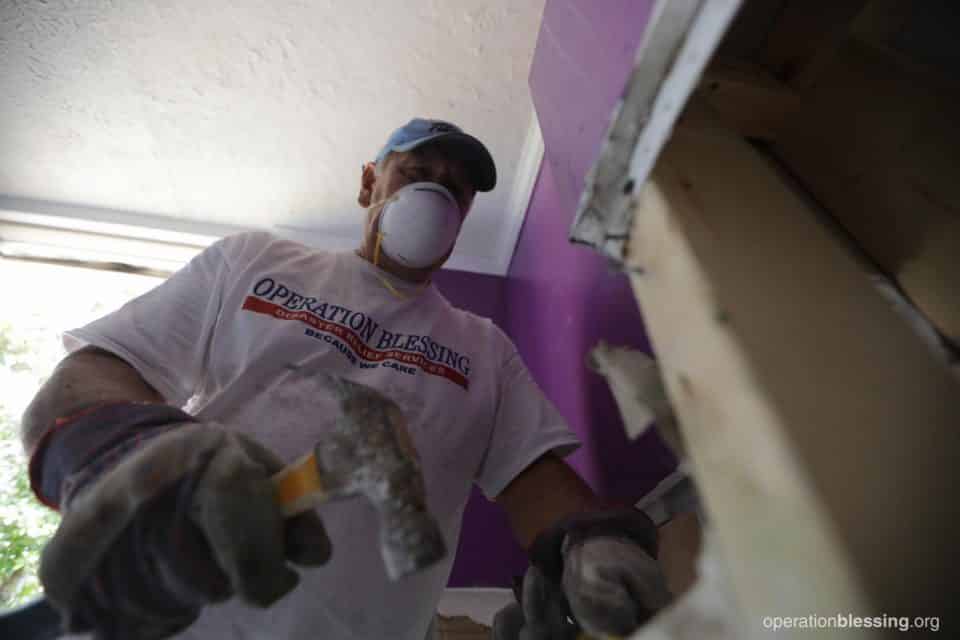 Jimmy Fallon asked them to stand and share a little about their story. Then, to their shock, he announced that The Home Depot Foundation and Operation Blessing would be completely restoring their home. Divya cried as he explained they would receive a new roof, insulation, furnace, flooring, appliances, landscaping, furniture, and more! Then their son Lucas surprised them to join in for a big hug. Check out the heartwarming video.
Once the full extent of the damage to their home was discovered, it was determined that the family would need to move into another, safer home in their town that Operation Blessing and The Home Depot would help fix up. Then Home Depot and Operation Blessing volunteers renovated and refurnished it. This week, the extreme home makeover — known in OB circles as an Extreme Blessing — will be revealed.
UPDATE: