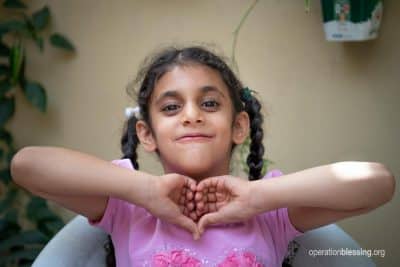 Helping Persecuted Brothers and Sisters in the Middle East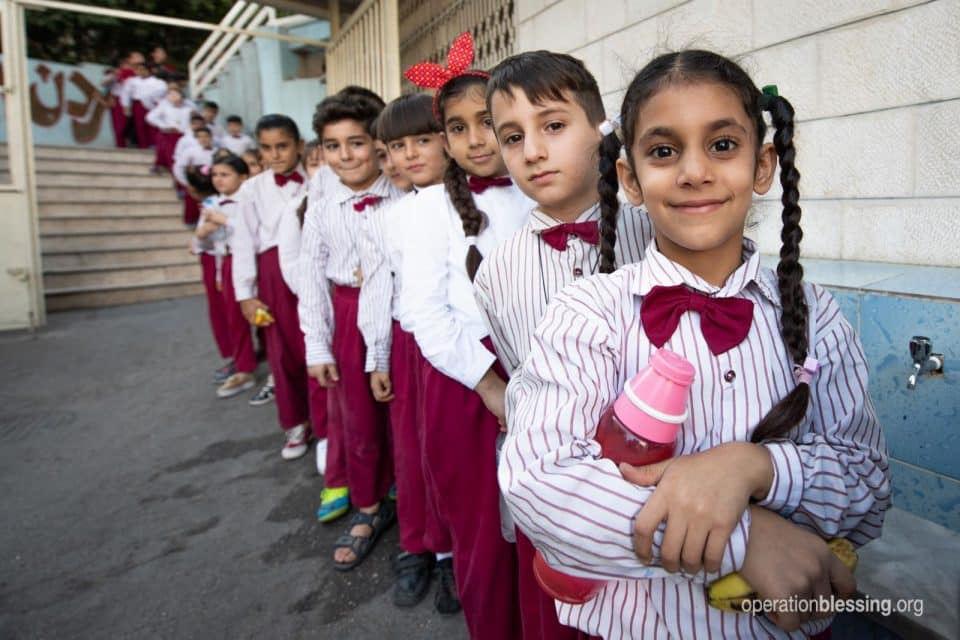 JORDAN – Bubbly and cheerful young Maryam doesn't even remember the nightmare her family endured in Iraq when she was just a baby. For her, the days are spent playing with friends at her safe, Christian school in Jordan. But her persecuted Christian family has faced—and still faces—many difficult challenges after suffering for their faith.
When ISIS took over their city of Mosul, Maryam's parents, along with many other Christians, were sent an eviction notice. Be gone in six hours or be killed. The family had to flee their lovely home, their community, and their employment to escape sure death. As they desperately rushed out of the city, the car they had hired was in accident. It rolled over five times and injured Maryam's mother. Shortly after, ISIS destroyed their house and much of their Christian city.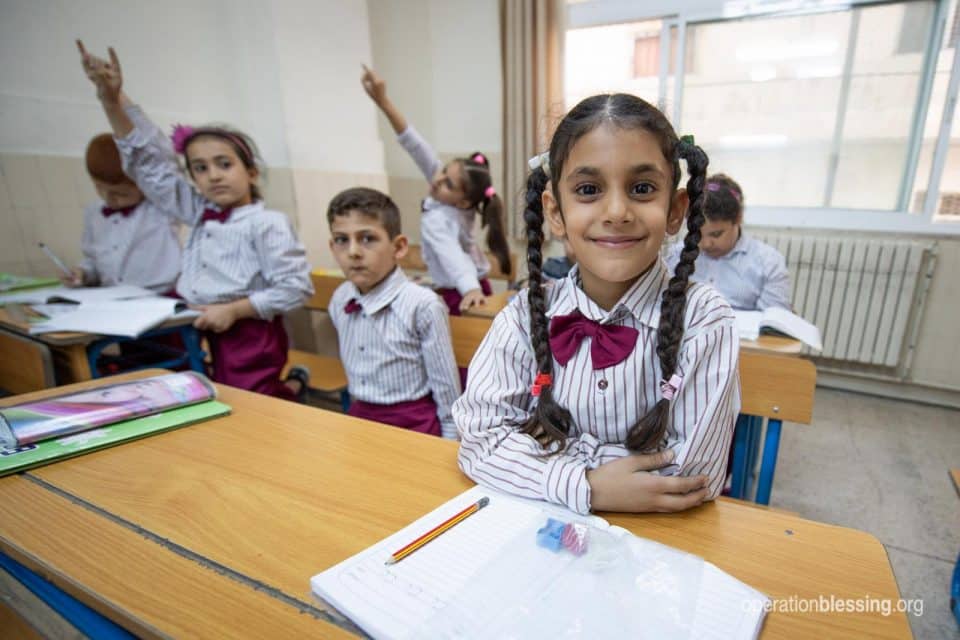 For the next several years, Maryam's father, Sameer, moved between Jordan and Iraq in search of any income. Her mother, Nour, found employment cleaning the American Embassy. And her father ended up working as a driver for the U.S. Army. After establishing such close associations with the U.S., they knew they could never return home again.
The persecuted Christian family now resides in Jordan. They live safely in that progressive nation, but still suffer at the same time. Similar to so many who fled ISIS, they haven't been granted citizenship. But they don't have true refugee status either. They're stuck in limbo, hoping to find a new country they can truly call home.
Sameer said, "The biggest problem is that I'm not allowed to work, and everything here is very expensive." Like most men, he just wants to provide a decent home and living for his wife and daughter.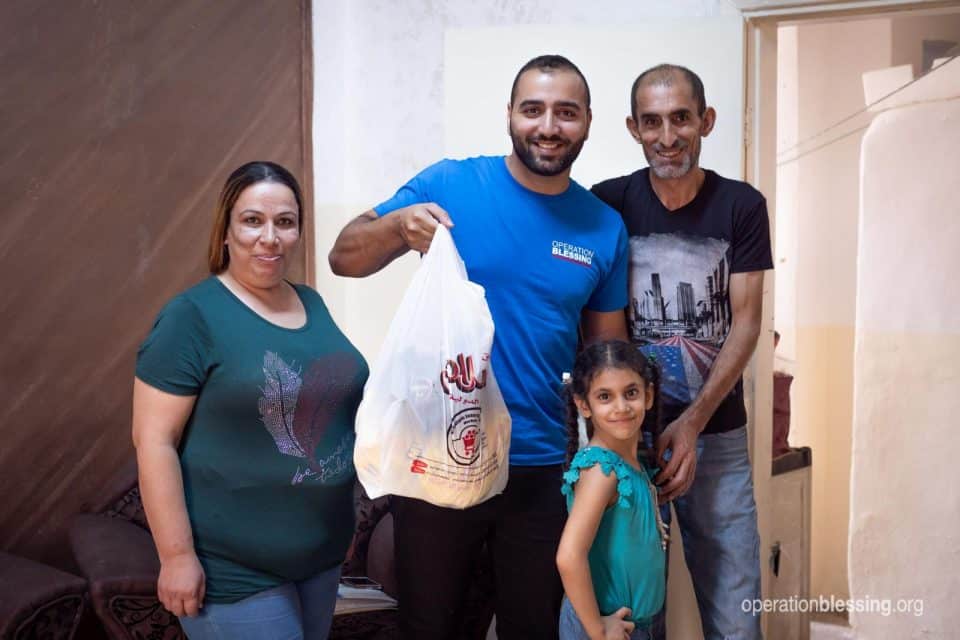 But thanks to Operation Blessing supporters like you, and our partnership with a Jordanian partner called Messenger of Peace, Maryam's persecuted family is getting the help they need during this transitional time. They received a heater to better face the cold Jordanian winters, several months' worth of food, and a Christian education for Maryam.
She now attends a school where she gets nutritious meals every day along with her lessons. Maryam said, "I have a lot of friends… I like to eat with them, study with them, and play with them…especially hide and seek."
So many Christian refugee families have escaped persecution and are now receiving hope, encouragement and assistance through Operation Blessing friends and partners in Jordan. In addition to food and schooling, they get medical care and free lessons for adults in English, sewing and computers. These new skills will hopefully help them once they find a permanent homeland.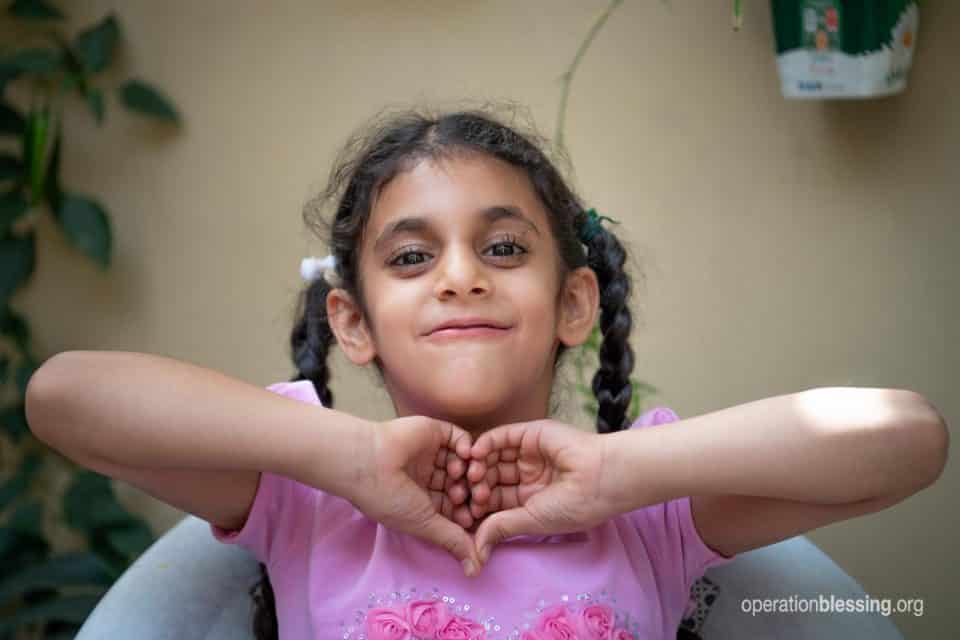 Maryam, Nour and Sameer are still waiting to find their final home in a new country. But in the meantime, partners like you have made a huge difference in their lives. Sameer said, "I'm very happy there are Christian people thinking about helping the Christian Iraqi refugees… I'm very thankful for these people doing things for Jesus."
Young Maryam also thanked those helping them and praying for them. She summed up her thoughts by folding her hands into a heart and saying, "I love you."
HOW YOU CAN HELP

Your support is critical to providing relief for the hungry, water for the thirsty, medical care for the sick, disaster relief for those in crisis, and so much more.
Click here to make an online donation today
and let your gift make a significant impact in the lives of those who urgently need it.

Print Friendly