KENYA- In the Marsabit region, lack of food threatens the survival of all who call it home. Afflicted by a bitter drought in Kenya, the area has seen little rain this year. That severely dry condition has made it difficult for residents to sustain the provisions they need to live.
Here, most community members earn a living as pastoralists—raising goats, cows and camels to sell. They often wander the land, searching for vegetation and water to keep their livestock healthy. In the remote village of Tubcha, Diboya and her husband, Woromo, are small-scale herders who have felt the devastating effects of the lack of rain.
Without access to water, many of the couple's animals died, putting the sole means of providing for their children in jeopardy. "It has been very hard for us this year," Diboya explained sadly. "The drought has been very bad for us. Most of our animals have died, and that is what we depend on for our livelihood. We sell the livestock so we can buy food for our families. But now, with most of the livestock having died from lack of pasture, we can hardly find food."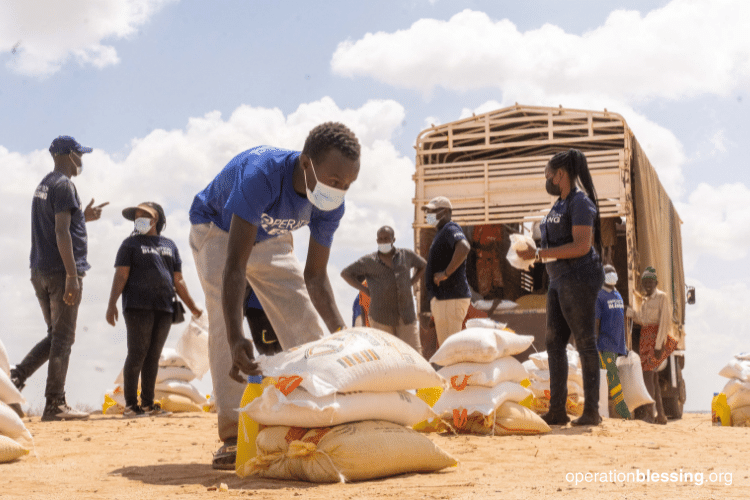 Bitter Drought In Kenya
As residents faced the harsh reality of the unforgiving drought, the government declared the situation a national disaster. Diboya and Woromo did everything they could to provide for their family, but with each day that passed, things continued to get worse. Food was scarce, and they were desperate for relief.
"As a mother, it breaks my heart when my children are crying because I cannot give them food," Diboya said. "But mostly there is nothing to eat for days, and when we manage to get a little from neighbors, we are still worried about tomorrow." As resources dwindled, so did hope. But thanks to the love of friends like you, help was on the way.
Through the generous support of Operation Blessing partners, food packages were donated to Diboya and her neighbors. In fact, about 150 families received enough food to last a month, along with water backpacks, lifting a heavy burden for villagers who had suffered for so long.
"Indeed, God has heard our prayers. No one has ever brought us food before,"Woromo said. "You have really touched our lives and given us hope. It is very hard when a father cannot provide for his children. Now I can smile again when I see my children eating and being happy once more."
Thank you for the kindness you have shown to this community in need. Because of you, Operation Blessing is there when disaster strikes, to bring healing and hope to those who need it most. May God bless you for the life-changing support you give!